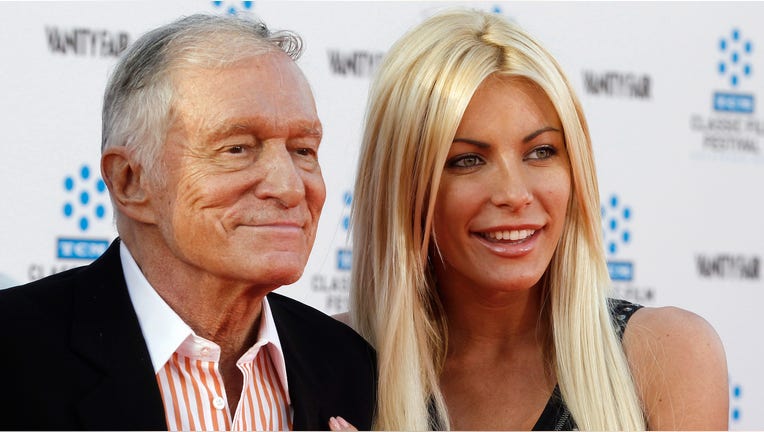 In the days following 25-year-old model Crystal Harriss sudden calling off of her wedding to 85-year-old Playboy founder Hugh Hefner, the phrase Poor Hugh has been making its rounds.
What some fail to realize is that Poor Hugh could have been made poorer (ok, perhaps poorer isnt the most appropriate word here) had Harris decided to keep the $90,000 engagement ring hed given her in January.
Lucky for him, Harris said she plans on returning the ring to Hefner. But imagine she doesnt. Would Hefner have a shot at getting it back?
Yes especially because he lives in the state of California.
In the case of a broken-off wedding, the legal rules for determining who gets to keep the engagement ring vary from state to state. Clearly, not every dissolved couple takes their battle to court, with many choosing instead to work it out on their own. But for those who do, the rules can be tricky.
If This, Then That
Most U.S. states are conditional gift states, meaning the state believes an engagement ring is exchanged on the premise that a marriage ceremony materializes. If a couple fails to make it down the aisle, the condition is broken and the ring therefore must be returned to the person who proposed.
The engagement ring is given in contemplation of marriage. Its not like a great diamond necklace or bracelet; its an engagement ring, says Vikki Ziegler, divorce attorney and author of Your Pre-Marital Survival Guide. When the wedding doesnt happen, as in Hugh Hefners case, generally the law says that if its not an heirloom, it will be returned to the person who gave it.
In nearly all of these states, fault does not come into play. In California, however an implied conditional gift state who called off the wedding matters. If a man proposes to a woman, for instance, and the woman breaks off the engagement, the man can request the ring back; if the man breaks off the engagement, he wont get the ring back, Ziegler says.
The rules arent nearly as complicated in Montana. Montana abides by an unconditional" gift policy, meaning it treats engagement rings like any other gifted piece of jewelry, with no conditions of marriage attached. When an engaged couple breaks up in Montana, the person who was proposed to is legally entitled to keep the engagement ring because it was simply a gift nothing more, nothing less.
Prenuptial Agreements Matter
As is the case with most rules, there are exceptions. If you live in Montana and youve signed a prenuptial agreement that outlines what might happen to the ring if the engagement collapses, those terms will take precedence over the states laws, says Ziegler. Ziegler says fleshing out these kinds of terms is especially important in the case of a ring thats a family heirloom because of the items additional meaning. (In some cases, courts do treat heirlooms differently anyway.)
The Rules of Engagement&Gifts
The engagement ring is one thing, but the hundreds of gifts a couple has received in anticipation of their wedding are quite another. Ziegler says couples can usually settle disputes over who keeps the gifts in family court or small claims court, with many opting to divide the gifts equally or set a value for the gifts and negotiate that way.
Unfortunately for would-be wedding guests, theres no form of recourse for getting their gifts back.
The donors of the gifts wedding attendees will not get any money back unless both parties agree to that, Ziegler says, adding that its not something that ever really happens.
Perhaps those invited to the wedding of reality star Kim Kardashian and basketball player Kris Humphries wedding should take note before they spend $7,850 on a vase.