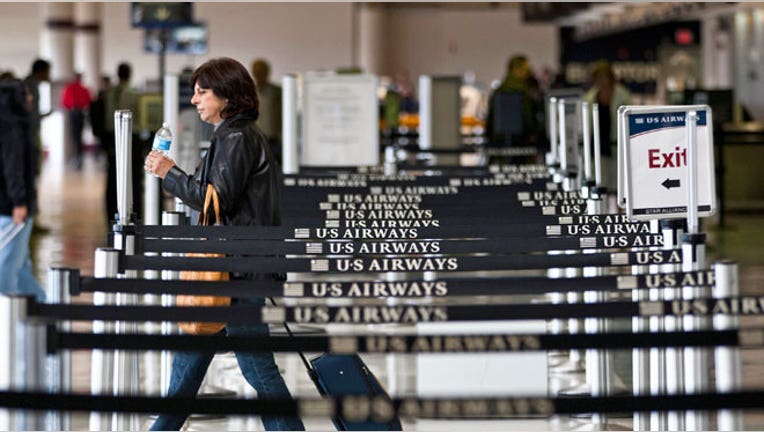 Airline industry experts are optimistic that the mega-airline spawned from the soon-to-be-approved $17.2 billion merger of American Airlines and U.S. Airways (NYSE:LCC) will carry mostly positive economic benefits -- particularly in its biggest hub cities.
The settlement is "good for lots of cities and ancillary business around the country," former American Airlines Chairman Bob Crandall told FOX Business.
That is particularly true of New York and Washington D.C., where the "New American" will divest a total of 69 slot pairs at New York's LaGuardia Airport and Washington Reagan National Airport.
As part of the merger, American, a unit of AMR Corp., is required to sell certain assets -- called slots -- at airports where they have large traffic volume. The hope is that these slots will be purchased by lower cost carriers, increasing competition and potentially lowering fares.
While there may be some temporary job losses during the transition, these jobs are expected to return quickly as the slots are filled by other carriers.
Dallas will continue to host the headquarters of the newly merged airline and serve as one of its hubs. That area alone employs 20,000 American Airlines workers -- a quarter of the carrier's total global workforce.
"We've secured an agreement that will leave Texas in a much better position, ensuring that Texas jobs will stay in Texas," state Attorney General Greg Abbott said in a statement.
The airline will also maintain its hubs in Charlotte, New York, Los Angeles, Miami, Chicago, Philadelphia, and Phoenix, where tens of thousands of people are currently employed.
Even though the slot sales in New York and Washington will cause the new airline to operate 12 fewer daily departures at LaGuardia and 44 fewer at Reagan National, the carriers said their roughly 120,000 combined employees will not be impacted.
"Certain airports may be affected as a result of the divestitures, but we will offer those employees opportunities elsewhere in the system," said American CEO Tom Horton and U.S. Airways CEO Doug Parker in a note to employees.
As the deal was being negotiated in February, the New American predicted the deal would create "greater career opportunities for employees over the long term."
Assessing Demand
It remains to be seen whether low-cost carriers like Spirit (NASDAQ:SAVE), Southwest (NSYE:LUV) and JetBlue (NASDAQ:JBLU) will be able to afford the hefty fees of a premium spot.
The antitrust agreement requires that only carrier slots, which house bigger, more profitable jets as opposed to smaller commuter slots, be put up for sale, potentially offering the newcomers more lucrative opportunities.
The slots will be very expensive, particularly for carriers deemed "lower cost," acknowledged Douglas Kidd, National Airline Passengers Association executive director.
Airline consultant Bob Mann isn't concerned, however.
"The (slots) have been in strong demand forever," Mann said. "They won't go lacking."
The likely scenario is that all slots will eventually be purchased over the next year, bringing in new entrants and thus new jobs to Washington D.C. and New York.
Delta (NYSE:DAL) and JetBlue have already announced plans to try and scoop up slots as they become available, and Mann said the DOJ, which will oversee the sales, will work with the carriers to help them match slot pairs in a way that is mutually beneficial to all parties.
Perhaps most important from a consumer standpoint is the fact that new entrants mean fares will only rise modestly, not sharply, as the DOJ feared.
Ticket prices to Europe might increase by a bit because U.S. Airways will no longer compete independently, however fares might drop slightly at the highly popular Reagan National due to the potential rise in lower-cost carriers.
"I would rather have three choices of people to buy from than two," said Crandall, the former American CEO.