HSBC Settles Money-Laundering Probe for Record $1.92B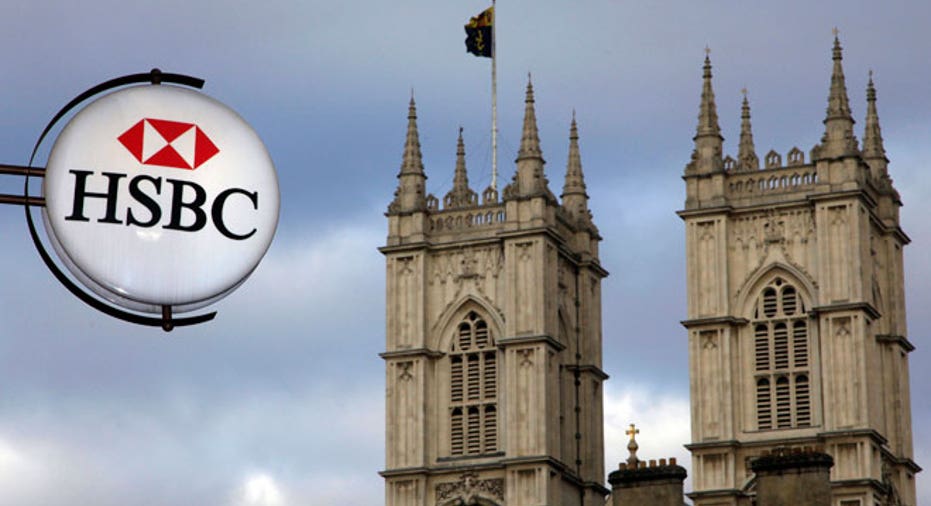 Settling charges it gave drug lords and terrorists access to the U.S. financial system, British banking giant HSBC (NYSE:HBC) agreed to pay a record $1.92 billion on Tuesday and accepted responsibility for inadequate anti-money laundering compliance.
While the settlement shatters records in terms of monetary penalties, HSBC executives are avoiding criminal prosecution even though officials have accused them of helping countries break the law and the bank of becoming the "preferred financial institution" for drug cartels.
"The record of dysfunction that prevailed at HSBC for many years was astonishing," Lanny Breuer, Assistant Attorney General at the DOJ, said in a statement. "Today, HSBC is paying a heavy price for its conduct, and, under the terms of today's agreement, if the bank fails to comply with the agreement in any way, we reserve the right to fully prosecute it."
HSBC said the agreement includes a deferred prosecution agreement with the Department of Justice as well as a global resolution with all other U.S. government agencies probing HSBC money-laundering compliance.
"We accept responsibility for our past mistakes. We have said we are profoundly sorry for them, and we do so again," HSBC CEO Stuart Gulliver said in a statement. "The HSBC of today is a fundamentally different organisation from the one that made those mistakes."
HSBC also said it anticipates reaching a settlement with the U.K.'s Financial Services Authority "shortly."
The U.S. settlement covers violations by HSBC of the Bank Secrecy Act, the International Emergency Economic Powers Act and the Trading with the Enemy Act between 2006 and 2010.
The DOJ said HSBC illegally conducted transactions for customers in Cuba, Iran, Libya, Sudan and Burma -- all of which were subject to sanctions at the time.
In a press conference on Tuesday afternoon, Breuer also said HSBC instructed countries like Iran and criminals in other countries on how to break the law.
London-based HSBC told FOX Business it is clawing back bonuses related to the money-laundering lapses, but declined to disclose details.
"I would emphasize that this is not about certain individuals," an HSBC spokesperson said. "With a new senior leadership team and new strategy in place, we have already taken a number of actions -- including clawbacks, terminations and pay-cuts -- where we found efforts or behavior fell short."
The DOJ said HSBC has agreed to forfeit $1.256 billion as part of its deferred prosecution agreement in addition to $665 million in civil penalties, with $500 million going to the Office of the Comptroller of the Currency and $165 million to the Federal Reserve.
The $1.92 billion settlement with HSBC marks the largest U.S. penalty ever imposed on a bank, more than double the next closest payment of $780 million paid by Swiss banking giant UBS (NYSE:UBS) in 2009 to settle a tax fraud investigation.
Yet some believe HSBC should have suffered a harsher penalty for its money-laundering lapses.
"The HSBC settlement makes a mockery of the criminal justice system," Jimmy Gurule, a law professor at the University of Notre Dame and former undersecretary for enforcement at the Treasury Department, said in an email.
"The message sent by the U.S. Department of Justice is that if you are going to engage in large-scale money laundering for Mexican drug cartels, make sure and do it within the scope of your employment working for a bank because you won't be prosecuted regardless of the egregious nature of your criminal conduct," Gurule said.
Court documents accuse HSBC of ignoring serious money laundering risks tied to doing business in Mexico. Authorities said HSBC failed to monitor over $670 billion in wire transfers and over $9.4 billion in purchases of physical U.S. dollars from its Mexican unit between at least 2006 and 2009.
"HSBC's own lax AML [anti-money laundering] controls caused it to be the preferred financial institution for drug cartels and money launderers," the DOJ statement said.
"New York is a center of international finance, and those who use our banks as a vehicle for international crime will not be tolerated," said Cyrus Vance Jr., the Manhattan District Attorney.
U.S. officials have also said HSBC's lax controls allowed about $660 million in transactions from sanctioned countries to be processed from the mid-1990s through September 2006.
According to the U.S., HSBC "followed instructions" from sanctioned countries like Iran and Cuba to "omit their names" from U.S. dollar payment messages sent to HSBC and other banks in the U.S.
HSBC set aside $1.5 billion to pay for a potential settlement after a U.S. Senate panel in July accused the bank of turning a blind eye to apparent money laundering by a number of groups, including sanctioned countries like Iran and Sudan, alleged terrorists and Mexican drug cartels.
HSBC and the DOJ pointed out a number of changes made by the bank over the past few years to address its compliance issues, including ramping up spending on anti-money laundering by nine-fold, boosting its compliance staff ten-fold, spending more than $290 million on remedial issues and backing out of 109 correspondent relationships for "risk reasons."
The agreement with the DOJ lasts five years and calls for an independent monitor to evaluate HSBC's progress in fully implementing new measures.
U.S.-listed shares of HSBC rose 0.70% to $51.90 Tuesday afternoon, leaving them up about 36% so far this year.
The announcement comes a day after the U.S. reached a $327 million settlement with Standard Chartered for illegal transactions. That deal also included a deferred prosecution agreement.
FOX Business reporter Adam Shapiro contributed to this report.