HSBC sets aside $1.8 billion for forex probe, misconduct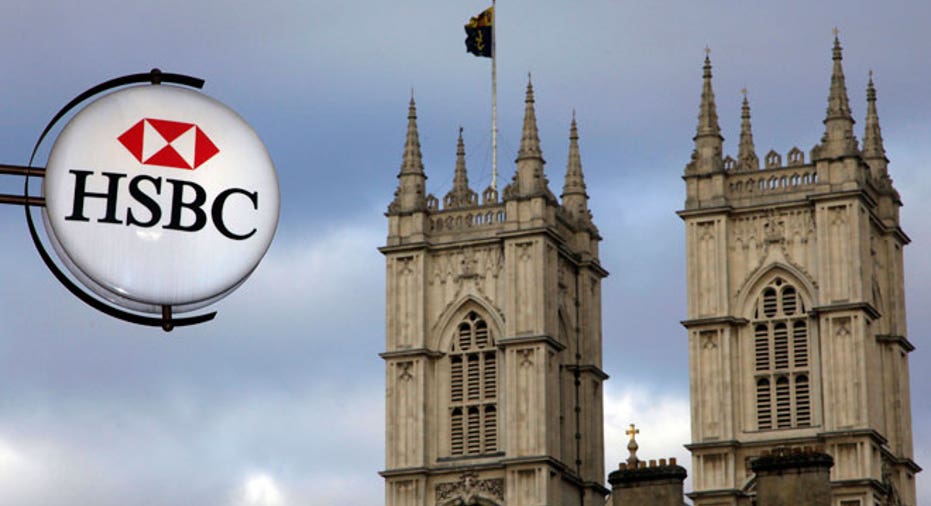 HSBC's profits fell short of expectations in the third quarter after the bank set aside $1.8 billion for misconduct settlements and compensation for customers, including a potential fine for rigging currency markets.
The provision and a jump in HSBC's everyday compliance costs show the impact of regulators' increasing efforts to clamp down on bad behavior in the global banking industry that contributed to the financial crisis.
HSBC said on Monday it had spent $700 million more this year on compliance and risk than a year ago, and that level of expense looked set to stay, meaning it would miss one of its main cost targets.
"The cost base of a global bank like ourselves is higher than it was before, because ... it includes a significantly higher compliance and regulatory cost than historically the banks had invested in," Chief Executive Stuart Gulliver said.
"It reflects the fact that standards, foreign policy, etc, all evolve in a world that is a lot less certain than it was 10, 15 years ago."
HSBC's third-quarter underlying earnings fell 12 percent from a year ago to $4.4 billion, after operating expenses jumped 15 percent on the year.
That included a $378 million provision for the forex investigation, $589 million to compensate British customers who were mis-sold payment protection insurance products and a $550 million settlement in the United States for mis-selling mortgage-backed securities.
Gulliver said the bank was likely to miss a target set out 18 months ago to get costs down to about 55 percent of revenues by 2016. He said it was more likely to be in the high 50s or near 60 percent. It was 62.5 percent so far this year.
HSBC added 1,400 more compliance staff in the third quarter and now had 24,800 staff in risk and compliance, or one in 10 of its employees.
The bank also said it had been summoned to appear before French magistrates over whether its Swiss private bank had helped French citizens to evade tax, and could face a criminal investigation.
"There is quite a bit of upward pressure on costs. It's an honest assessment of where they are, the regulatory cost of being a large global bank is far greater," Mike Trippitt, analyst at Numis Securities, said.
HSBC's shares were down 1.8 percent at 628 pence by 1225 GMT (7:25 a.m. EST), underperforming a 0.8 percent dip in the European bank index <.SX7P>.
FOREX FINE
HSBC said its forex investigation provision covered "detailed" talks with Britain's financial regulator about alleged manipulation in the $5.3 trillion-a-day forex market.
The talks were in relation to systems and controls in one part of its spot forex business in London, it said. Last month HSBC fired two traders in London, sources said.
It is one of six banks in talks with the regulator to pay about 1.5 billion pounds ($2.4 billion) in a coordinated settlement, sources have said.
HSBC's provision was lower than the 500 million pounds (799.95 million US dollar) set aside by Barclays <BARC.L> and 400 million pound provision by Royal Bank of Scotland <RBS.L>, which may have also set aside cash for settlements with other authorities.
Banks in Europe and the United States have recently set aside as much as $6.9 billion for possible forex settlements. The forex manipulation relates to daily fixing rates which traders are alleged to have manipulated.
The banking industry has already paid out billions of dollars to settle investigations into a range of activities, and HSBC paid a $1.9 billion fine to U.S. authorities in 2012 for breaking anti-money laundering rules.
It also agreed a deferred prosecution agreement (DPA) with U.S. authorities at that time, and Gulliver said he did not expect the forex investigation to affect that agreement.
"We don't believe it represents a criminal act that would represent a breach of the DPA," Gulliver told reporters.
U.S. authorities are also examining the forex market allegations and have shown they are able and willing to hand out bigger fines than European watchdogs.
HSBC said the increase in its provision to compensate British customers for payment protection insurance mis-selling - which takes its bill for this to almost $4 billion - was due to a "very significant step up" in claims made by claims management companies in August and September.
The bank's adjusted third-quarter revenues were flat at $15.6 billion, aided by a rise in income at its investment bank, corporate bank and an increase in lending, notably in corporate loans in Hong Kong and Britain, its two "home" markets.
Gulliver said protests in Hong Kong did not change HSBC's view on its business there. "This does not for us represent any moment of reconsideration of our commitment to Hong Kong."
Unlike Asian-focused rival Standard Chartered <STAN.L>, which reported a surge in its bad debts in the third quarter, largely due to weak commodity markets, HSBC's loan impairment charges more than halved to $760 million compared to the same period a year ago.
(1 US dollar = 0.6250 British pound)
(Additional reporting by Jamie McGeever, Tricia Wright and Sudip Kargupta; Writing by Carmel Crimmins; Editing by Jane Merriman)