How You Pay for College Almost as Important as What School You Choose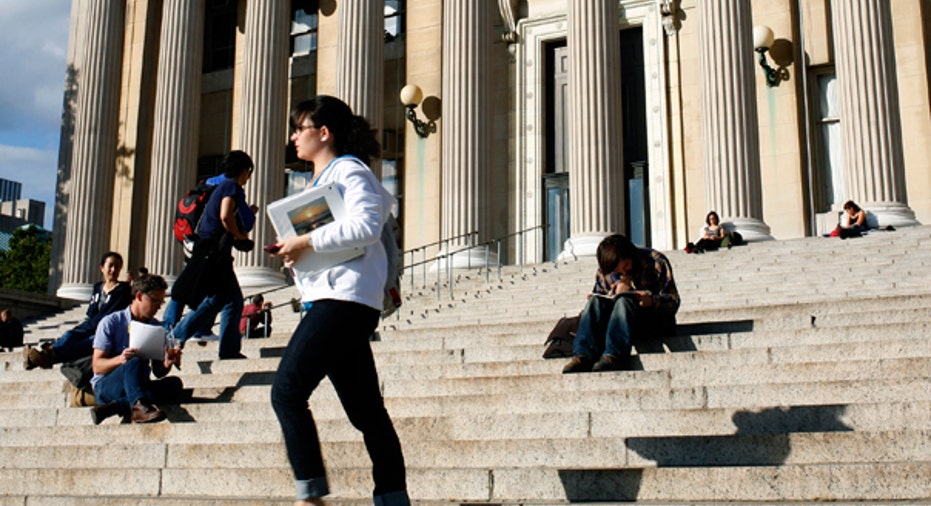 While many high school students are focused on getting into college, their decision on how they are going to pay for it can make a difference on how they start their financial life after graduation.
The cost of a college education has been steadily rising over the last several years—outpacing inflation at a time many families are facing financial hardships. The average cost for undergraduate tuition, fees, and room and board at in-state four-year schools is $17,131, and $38,589 for private four-year schools for the 2010 academic year. Students paid for college with more than $235 billion in grants, scholarships, work-study programs, $8 billion in private student loans, and $104 billion in William D. Ford Federal Direct Loan student loans, according to the College Board.
The Department of Education expects students to encumber more debt in the years to come, with federal student loan volume estimated to increase to more than $116 billion during the 2011 academic year.
"An undergraduate degree is one of the most expensive purchases you'll make during your life, and you're being asked to do this at 18 years old when you're most vulnerable," says John Hupalo, student loan industry expert. "Students and families should think of themselves as consumers of education." Hupalo advises families to know what resources they have available, whether it's savings, grants, scholarships, work/study programs, or student loans and compare them to the cost of school and the salary goal after graduation.
Experts recommend that parents start discussing finances during the application process, and calculate the total cost of undergraduate study by multiply the first year of expenses—tuition, fees, room and board, health insurance, transportation, and entertainment—by four.
When narrowing down schools, the right academic program may make a difference. "Certain schools are better known for certain programs," Hupalo says. "If you're going for just the brand name and not the program, it may be more economical to go for the program and not the brand name." He advises students to consider the job prospects for a particular program or major rather than a university name, as "you don't want to be underemployed after you graduate."
The cost should also play a factor. "What you can afford might dictate the kind of school a student attends, whether they start at a junior college and transfer or attend a public instead of a private school. Matching the school fit with affordability is very important," says Ted Beck, president and CEO of the National Endowment for Financial Education.
"There are unintended consequences to your financial future if a student doesn't understand the implications of student loan debt"
Paying for College
Once a school has been picked and the cost totaled, Beck recommends students exhaust all grants and scholarships options before borrowing money with student loans. "Loans should be the last piece used to finance your education, especially for undergraduate study."
Parents and students can apply for federal aid with the Free Application for Federal Student Aid (FAFSA). "Completing a FAFSA makes you put numbers on paper and can help you start to figure out what you can afford," says Beck.
Experts recommend students take out federal student loans over private ones if possible. Although a private student loan may have an initially lower variable interest rate, long-term, private student loans tend to be more expensive than federal student loans and don't offer the same benefits including, repayment protections and loan consolidation.
If loans are taken out, experts say it should be clear from the start who is responsible for repayment-regardless of whose name they are in. "A child has to understand that their names will be on the loan note. Have an adult discussion about expectations and be very clear," says Beck.
The William D. Ford Federal Direct Loan (DL) program offers undergraduate, graduate, and professional students a few loan options: Federal Direct Stafford Loans where the government pays a student borrower's interest while in school and six months after graduation; Federal Direct Unsubsidized Stafford Loans where interest is capitalized when the borrower is unable to make payments; Federal Direct PLUS Loans for undergraduate parents or graduate and professional students; and Federal Direct Consolidation Loans that help to lower a borrower's payments by extending the repayment term to up to 30 years depending on the loan balance. Stafford and PLUS loans have 10-year repayment terms.  The interest rates are fixed at 6.8% for Stafford loans and 7.9% for PLUS loans, while the rate on consolidation loans are a weighted average of the borrower's underlying loans.
Students should keep loan balances as low as possible. When determining how much to take out, experts advise students take into account their degree and job prospects.
"It's a good idea for parents and students to consider what the total debt will be after graduation, that they get a sense of how much the payments will likely be and the total interest owed and accrued depending on how they pay off the loan," says Haley.
As a general rule, a student's debt at graduation should be less than their annual expected salary to be able to repay the loan in less than 10 years, otherwise the borrowers may be forced to use repayment plans for some relief from high monthly payments, says Mark Kantrowitz, publisher of FinAid.org.
"There's a difference in income according to degree," he says. "Science degrees pay more than liberal arts degrees, and you need to be more careful how much you're borrowing if you have a liberal arts degree."
"It's tricky to start to think what your monthly payment will be and what that percentage of your income the payment will be four years out," says Haley Chitty, director at the National Association of Student Financial Aid Administrators. "You can make some assumptions depending on your career to help determine a reasonable amount to repay."
Since borrowers do not have to make payments until six months after graduation or enrolled less than halftime, loan balances generally increase because interest is capitalized, or added back to the principal balance. A student who borrows a $5,000 unsubsidized Stafford loan, for example, will accrue $340 in capitalized interest after one year ($5,000 times 6.8% times one year), increasing the loan balance to $5,340, with that same loan accruing $1,360 in capitalized interest after four years ($5,000 times 6.8% times four years), increasing the loan balance to $6,360. Calculated based on a 10-year repayment plan, a borrower will owe $57.54 each month for the $5,000 loan, $61.45 each month for the $5,340, and $73.19 for the $6,360 loan.
Establish Good Lending Practices
Teaching children about the value of money early helps them understand how much they have to work to make a student loan payment. Hupalo suggests teaching children in high school how to run a household to help them be able to manage their money during and after their undergraduate education.
"Student loan debt will be with you for life, and there's no way out except to repay these loans," says Haley, because private and federal student loans are nondischargeable in bankruptcy. According to the Educational Credit Management Corporation, only 276 of the approximate 72,000 borrowers who filed bankruptcy in 2008 tried to discharge their student loans. Of the 134 resolved cases, only 29 borrowers had a full or partial discharge of their student loans.
"There are unintended consequences to your financial future if a student doesn't understand the implications of student loan debt," Hupalo says. To collect on defaulted federal student loans, the Department of Education can garnish wages, tax refunds, and social security benefits, as well as blocking professional or state license renewals, such as legal, medical, nursing, and teaching.
Once in school, if your family situation changes because a parent looses a job or their income changes, experts recommend talking to your school's financial aid office and reapplying for help by resubmitting the FAFSA. Schools want their students to complete their education and pay back their loans. If too many students from a school default on their student loans, the school won't be able to participate in federal student loan programs, according to the Department of Education.
"Always do what you're really passionate about, but consider the economics of it and that might influence where you go to school and how you pay for it," says Beck. "College can be a really great experience in a young adult's life, but you have to consider the cost."