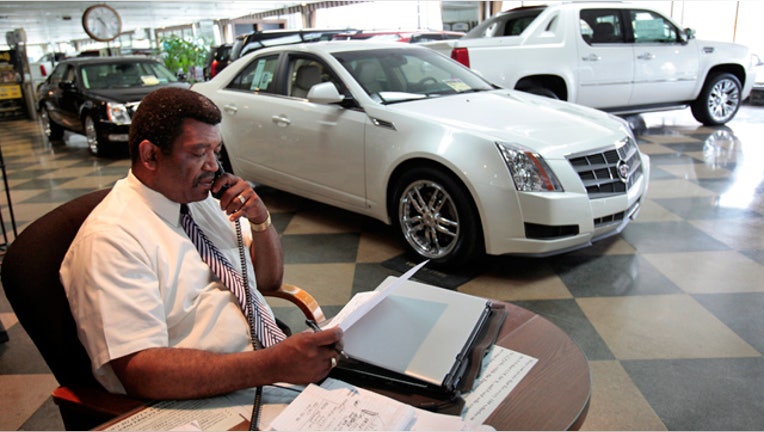 The  recent recession brought American automakers to the brink. For a time, it looked like Detroit's glory days were over, as cash-strapped drivers sat on their wallets, enjoying lower auto insurance rates on aging cars held together with bubble gum and chicken wire.
But General Motors Corp., Ford and Chrysler now are posting strong profits. What accounts for the turnaround? In the following interview, Arthur C. Wheaton, director of western New York labor and environmental programs at Cornell University's ILR School, offers some thoughts.
GM and other US car companies have posted profits recently. Is this a sign that the industry has turned the corner and has fully recovered from the recession?
General Motors, Ford and Chrysler have all been posting strong profits. The domestic auto industry has turned the corner and is on the road to a full recovery in the United States. The long-term recovery for each company is not without significant challenges. The European automotive market is a big question mark and potential Achilles' heel for all three.
Ford has taken the lead in restructuring its production footprint in Europe. Ford announced their intent to close one plant in Belgium and two in the United Kingdom. Ford is years ahead of both GM and Chrysler's parent company, Fiat, in restructuring Europe. Ford still faces growing pains in China and is losing ground in India. North American profits are strong and losses in other regions are currently being covered.
Fiat is in serious trouble, with their dependence on Italy and southern Europe. Chrysler's rebound in the United States could not have come at a better time for Fiat. The hope is that Chrysler will help keep Fiat from falling off a cliff.
General Motors Europe is the single biggest headwind facing GM's return to a full recovery. Opel and Vauxhall have been hemorrhaging billions of dollars in losses.
Have sales in Asia contributed to this jump in profits, and can that be sustained?
Sales in Asia have been critical to General Motors. GM now sells more cars in China than in the U.S.
Ford sees China and the rest of Asia as a missed opportunity, but it is trying to dramatically increase its infrastructure in the region.
Ford is not making large profits from Asia as it builds new plants and ramps up capacity. India is a soft spot for Ford and GM as their products were not perfectly suited for the country. Chrysler has little exposure to Asia but is trying to restart Jeep production in China and has a strong product lineup.
How have low interest rates and incentives contributed to the recent success of car companies?
Low interest rates and incentives have helped auto companies in the U.S. regain lost sales. A couple of other factors may be even more important explanations. The availability of credit and pent-up demand from an aging fleet may be better explanations.
The age of the U.S. vehicle fleet is at all-time highs. We are driving older vehicles and have delayed buying new ones through the economic uncertainty. Fortunately, the improvement in quality by all automakers has made the aging fleet less scary.
Have the US car companies become more competitive with their new designs of long-standing models?
I think Ford has done a great job of launching desirable and competitive long-standing models. Sales of the Fusion, Focus, Escape and Explorer have been quite successful.
Chrysler products have done a pretty good job of redesigns and better marketing for its long-standing models with 300, Jeep and minivans doing pretty well.
GM has a mixed level of success in new designs but still (is) making very good progress. The product mix for its Malibu at launch may have slowed sales in the beginning due to moving up its schedule. The Chevrolet Cruz has been successful. It is an extremely competitive marketplace, with all major automakers providing attractive and improved products. Ford has done a great job of keeping incentives down and raising its return on investment for each product sold. Ford is at 114% capacity in its North American plants.
How do US car companies stack up against foreign automakers? Are they producing higher-quality models?
GM, Ford and Chrysler have all improved their quality to competitive levels. Ford has seen its quality ratings drop due primarily to two issues: MyFord Touch electronics and the transmission on some Focus and Fiesta models.
Overall, the quality, fit and finish, and reliability of all U.S. automakers stack up well against the Japanese, Korean and German vehicles in the marketplace. I think the gap between the highest quality and lowest quality new vehicle in the U.S. is much smaller than the public realizes.
There is also a big difference in the quality of brand-new, totally redesigned vehicles compared to the minor tweaking of existing platforms and designs. The American companies tend to do more major changes as opposed to the minor evolutionary changes made by the Japanese automakers. Korean products have made surprisingly dramatic improvements in quality over the past 10 years.
We would like to thank Arthur C. Wheaton, director of western New York labor and environmental programs at Cornell University's ILR School, for his insights. Questions for this interview were contributed by Stephen Pounds, senior editor for Bankrate.com.
Copyright 2012, Bankrate Inc.