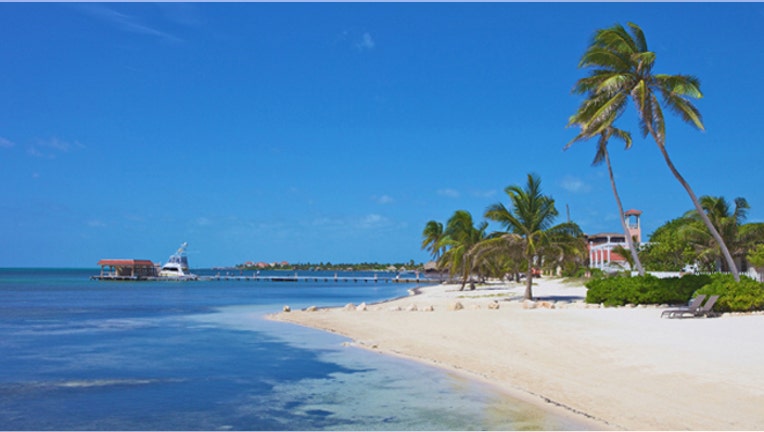 As the numbing cold of winter approaches, there is perhaps no sight as warming as seeing those who truly deserve it frolicking in perfectly manicured sand, eating the most sumptuous of meals, and generally enjoying all the cold-weather perks of the rich and famous.
But for every island known for the most elaborate and distinctive -- and therefore, most expensive -- accommodations, there is an affordable way to enjoy similar delights, which, while not quite as pampering, can give you the sense of what it's like to be that luckiest of creatures -- a celebrity in winter. Here are some favorite celebrity haunts and ways to get a taste of the A-list life. (Note: Prices vary depending on time of year and type of accommodations. Prices cited are samples, and don't include taxes, gratuities, etc. Be sure to check before booking.)
Park City, Utah
Celebs spotted: Larry David, Dustin Hoffman, Rosie Perez, Jane Fonda, Bruce Springsteen and John Travolta.
Celeb version: Civilians flock to annual events such as Celebrity Skifest in December and the Sundance Film Festival in January, but the masses can't spoil the exclusive experience of staying in resorts such as the Stein Eriksen Lodge, which has earned Mobil Travel Guide's Five-Star Award and the AAA Five Diamond Rating. Billing itself as "a European getaway in the heart of Park City," the lodge, for upward of $2,195 per night, allows stars to enjoy a custom-designed, 2,200-square-foot suite complete with a gourmet kitchen, two fireplaces and a private deck with hot tub. For dining at the Stein Eriksen, there's Glitretind, where guests can enjoy Norwegian potato pancakes or cider-braised pork shoulder, then sample the bacon chocolate chip cookies for dessert.
Affordable version: Even in peak winter months, budget travelers hoping to mix some star-watching with their skiing can stay at affordable hotels such as Park City Peaks for as low as $159 a night. You might not have an in-room fireplace, but you can get freshly baked cookies (although not with bacon) and hot cocoa delivered right to your door.
Klosters, Switzerland
Klosters, Switzerland © Tupungato/Shutterstock.com Celebs spotted: The royal family of Great Britain, David and Victoria Beckham, John Irving and Renee Zellweger.
Celeb version: Klosters, the municipality in the Swiss Alps, is a favorite place for British celebrities and royalty to abandon jewels and gowns for clothing more befitting a commoner. It was also a longtime hideaway for Hollywood royalty like Gene Kelly and Greta Garbo, who relished the chance to escape the crush of cameras stateside.
Prince Charles reportedly stays at the rustic yet luxe Hotel Walserhof Klosters, where suites present the illusion of log cabins for people who've never held a cord of wood. Two-room mountain view suites can be had for a surprisingly affordable $970 per night.
If you want to party like Princess Diana did, enjoy the ultra apres ski experience at Casa Antica, a barn converted into a nightclub/piano bar with a jeans-not-dresses vibe where they'll keep your chilled bottle behind the bar for you.
Affordable version: Local institution Chesa Grischuna, serving Klosters since 1938, hosted the likes of Garbo, Kelly and Tony Perkins, and more recently Renee Zellweger. The hotel was designed almost completely by local craftsmen, and a room here can run you as little as $187 per night.
Telluride, Colo.
Celebs spotted: Oprah Winfrey, Jerry Seinfeld and Tom Cruise.
Celeb version: Oprah, who once interviewed Cruise for her show at his Telluride home, loves this town so much that she endorses the "Telluride Powder Day Basket," complete with "slope-friendly snacks" and "wintry accessories" such as toe warmers, on her website. To stay in Oprah-like luxury, consider The Lumiere, which Forbes once called "Telluride's hidden gem." Once inside, its five-bedroom, 3,718-square-foot penthouse includes hand-blown glass fixtures, a chef's kitchen and a private outdoor hot tub overlooking those majestic ranges. All this can be yours for between $1,550 and $5,000 per night. Another option is the Fairmont Heritage Place Franz Klammer Lodge, which features luxury three-bedroom residences with private balconies for $575 a night.
Affordable version: Rooms at the New Sheridan Hotel, which originally catered to miners who struck gold there in the late 1800s, can be had for as little as $118 per night. And at the charming, 17-room Aspen Street Inn, you can enjoy the outdoor gazebo, hot tub and deck for as little as $99 per night.
St-Tropez, France
Celebs spotted: Sean "Diddy" Combs, Beyonce, Jay Z, Neil Patrick Harris, Kate Moss, Rihanna, Simon Cowell, Leonardo DiCaprio, Jack Nicholson and Mick Jagger.
Celeb version: One of the most sought-after celebrity hot spots ever since Brigitte Bardot fell in love with it after filming the 1956 classic "And God Created Woman" there, St-Tropez is the perfect place for celebrities to rest their weary yachts. So if you want to vacation like Beyonce, it'll cost you accordingly.
A mere $1,062 a night gets you a junior suite at the Hotel Byblos St-Tropez designed with antiques and Provencal fabrics that allow the beauty of the region to permeate every inch of your surroundings. The hotel's offerings include Jacuzzis, and a patio bar with a cigar-filled humidor.
There's also the former fisherman's bar and family home turned luxury hotel, Hotel La Ponche, which has hosted everyone from Pablo Picasso to Jack Nicholson. It offers beach views, a private garage, gourmet dining and a terraced suite for $1,847 a night.
Affordable version: Although it might be the last city in the world to be associated with the word "budget," there are ways to emulate celebs in St-Tropez without having to take out loans. You can stay in the Hotel Ermitage, a five-minute walk from the beach, for just $220 a night.
St. Barths
Celebs spotted: Derek Jeter, Mariah Carey, Lindsay Lohan, Gwen Stefani, Beyonce, Jay Z and Miranda Kerr.
Celeb version: The celebrities on St. Barths often stay at private villas that increase the considerable privacy available to them on the island. A four-bedroom suite with views of the surrounding hills, with shaded deck and infinity pool can be had for $19,070 per week. If that's more than you need, there's also a two-bedroom with a pool terrace at $3,270 a week.
For celebs looking for more of a hotel lifestyle, the Hotel Carl Gustaf offers a 2,600-square-foot, rooftop four-bedroom suite with a loft-like master bedroom for $3,880 per week.
Affordable version: Affordable St. Barths? It exists! A room at the Sunset Hotel can be had for as little as $235 a night during peak season, $135 in off-peak winter season, and a cottage at Salines Garden goes for around the same. Although hotel rooms are available for less than a mortgage, the even better news is that the island's white sandy beaches are absolutely free.
Ibiza, Spain
Celebs spotted: Paris Hilton, Benedict Cumberbatch, Kate Moss, George Michael, Leonardo DiCaprio and David Cameron.
Celeb version: The Ibiza Gran Hotel's deluxe suite, complete with Jacuzzi tub, marina views and even a bidet, can be had for $1,525 a night. You can also indulge in the nearly 1,700-square-foot presidential suite at the Aguas De Ibiza, complete with a 540-square-foot terrace and luscious views of the island of Formentera, for $2,575 a night.
For a meal once you're settled in, Bambuddha Ibiza recalls a psychedelic temple filled with stone statues and plentiful bamboo, with delectable dishes such as king crab and lime risotto for $48, or the Alaskan Black Cod for $44.
Affordable version: The Ibiza Rocks Hotel, home to many concerts and DJ-driven pool parties, brings the swag for a relatively affordable $375 per night. Those looking to save even more can try the Hotel Algarb, right off the soothing Playa d'en Bossa beach, for as little as $155 per night.
Dubai, United Arab Emirates
Celebs spotted: Tom Cruise, Novak Djokovic, Eva Longoria and Kim Kardashian.
Celeb version: When it comes to pure opulence, few other locales come close to Dubai, the home of the $1,000 cupcake. The massive, sail-shaped, suite-only Burj Al Arab, for example, offers "a host of personal butlers," a personalized 24-karat gold iPad for every guest, and an "optional chauffeur-driven Rolls-Royce." Its deluxe one-bedroom suite can be had for between $1,275 and $1,775 a night. The less-opulent version, the "deluxe room," runs $450 a night.
Affordable version: Amazingly, Dubai does have hotels that nonsheiks can afford. A room at the EasyHotel, for instance, can be had from a downright silly $30 a night. The hotel boasts of being the city's first Gold LEED hotel, but we're not sure how impressive that is when so much of the city seems to be made out of actual gold. If that price scares you just a bit, the Premier Inn by the Dubai International Airport has rooms for around $125 a night.
Maui, Hawaii
Celebs spotted: Owen Wilson, Paris Hilton, Steven Tyler and Mick Fleetwood.
Celeb version: Living like a celebrity here might be a bit difficult for commoners, as not only do A-listers come here to visit, but many of them put down roots -- especially classic rockers for some reason. Aerosmith vocalist and former "American Idol" judge Steven Tyler owns a home here, and Gene Simmons (KISS), Mick Fleetwood (Fleetwood Mac) and Sammy Hagar (Van Halen) all own rockin' Maui restaurants. But if you want to try your luck at seeing a celeb and have the cash to spare, an oceanfront prime suite at the Four Seasons -- complete with full-size marble bathroom and a 180-degree oceanfront view -- goes for $3,600 per night. At The Ritz-Carlton, the two-bedroom penthouse royal Pacific suite, with 2,550 square feet, including two marble bathrooms and private balconies, will run you $6,309 per night.
Affordable version: For those of us who aren't rich and famous, there are plenty of options for Maui on the cheap. Rooms at the Maui Beach Hotel run from $119 per night; at the Maui Seaside, for upward of $111 a night.