How to Use the New Facebook Payment Service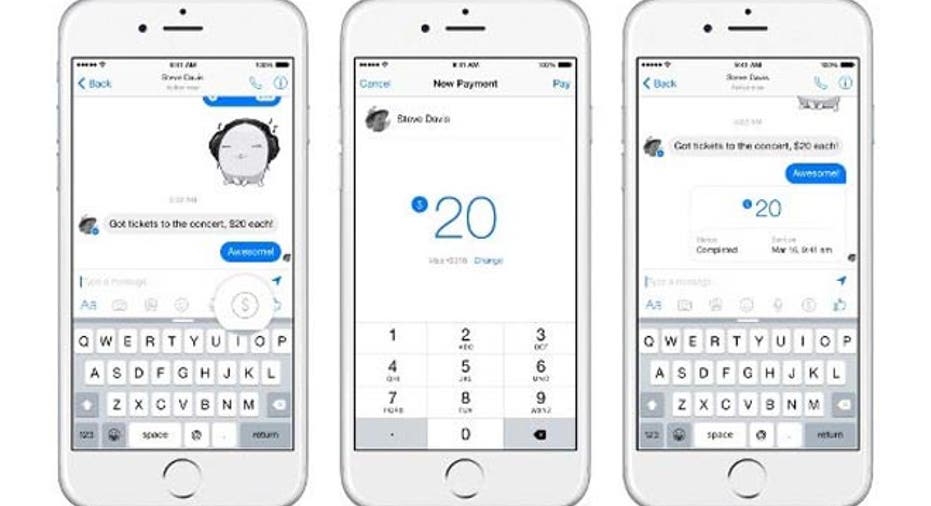 Convenience is the key word for payment systems these days, and a pack of new apps are fighting to provide a fresh level of convenience via the peer-to-peer (P2P) payment market. Venmo, a mobile payment platform owned by PayPal, is already in place as a popular combined payment system and social network, and Snapchat has combined with the payment system, Square, to allow the sending of cash to individuals.
In a way, the U.S. is catching up with other areas of the world where this service has been available for some time. Asian services such as WeChat and Alipay have allowed money transfers via instant messaging for a while now.
Facebook (NASDAQ:FB) has just jumped into the fray through its Messenger app. Facebook announced earlier in March that "over the coming months" users of Messenger would be able to send money directly to another user via a simple message. Transactions are limited to other Facebook friends at this point. With over 500 million monthly users, Messenger could provide an inherent advantage in convenience if the system works as advertised.
To send money to anyone via Messenger, you need to be engaged in a message with that person (or start one), select the "$" icon, enter the amount of money to send, and select "Pay." Users have a ready-made transaction reference since this takes place within a conversation thread that can be saved.
As with most bank transactions, the money will be transferred out immediately and money you receive will be available within the typical posting period (1-3 business days). Transfer is instantaneous but access is not. Keep that in mind before immediately using your received funds elsewhere.
Money exchanges take place through debit cards issued by U.S. banks; credit cards are not supported. The first time that you send or receive money through Messenger, you will need to enter your debit card information and you will be allowed to create a PIN number to increase security — which you should obviously do. Make sure that the initial set-up takes place in a secure wireless environment to avoid exposing your debit card number (and a secure environment is not a bad idea for regular use, either).
You can add another layer of security by setting up login approval within your security settings in Facebook and implementing any device-based security methods possible, such as the Touch ID with Apple iOS (NASDAQ:AAPL) devices. We suggest adding as many layers of security as you can tolerate with respect to convenience — after all, if the system is so cumbersome that it is no longer convenient, why bother?
According to Facebook, the encrypted card information is stored in a separate, secured environment with additional control functions and monitoring of suspicious purchase activity. Security questions may be added to verify transactions that look unusual.
All of your past Facebook Messenger payment transactions, whether sending or receiving, can be accessed through a Payments History section.
The service is free and not geared as a direct moneymaker but is instead aimed at keeping people on the Facebook platform without having to venture beyond to make transactions. Facebook wisely excluded credit cards to avoid unplanned transaction fees that would have to be explained to users. The service could also be a toe in the water to more ambitious payment system plans. Either way, if you are comfortable with Facebook having your debit card information, the Messenger P2P payment system may provide you with yet another level of convenience — just what the Facebook team is trying to achieve.
More from MoneyTips.com:
The Future of Mobile PaymentsApple Pay 101How About Them Apples?