How to Snag the Best Price on Airline Tickets for Every Occasion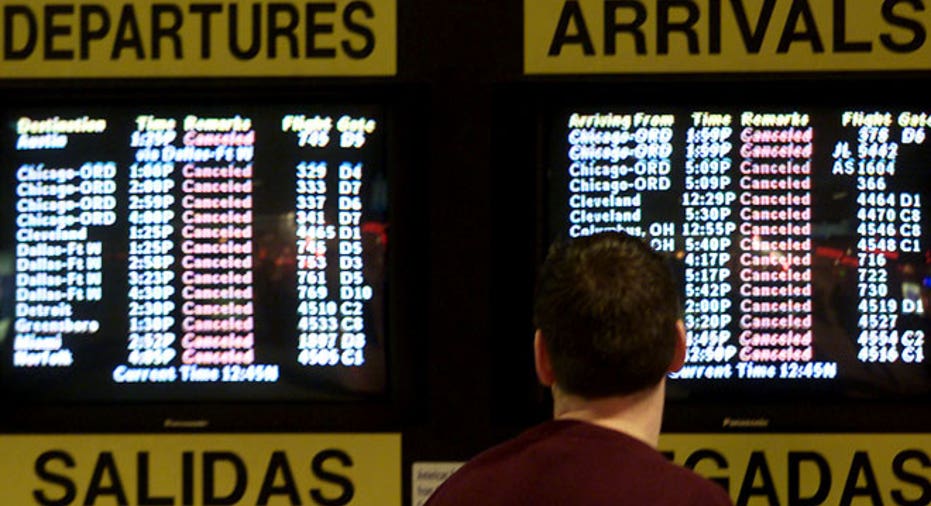 This year, my family celebrated Thanksgiving in February.
Four of us were flying from New York to Miami, and we tried to be responsible. We checked in on ticket prices as early as summertime—unusually high. We tried again closer to the holiday—no great luck.
We found reasonably priced tickets later in the year and decided to "reschedule" Thanksgiving for February.
Everything worked out okay in the end, but I wasn't able to eat turkey with my immediate family. Next time, I'd like to celebrate Thanksgiving on, you know, Thanksgiving.
But does that mean I have to buy my tickets a year in advance to get reasonable prices?!
The short answer: No. (The longer answer: Wait till early September.)
Whether or not you're in a pre- (pre-) holiday conundrum like mine, knowing the best times to buy plane tickets for any occasion would be an awesome skill … more like a magical power.
So I spoke to Kellie Pelletier, the airfare expert at Jetsetter, to help me—and you—acquire that magical power. In addition to giving me the inside scoop on ways to save on plane tickets, she broke down exactly when to buy tickets for everything from Thanksgiving to late summer getaways.
Ground Rules for Getting the Best Airfare
Before going into the specifics of when to buy each ticket, she shared some basic rules:
Shop on Tuesday mornings. Fare sales are often launched Monday nights, so other airlines have matched their prices by Tuesday morning.
Search how full your flight is. You can tell if your flight is full or empty by starting to buy tickets online and "choosing your seat." That will show you how many seats are taken already.
Remember it's a gamble. When in doubt, booking earlier is safer. If you wait, fares could go up or down, and usually fares go up by more than they go down (read: going down $50 vs. going up by $300). Only bide your time if your flight isn't too full and you know the price is a lot higher than it should be.
Use online tools. Kayak's "Hacker" tool can help you find two separate one-way flights to make a round trip that saves more money. Kayak also offers a fare chart so you can see trends in the ticket prices, and Bing created a price predictor tool to help you guess if fares are going up or down.
Follow airlines. Some airlines promote one-hour sales on Facebook or Twitter only, so follow an airline for the best deals.
Consider a destination serviced by low-cost carriers. Carriers like Air Tran, Southwest and Frontier drive down all airfares along their routes. So it might make sense sometimes to drive longer to go to a bigger airport with low-cost carriers, since even major carriers' flights will likely be cheaper.
Then, Pelletier let me in on the best practices for buying plane tickets for every occasion. Just keep in mind that airline prices are an art, not a science—above all, use common sense and remember these are rules of thumb rather than word of law.
If You're Traveling …
At a Normal Time (Not During the Holidays or High Season)
Non-peak domestic flights present one of your best shots at timing your ticket-buying. This will be easiest if it's a route you're familiar with and you have a sense of what a good price is.
When to buy: Pelletier says, "Recent fare analysis by the Airlines Reporting Corporation, which processes ticket transactions for airlines and travel agencies, reported that over the past four years passengers paid the lowest price for domestic flights when buying just about six weeks in advance."
Here's your plan of attack:
Check available tickets eight to ten weeks before your departure. If the flights aren't too booked, wait until six weeks prior.
At six weeks: If the price looks good, go ahead and book. If the tickets look a little high but your flight is pretty full, buy anyway because fares will probably only go up. If the price is high and your flight is pretty empty, you can choose to wait a week or two to see if prices decrease.
Consult resources like Kayak's fare chart and Bing's price predictor to see if your flight's price is likely to go down. Put a fare alert on a few different airlines.
Right before you're two weeks out, buy your tickets. If you book within 14 days, airlines assume you're a business traveler and will charge you a premium.
To a Popular Location in the High Season
Disney World during summer break. Aspen during ski season. Anywhere warm during the winter. When you're trying to go somewhere at a popular time, buy tickets well in advance.
When to buy: One to three months in advance—preferably three. 
Bonus tip: Prices will be lowest if you avoid the usual Friday to Sunday weekend cycle. If you're going for a weekend, try using the "weekend trip" option under the "flexible trip" search on most web resources like Kayak. This lets you define weekend however you want, whether Friday to Sunday or Saturday to Monday, so you can find the cheapest options.
Around a Holiday
Pelletier told me Thanksgiving is the absolute hardest to buy tickets for, because everyone is trying to fly out and return on the same days (Wednesday to Sunday). Christmas is more flexible because people choose different days off. Notice when holidays fall midweek. For example, if July 4th falls on Wednesday (like this year) some people take time off before, some after. This allows you more flexibility in buying tickets.
When to buy: At least three months out. Aim to buy Thanksgiving tickets the Tuesday after Labor Day; don't book too early because rates will usually come down at least a little after the summer, when rates are high because gas is expensive.
Bonus tip: If you can, avoid Sunday flights and traditional travel days. That could mean leaving before and coming back later than most people, or flying on the holiday itself. Pelletier told us you can often save 50% on a ticket by flying Christmas Eve or day. "We saved $300 per ticket around Thanksgiving for our family of four," she told us, "by flying out the Saturday before Thanksgiving and coming back the Saturday after. Not everyone can swing that with their work schedules, so my advice is to leave Thanksgiving day and return on Saturday for cheaper fares."
Over the Summer
If you're looking to travel this summer, book your flights right away because there will almost certainly be more fare increases to come. Extra hint: Pelletier recommends taking earlier morning flights because rain delays are a lot more common in the summer.
When to buy: Three months before your departure, depending on where you're going. More than any other season, buy early because gas prices are notoriously high. Prices usually only go up as the summer progresses.
Bonus tip: Extend the summer for better prices—if you can book your vacation for May or September, you're likely to save as much as 25-50% on air and hotel. You can also find deals when certain regions have slow seasons because of school schedules. For instance, Northeast schools are usually in session through mid-June, so beaches in New England offer deals in early June. Southeastern schools start back in mid-August, so beach destinations in South Carolina and Florida may offer late August deals.
During the Fall
Autumn isn't typically leisure travel season since kids are back in school, so there are a lot of great fare sales, particularly last-minute ones around late September or October. If you are open and flexible, this is a great season for an off-peak leisure trip to a mountainous area or somewhere off-season like Mexico.
When to buy: You can wait longer and be more open to last-minute deals (like two to four weeks in advance) in the fall. If you need to go somewhere in particular, though, buy six weeks in advance so you aren't gambling.
Bonus tip: Avoid fall convention hotspots like Las Vegas, NYC and Orlando. A great time for a cheap leisure trip is between Thanksgiving and Christmas. For trips during that time, start looking in September.
In the Winter
Aside from the obvious winter holidays, traveling in the winter will depend a lot on where you're going. If it's a warm getaway, you're buying in the high season. If you're going somewhere less popular (read: to and from colder locales) you'll have more leeway.
When to buy: If you're going skiing, book extremely early because ski season is so short and flights to tiny ski towns are often small—at least three months in advance, if not as early as September! If you're traveling somewhere warm, give yourself three months. If you're going to an unpopular destination, you can play closer to the bone and try to time the best prices. (Check out the section about off-peak travel for the plan of attack.)
In the Springtime
Spring is pretty expensive across the board because of spring break and Easter holidays. Spring breaks are different for college kids, families, public schools, private schools … Find out when spring breaks are in your region and try to avoid those dates like the plague. You can search your county's school district's website for the dates.
When to buy: If you're traveling any time during your area's spring break, at least three months in advance. If not, you can look at how full your flight is and try to time your purchase for the best prices.
Read More From LearnVest: 
How Becoming a Mom Made Me a Financial Adult
Why I Gave Up Clothes Shopping for Six Months
Can a Travel Agent Actually Save You Money?
Read the story on LearnVest here