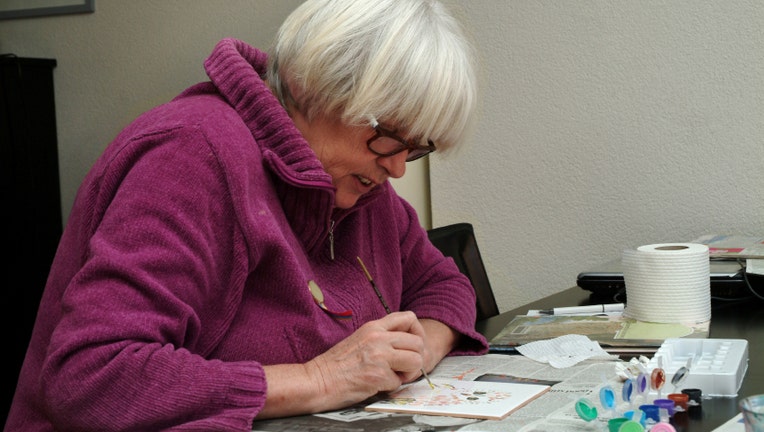 One in six people consider themselves artists but can't make a living doing so, according to the National Endowment for the Arts.
Selling your work online may seem daunting, after all, what does something as boring-sounding as "e-commerce" have to do with being the creative person you are?
The online marketplace has become saturated with retailers, but here's the good news: You have an advantage over the big-box companies selling generic goods since you are offering a unique product.
For artists looking to get into the e-commerce world and make money selling their goods online, here's a quick roadmap to get you started:
Find where online your art belongs. If you're selling originals, consider selling your work on Etsy or Ebay. There are other marketplaces that help fulfill orders and hold inventory and allow you to upload digital work can be printed on a variety of products and shipped directly to the customer. Eventually, if you start to sell in high volume, you may want to start your own website.
Socialize it. Free and popular social media sites like Facebook, YouTube, Pinterest, Tumblr and Twitter make it easy to promote yourself, upload and share your artwork and stay in contact with your fans, friends and family. But you can't just sign up for the social networks and expect people to find you. If you have a personal presence on these networks, use it as your starting point. For example, on Facebook, create a public page for your artwork, "Like" it with  your personal account and encourage your friends and family to do the same. Post your art on Pinterest, offer a "behind the scenes" look at how you create your art by creating a Youtube video or post tutorials to your blog. Eventually, you'll build up a separate audience of fans of your work, but your personal network is a good place to start.
Engage your audience. Once you have fans and customers, get them involved and make them a part of the process. This gives you an opportunity to connect with them and gain insight on what their interests are. Share your works in progress and ask for feedback, or if you're in between works, offer a poll and encourage feedback on your work. Make yourself accessible to fans so they'll view you as an art expert.
Play into holidays, events and trends. You can find some fun and quirky suggestions that resonate with your fans at Days Of the Year to market your product around. Use these holidays as an opportunity to send out a few emails, tweets and pins to family and friends and get the word out. Keep up-to-date with current trends including music, TV programs, pop culture, movies, sports, and much more. Keep the momentum and interest in your work growing by knowing what the world at large is interested in. Google Trends is a great place to track what people are searching for.
Collaborate with another type of artist (musician, poet, painter, photographer, comic book illustrator, or tattoo artist). It will spark your creativity, energize your work, and connect you to a new group of people. Network with artists you admire - support them, follow them on Twitter, and give them feedback.
Reconnect with your customers. Ask them to submit photos of themselves with the work they've bought and post those photos on your social network. They'll love seeing the pictures of themselves posted and will likely share them, which gets you two things: validation from a happy customer and exposure to a larger audience. 
Peter is the chief community officer and evangelist for Redbubble, a growing e-commerce site that serves as platform for independent artists and designers to sell their work online more easily and more often. The site offers a diverse selection of more than 10 million pieces of everyday art that have personality, wit, soul and meaning including apparel, photographic prints, canvas prints, posters, iPhone cases, wall decals, stationary, and more. Peter is an urban dad who lives in San Francisco with his two daughters. He's written a variety of poetry which has appeared in a myriad of periodicals including The South Carolina Review, Western Humanities Review and The Pittsburgh Quarterly.
About the Author: Jen Wahl expresses herself artistically through photography and writing and is a Community Manager at Redbubble, helping artists every day. She lives in Denver, Colorado with her two creative children