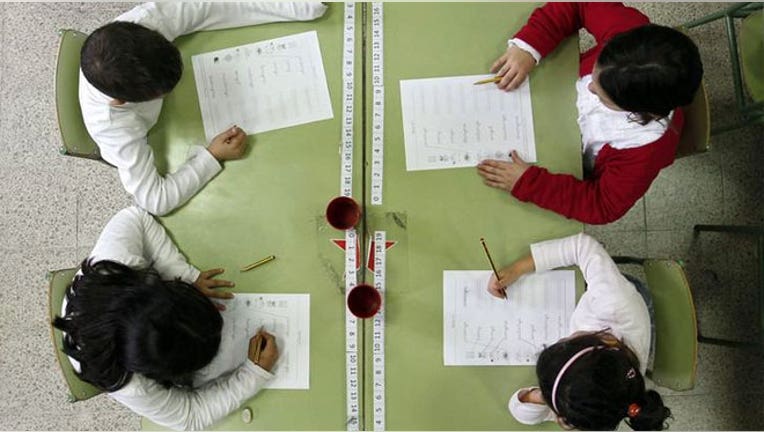 The rising cost of college tuition has been grabbing headlines recently, but child-care costs can be just as hard on parents' budgets.
According to Child Care Aware of America, in 31 states and Washington D.C., the average annual cost for infant care at a facility is higher than one year's tuition for a four-year private college. What's more, Care.com's research found childcare is the biggest annual expense for most families at $18,000 a year.
Despite those eye-opening statistics, many parents are caught off guard by the high cost of care. In fact, Care.com found 42% of families don't budget for it, and 75% of families are surprised or overwhelmed by the cost.
"[Parents] are essentially paying college tuition for infant-based care," says Lynette Fraga, executive director of Child Care Aware of America. "It really is a significant cost for families."
However, experts say there are ways to help reduce these costs without sacrificing care, and the first step is for parents to review their budgets.
"The average family spends approximately 18% of their overall budget on childcare," says Donna Levin, co-founder of Care.com. "That's a huge chunk, so you'll need to determine your budget before exploring childcare options."
Parents need to calculate how much money they have left after paying basic necessities, including housing, food and utilities. Reviewing a budget will also identify any areas that could be reduced and move the money toward childcare.
After determining the budget, parents need to consider the best childcare solution for their situation. For instance, it may be more cost effective to hire a nanny over paying for childcare in a facility. The child's temperament and a family's proximity to the care should also play a role in the decision.
For parents going the nanny route, Levin says in addition to the salary, they should calculate the taxes associated with the hire. Costs for both center- based care and private one-on-one care is going to vary from state to state, city to city and even neighborhood to neighborhood. The amount will also depend on the age of the child, number of children and the experience of the childcare provider, Levin adds.
Katherine Lee, a childcare expert, says working parents who want a babysitter can look into a sharing arrangement with another family with similar-age children to help reduce the costs.
What's more, she says many churches, synagogues and other religious organizations often offer discounted childcare. School districts often have childcare services before and after school at a discounted rate as well. "As children get older and just need someone for a few hours a day, parents may want to check out local universities and colleges to see if they have a list of students who may be recommended sitters," she says.
Levin says local family childcare programs, which tend to be run out of a professiona;'s home, tend to be the most affordable option with the average family spending about $127 a week for infant care. Parents with several kids may opt to hire a nanny, which would cost more, but could be more practical than shuffling the children around to save some money.
Parents should participate in their employer's flexible spending account (FASA) if offered, advises Levin. With a FSA account, participants can save as much as $2,000 on childcare expense, she says.
Uncle Sam also gives out tax breaks when it comes to childcare, with the average family able to get up to $1,200, she adds. Parents should check in with their human resources department to make sure they are taking advantage of all the benefits and aid.  Some companies also offer additional benefits like on-site day care or backup care that may be more affordable.
One of the best ways to ensure affordable and quality care is to start the hunt early. Fraga also suggests visiting potential child care centers and interviewing multiple employees. Be sure to ask questions like, how many children per worker, qualifications of the workers, sick and late policies and the facilities' turnover rate.
"One thing to keep in mind is that no matter what type of childcare you choose, you must check out the reliability and safety of your sitter," notes Lee. "Be sure to speak to several people who are listed as references and ask the sitter if she or he is certified to handle medical emergencies."