How to Prepare for Getting a Job During College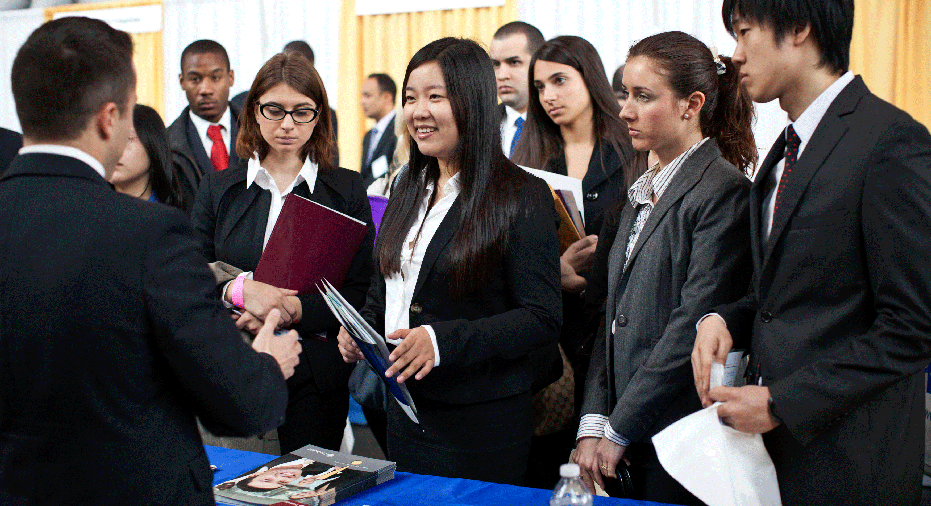 Students waiting until their senior year to start their job hunt are putting themselves at a disadvantage in the current frail job market.
A recent study by Millennial Branding and StudentAdvisor.com shows that students are not aggressively preparing for their post-college careers during their time on campus making their job search even more difficult after graduation.
The study results show that although 85% of students surveyed consider internships important to their future career prospects, only one-third have a presence on LinkedIn, a key networking tool for connecting with internship opportunities. Only one in nine student respondents have an online blog presence on WordPress.
Underclassmen need to create a professional online presence, start making contacts and work to build their resumes with experience before their last semester rolls around if they want to increase their chances of gaining employment upon graduation, says Gail Rooney, director of the Career Center at the University of Urbana-Champaign.
"If they start early, they also can begin to get a clearer idea of the kind of work they want to do, the type of work environment they want to be in, and how they want to use their skills, interests and passions."
To avoid last-minute panic during their senior year, college and career experts offer the following tips to students to get ready for the workforce and build their resumes throughout their time in college.
Find and Use the Career Center
The majority of students don't find their way to the career center until senior year, but underclassman should get acquainted with the services and resources offered on campus as early as possible, advises Kimberly Baker, career services manager at Bryant & Stratton College Online.
"Make an appointment to speak with a staff member to get personalized advice and guidance early on and stop back as you advance in your degree program to revisit your goals and make sure you're still on track," she says.
In addition to resume and interview workshops, career centers can often put interested students in touch with alumni in their field of study to build relationships over the next few years, says Dan Schawbel, managing partner of Millennial Branding and author of Me 2.0: 4 Steps to Building Your Future.
"If you try to get help, the career services people will see that you're putting in effort and so they will be more likely to connect you with alumni for an informational interview."Go to Career Fairs for Dress Rehearsals
Students who attend on campus events early during their college stay will learn how they work, how to interact with prospective employers, learn what skills and experience hiring managers are looking for in candidates, as well as what to bring, how to dress and how to behave.
"As a freshman and sophomore, you may not be actually applying for an internship or a summer opportunity but you get to talk to employers, you get to see a variety of things that they have to offer, it helps you think about what companies are in different areas," Rooney says. "It's really a way to go learn, not just connect for a job."
Schawbel says companies usually send the same recruiters to campus every year, giving students the chance to show their professional persistence and create lasting connections with hiring managers.
Get Internships/Work Experience
When competing for internship opportunities, students can't afford to wait until junior year, warns Schawbel.
"Once you get that first internship, then you know how to get an internship and you understand what the work place is like--it changes your life basically and I think there needs to be more emphasis freshman year on figuring out how to get all students internships," he says.
While 91% of employers want prospective hires with internships under their belts, Rooney says any kind of work-related experience can be just as valuable.
"That even includes the position you may do a job on campus with the library or in an office at a front desk," she says. "Those students are gaining valuable customer service skills, they're probably learning to work in a team, and they're learning how to be at work on time and about professionalism."
Start Creating Your Networking
The experts emphasize the importance of continuously building up professional networks, both on and offline.
Underclassmen should join LinkedIn to learn where to start looking for opportunities that interest them, says Rooney.
"Not only does it have value for possibly networking and connecting to people, it's an extremely valuable tool for researching organizations or people who are working in certain organizations to researching alumni who might be in the geographic area you want or in an industry you want."
Schawbel urges students to create a profile and get connected with others in their field as soon as possible, even with limited work experience.
"You get a head start and if all of these students aren't doing this and you do it, it's going to make you look so much better," he says. "If you have a profile without any experience, that's good because it's going to pressure you to get experience and you're not going to want that to be blank."