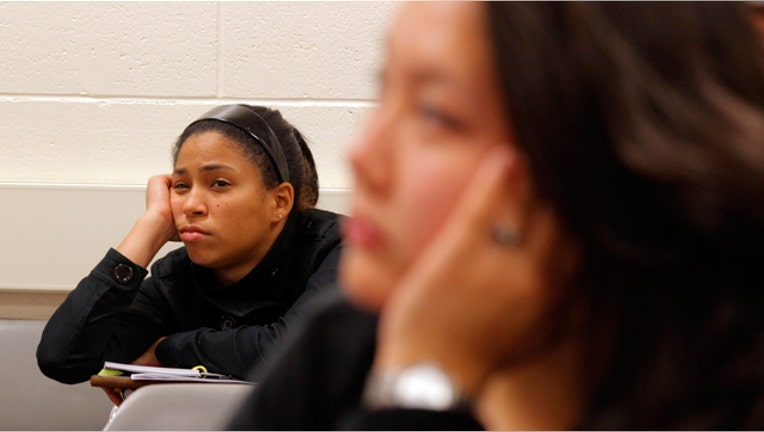 Growing up is tough enough without the worries of your financial future, so Money101  is here for you. E-mail us your questions and let us take off some of the pressure.
College freshmen are hit with many freedoms they aren't used to: no parent-enforced curfews, several dining options, whether to study for a big test and what classes to enroll in.
Many college freshmen don't have much say when it comes to their first semester course load. However, they get a little more room for what classes they take in the second semester.
"It's important to give freshmen the overall advisement perspective, even if they do know what they want to study," says Rhonda Stokes, academic advisor for the office of freshmen advising at the University of Baltimore. "Sometimes navigating the college environment can be a little bit difficult, especially in that first year."
Signing up for the right courses can save students time and money by avoiding taking irrelevant classes that don't count toward their major.
According to the U.S. Department of Education's National Center for Education Statistics (NCES), only 36% of first-time students seeking a bachelor's degree or its equivalent attending a four-year institution full-time graduated from college within four years in the 2000-01 school year .
When it comes to picking classes, students should weigh what size class they prefer, their overall schedule and verify what classes will count toward their major.
Start with your freshman advisor
Some schools have specific freshmen advisement offices for all incoming students, even those who haven't decided on a major. Students will often change majors after being exposed to a new career or taking a class, so it is a good idea to at least start out with general freshmen advisement.
"Even if they know what they're doing, I would say to still work with your freshman advisor for that first year just to be sure you stay on track and that you get to explore all of your options in that first year," says Stokes.
Use advanced classes/placement tests 
Students who took advanced placement (AP) or international baccalaureate (IB) courses in high school should verify if their school applies them toward their college credits.
Every school handles these credits differently, so students should get an official transcript sent from the College Board to see if they're applicable, says Matthew Greene, educational director at Howard Greene and Associates.
Some colleges offer placement tests that can allow students to skip over introductory classes, saving time and money. With that said, students should be prepared that next-level classes will be more challenging, warns Janet Tighe, dean of freshmen and directory of academic advising at the University of Pennsylvania.
"All of these things are to get a student into the right class, so that they can start building from a solid foundation," says Tighe. "The real question is, 'is this higher level course the place where I need to start considering what my experience in high school has been?'"
Deciding on core classes and requirements
For freshmen who are undecided in their majors, Stokes recommends getting required courses out of the way as soon as possible while figuring out which direction to take.
"Staying with your [general education] requirements always ensures that you're meeting the requirements that you're going to need for any degree that you pursue," says Stokes. "As they go throughout their year and they get to experiment with career services, with different courses, seeing what they like and don't like, they come to that point where they can start to think about choosing a major."
And while it may be tempting to get all the required core classes out of the way in the first year, Greene warns it can overload a student's schedule and lead to poor performance.
In addition to requirements, Lisa Andrews, Evisors career expert and director of career services at the University of Maryland, says that freshmen should take an introductory course in the major(s) they are considering.
"Doing so can not only help gauge their aptitude for the work but also their interest," she says. "This will help them narrow their major down to the one that is the best fit."
Consider your learning style, but don't be afraid to try something new
When it comes to picking classes, students should pick ones that jive with their learning preferences and style.
"A morning person who wants structure might want to have a couple of classes before lunch every day, while another type of student might want to keep one or two days free each week for project work, reading, or free time," says Greene.
Although early morning classes might not be your cup of tea, students should also consider having a mix of learning styles, says Tighe.
"We encourage all incoming freshmen to have a mix of smaller classes like language immersion courses or writing seminars or a freshmen seminar, and maybe bigger classes so that you get a balance of what's going on," says Tighe. "The balance is the real key, not that you do all of one thing or another."
Look beyond the first year 
Once students decide on a major, Stokes recommends outlining all of the class requirements on their degree checklist and to follow it "like it's their path to their life" to keep them on task.
Even if students are comfortable with the registration process, Stokes suggests keeping in contact with an advisor at least once a semester to check if there have been changes to the program or if a class is not offered anymore.