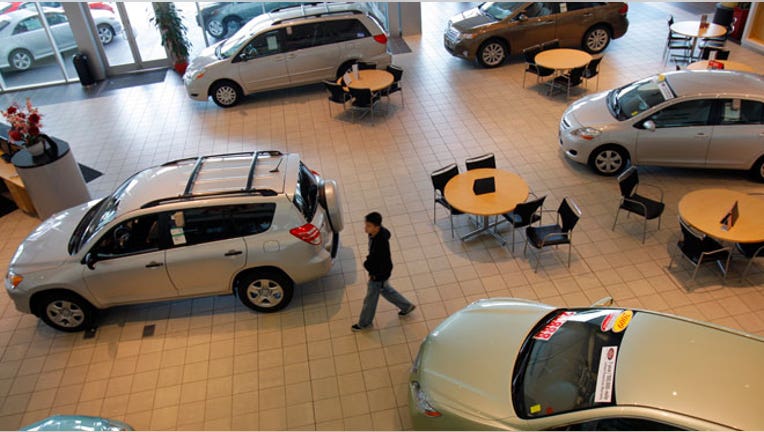 Between the research and negotiating, buying a car can be a daunting process. But thanks to technology, information is more accessible than ever, making it easy to prepare for a trip to the dealership. Having a smartphone handy makes the car-buying process a little less intimidating.
"Most consumers have already done their research when they arrive at the dealership," says Kenny Goldstein, director of mobile products for Edmunds. "And apps, or mobile in general, are enabling car shoppers to take this information with them."
Overall, you want your smartphone to at least be equipped with the ability to do the following at the dealership:
Show you vehicle reviews.
Compare vehicles and dealer prices.
Offer specific vehicle history.
Calculate financing of your auto loan.
Smartphones can help shoppers close the information gap that has long given dealers an advantage in each of these areas, says Oren Weintraub, consumer advocate and president of Authority Auto.
Weintraub is a former general sales manager and car salesman who spent 12 years working in the consumer auto industry before turning to consumer advocacy.
"The average consumer doesn't know how to effectively manage negotiating. So what I teach is how to speak in dealer terms," Weintraub says. "Having a smartphone with you at the dealership is a good idea. ... There's so much research you can do with it."
The Lot and Showroom
It's essential to do some preliminary research on car models and prices before heading to the showroom -- and most people do. A 2013 poll commissioned by AutoTrader.com found that 75 percent of the time consumers devote to buying a car is spent online.
"The dealerships have lost an advantage over the average Joe," says Jim McArthur, managing director of Big on Mars, a mobile technology and connectivity company. "Sure, some people still wander haplessly into a dealer and engage on their terms, but the number of consumers walking in with TrueCar quotes, their own financing and competing bids is rising every day."
McArthur recently bought a new car using two smartphone apps:
TrueCar, which allows users to find and compare car deals in their area.
AutoTrader, which allows users to scan a VIN on a car's windshield to bring up comparable vehicle options.
"Though we're not quite to the point where people are buying their cars online and just picking them up ... the days of 'quick service dealership' are pretty much here," McArthur says.
Still, many want to wait and see the cars in person before making up their mind.
A 2013 poll of 500 adult car buyers in the United States by market research firm Lab42 found that 52 percent aren't exactly sure what make and model they intend to buy when they step on the lot. If you find yourself in that situation, these other resources might come in handy:
Kelly Blue Book's free app allows users to research car value.
Edmunds' app gives you a number it calls the True Market Value, which helps buyers gauge what other shoppers in your area paid for the same car.
The National Highway Traffic Safety Administration has info on the latest recalls and crash test reports.
The Cars.com app allows you to compare cars' features side by side.
The Dealer's Office
Once the buyer has decided on a particular car, it's time to head to the dealer's office. This is where the negotiating takes place and where buyers are often asked to cool their heels while salespeople "go talk to their managers" about prices.
When negotiating, it helps to be equipped with as much knowledge as possible. For example, you should have an understanding of the following:
The car's value.
The history of the car.
Prices at other dealerships.
With the ability to access this information at their fingertips, buyers have an advantage.
Weintraub points out that Edmunds will tell you if there are any special incentives, rebates or financing programs from the manufacturer, for example. Some similar apps and resources that might come in handy once it comes down to negotiations:
Carfax's app, which lets you pull up a vehicle's history report.
CarGurus, another app that includes a calculator for determining fair price.
AAA's Auto Buying Tools app, which includes AAA reviews, safety ratings and VIN check.
The FandI Room: Finalizing the Deal
Once you've agreed on a price, your negotiating may not be done.
The FandI room is the finance and insurance department. This is where your paperwork will be finalized; here, the finance manager will print your contract and review the numbers with you. But the dealership will also try to offer you a handful of back-end products, says Weintraub.
These back-end products are meant to boost dealer profit. In the FandI office, you can use your smartphone to research the value of these extras. You'll likely find that most of them are unnecessary, including the following:
Rustproofing.
Fabric protection.
Paint protection.
VIN etching.
Extended warranties.
If you're financing your vehicle, the finance manager will offer you a loan with an interest rate based primarily on the information in your credit report. These apps can help get a handle on the rates available elsewhere, the amount of loan you can afford and the details of your credit report:
Xinify's Auto Loan Calculator app, which allows users to calculate lease payments and test out different variables to see how they'd affect your car loan.
Bankrate's Auto Loan Calculator app, which includes a loan calculator and a nationwide database of auto lenders.
Credit Karma's free credit score app.
The instant information they supply can give you a bit more control and make the whole process less overwhelming and more efficient.
Copyright 2014, Bankrate Inc.