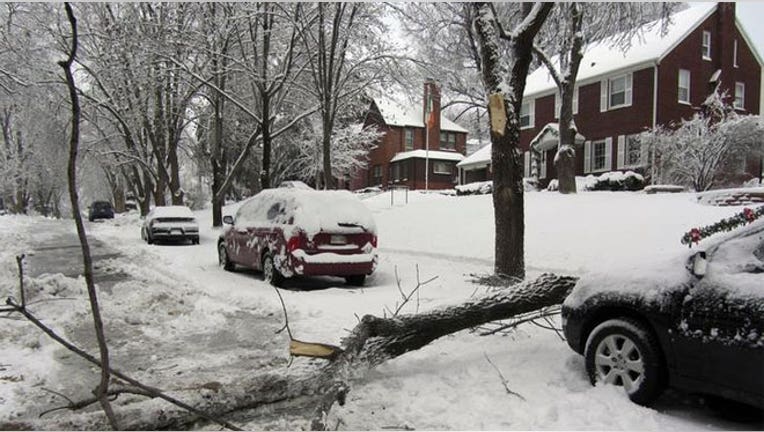 Northeasterners are still digging out of the massive blizzard that slammed the region last weekend leaving some homeowners buried under two-plus feet of snow and others without power.
The total cost of the destruction is not yet known, however experts say people with storm-related damage should contact their insurers now to assess and claim damage as soon as possible.
National disaster insurance expert Scott Mager of StormTeam.org says people who incur damage in natural disasters often do not know where to turn for help or rely on insurance companies to follow through on claims.
"It's important for people to understand they have to be really aggressive as to how they handle claims," he says.  "Don't just call insurance and wait for them."
Here are Mager's tips for homeowners with damage in the latest super storm:
No. 1: Know that government aid is immediately available. If you have incurred damage and live in an area that is under a "disaster declaration"  by a state or federal official, Mager suggests immediately notifying FEMA online at DisasterAssistance.gov or by phone at 800-621-3362.  A disaster declaration means the state has been approved for Individual Assistance, meaning you are immediately entitled to about $31,000 in aid in the form of immediate repairs, including electrical work, fuel for energy sources and plumbing, he says.
No. 2: Take photos and video immediately. Document every inch of damage to your home, inside and out, to have ready for your insurance claim. The more evidence of damage you have, the better you will be when it comes to dealing with insurance.
You can also hire experts to assess the damage for you. "Have qualified experts perform the inspections," Mager says. "Then give notice to the insurance companies so they can come out. This is not a contractor writing a one-page estimate, this is line-by-line detailed information."
You should also consider taping or recording the walk-through that inspectors perform, he says.
No. 3: Notify all insurance companies. Blizzard, wind and storm events have a number of potential causes and the damage is covered by different insurance plans. To get speedy service and maximum value, Mager suggests contacting all your insurance companies or reach out to an attorney who can guide you as to who to contact.
If you anticipate getting a repair, also notify each insurance company of that, in detailed writing.
No. 4: Write down everything. Document every conversation that you have with an insurance company or adjuster.
"You should have dozens and dozens of letters along the progress of the claim," Mager says. "This can also be later utilized with insurance company management or complaints made to the state."
No. 5: Be prepared for next time. Know what your home looks like today and document it. This will be helpful in case you are hit again by storm damage, Mager says.
"People have no idea where to start, and that is the biggest problem today. Start before the storm," he says. "Take pictures today, so you have a date certain that the house is in perfect condition."