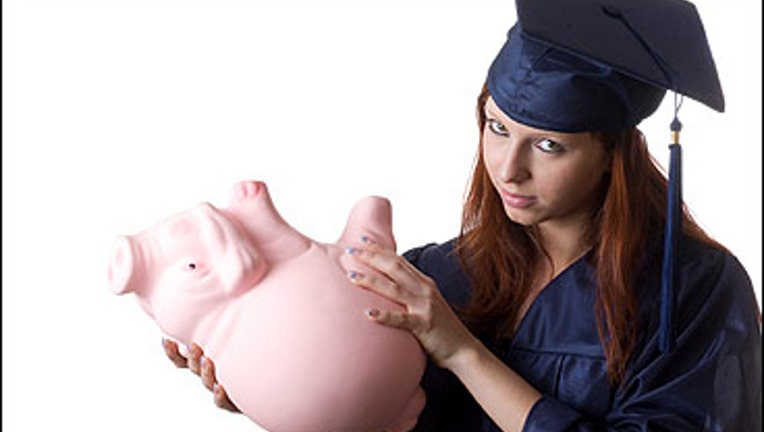 To keep up with rising education costs in the midst of shrinking savings and scholarship funds, many students are turning to private student loans to fill in the financial gaps to pay for college.
According to FinAid.org, private student loan volume is expected to return to the 25% annual growth rate unless there is another increase in federal loan limits or increased availability of federal student loans. The organization also expects private student loan volume to grow at double-digit rates and yearly private education loan volume will exceed federal student loan volume by around 2030 if federal loan limits do not increase every year.
Students can get private loans from banks, credit unions or other lending institutions to help cover remaining college expenses after scholarships, grants, federal loans and other types of financial assistance fall short.
"When federal student loan resources are exhausted, parents and students face tough decisions on how to pay for college," says Ameriprise Financial private wealth advisor Rocco Carriero. "Most private loans are made directly to students, meaning that it becomes their financial and legal responsibility to repay the loan."
Experts say taking out private loans to cover tuition should be students' last resort—but if it's required, here's how to do it without bringing on life-time debt.
Know Your Rate and What it Means
Private student loan interest rates are variable and are pegged to an index such as the LIBOR or PRIME index plus a margin. The LIBOR index is the London Interbank Offered Rate and signifies what it costs a lender to borrow money, while the Prime Lending Rate is the interest rate lenders offer to customers with the best credit.
According to FinAid.org, a loan with interest rates based on LIBOR will be less expensive than a loan based on the Prime Lending Rate over the long term because a variable rate loan pegged to the LIBOR index will grow more slowly than a loan pegged to the Prime Lending Rate.
"The best private loan terms have the interest rates of the LIBOR at 2% or PRIME at 0.50% with no fees," says Orlando Espinosa, former national spokesperson for The Sallie Mae Fund and current vice president of marketing for ScholarshipProz. "These are the standard competitive rates with the Federal Plus loan.They pretty much have to provide students with competitive rates because they want the students to actually take out the loans with them."
Maintain Good Credit
For students who have established a credit history, the interest rate and fees paid on a private student loan are based on their credit score. If a credit score is less than 650, students are unlikely to be approved and a score increase of 30 to 50 points may be enough to get better terms on a loan, according to FinAid.
The experts point out that if a student has limited or no credit history, their greatest chance at qualifying for a loan with better terms (lower interest rates and fees) is to have a financially- responsible co-signer.
"Applying with a creditworthy co-signer should bring you the best pricing," says Patrick Kandianis, co-founder of SimpleTuition.
Shop Around for the Lowest Rate
While some financial institutions have relationships with certain schools, it's important that students do their homework to find lenders with the best options, says Espinosa.
It may be worthwhile to approach a financial institution where the student or the co-signer already has an established relationship, but it's always a good idea to shop around and compare different lenders.
Espinosa cautions that some websites and brochures may have out-of-date material and that it's the student's responsibility to directly contact lenders to get updated information.
"The students actually have to do the leg work for themselves and look and see what's out there, what's available and not just rely on information that's being handed to them," he says. "It's their education and they're definitely going to want to pay a lower rate but they need to definitely do their research."
Find the Best Private Loan Package
Students should understand that private loans come in various shapes and sizes (fixed rates, variable rates, no origination fees, some with origination fees, some 10 years, some 15 years, some 20 years).
"In many cases they are currently cheaper or the same in price to federal options," Kandianis says. "The Federal PLUS loan, for instance, has a 4% origination fee and costs 7.9% annually vs. some private loans with no fees and lower fixed and variable rates."
Lenders may advertise a lower rate for the in-school and grace period only to have a higher rate when the loan enters repayment, so it's important that students ask questions to make sure they understand the terms, says Espinosa.
Students should also find out about the lender's repayment rules, especially when payments are expected.
"Some loans allow for a much lower cost by having repayment start right away and a shorter repayment time," says Kandianis. "Some allow for deferment which helps with cash flow but might add cost."
Understanding that the APR on the loan factors in fees, interest rate and time is essential, as it is the one determining factor that can allow for comparison between loans that have different structures, says Kandianis.
"Just because there is a fee, or is not a fee, or a higher rate, all of that gets measured in terms of APR and will come out in the wash," he says. "Looking at APR and total cost should give a good idea on the costs over time."