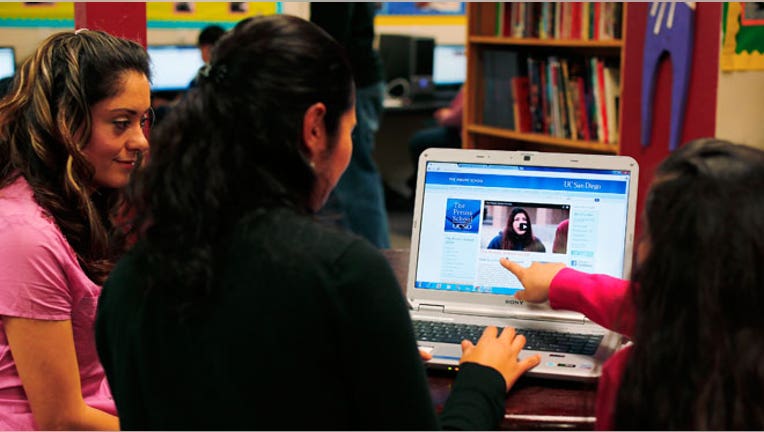 Discount-seeking shoppers unwilling to get up at the crack of dawn and battle the crowds on Black Friday are in luck—they can still snag deals without leaving the comfort of their homes.
"The online counterparts to the brick and mortar stores are offering the same deals online than in the store this year and e-commerce sites are doing a lot of deal matching," says Mark LoCastra, from DealNews.com. With that said, some deals will only be available in store, so make sure to read the fine print before keeping your pajamas on.
He identified Amazon (NASDAQ:AMZN), Wal-Mart (NYSE:WMT) and Best Buy (NYSE:BBY) as the best places to find the hottest deals online this Black Friday because they contained the most DealNews's "editor choice deals."
"Retailers are stepping up their online deals--they know they have to get shoppers to spend, so they are pulling out all the stops," LoCastra says.
Whether you are headed out to the stores or hopping online on Friday, experts say every shopper needs to start with a list.
"There are six less shopping days this year, so you need to get organized by making a list and a budget and sticking to it," says Rob Gough, of DefinitiveDeals.com.
Here are expert tips for snagging the best Black Friday deals online:
Put the Turkey Down (for a minute). According to LaCastro, the majority of the best online deals will come on Thanksgiving Day and later at midnight.
"If you want to score that hot deal, you have to get up really early on Thanksgiving and get online."
As for the rest of the shopping season, he says retailers always like to be the first in your inbox in the morning and will put in the best discounts in those e-mails.
Watch for Flash Sales.  Online retailers can be much more adaptive to shopping trends and some will suddenly increase their discounts if sales are lagging.
"If sales are soft, online retailers can adjust their marketing campaigns very easily to make them more enticing. Adjusting a discount in a store is much harder, they can't be running around changing all the sale signs."
Use Deal Aggregators. The internet is a big space and it can be hard to peruse all the deals to find the best ones. Luckily, there are websites that do the work for you.
Once you create your shopping list, check out the deal aggregator sites that have all the deals categorized and include sale start times.
Get Tab Happy. There's nothing worse than waiting in line all morning (or, in some cases, for a couple of days) only to find out you missed out on the limited-inventory doorbuster deal. That's less likely to occur when shopping online, says Gough.
"If you want a specific item, find all the retailers that are offering it at discount and open up all their sites in your browser. If you miss out on getting it at one site, move on to the next tab," he says.
Sign Up for Newsletters. If you plan to buy from a certain retailer or brand, LoCastra recommends signing up for its newsletter, following it on Twitter and 'friending' it on Facebook.
"Many retailers will release exclusive deals to their social media fans, so sign up and let the deals come to you."
Do the Discount Math. According to Gough there are three types of online shoppers:  free shipping lovers, dollar off seekers and percentage off people.
"You need to take the time and find out which promo code gets you the biggest discount. If your total is $100 with $5 for shipping, a 15% discount is better than free shipping and a $10-off offer even though it sounds small."
Both experts agree that you should never pay for shipping this time of year or leave the promo code field black.
"A quick Google search with the name of the retailer plus the words 'free shipping code' or 'discount code' will get you more savings in a flash," Gough says.
Walk Away. While risky, shopping cart abandonment can lead to a discount code.
"You have to check out and get to the very last page; put in your credit card information, shipping and billing address and your e-mail and then close out the page. Retailers need sales and more often than not, they will try and get you to complete your purchase by sending you a discount code to use."
While he warns this might not work on Black Friday, he says it's a good trick to try later in the shopping season.
"Some retailers will send out the e-mail reminder that you left stuff in your cart along with a discount within the same day, others take three days, it's always a risk, but most of the time it pays off."