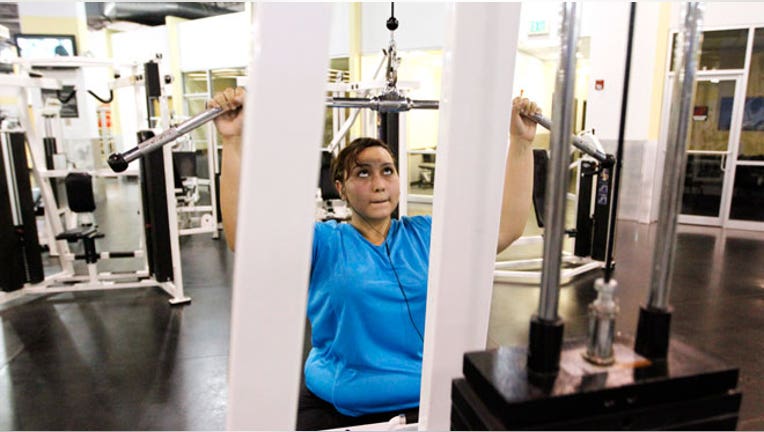 Students and graduates looking to make right on their New Year's resolution of getting healthier may find it tricky to find a membership that meets all of their needs.
While it's important to stay budget conscious, choosing the right gym membership is a key component in whether or not students and grads get the most bang for their buck, says Stephanie Kaplan, CEO and editor-in-chief of Her Campus Media. (http://www.hercampus.com/)
"Joining a gym that isn't geographically convenient, or that doesn't offer the kinds of programs or classes you like, or that doesn't have flexible hours can hugely impact the number of times you make it to the gym each week (or if you make it at all)," she says.
Prospective members should decide whether they want a simple gym layout or are looking for certain features and amenities (group fitness classes, tennis courts, swimming pool), says Eric Casaburi, founder and CEO of Retro Fitness. (http://www.retrofitness.net/Web/ww/en/home.dhtml)
"You may pay more for those other amenities just because there's a cost factor associated with them when you may just want a barebones gym," he says.
For students and grads who want to get healthy and trim down fitness expenses, here are four financial tips on how to choose a gym membership.
Tip No.1: Consider an On-Campus Gym
Students currently enrolled in school should first look at what their campus fitness center offers before seeking out off-campus options.
"A campus gym membership is usually included free with tuition, plus campus gyms are usually convenient (unless you live far off campus), offer flexible late-night hours for students, and have top quality equipment and class offerings," says Kaplan.
Tip No.2: Ask for a Deal
Gyms typically offer the best deals of the year in January, such as waived enrollment fees or free upgrades, so don't be afraid to ask gym employees what they are offering, suggests Scott Gamm, founder of HelpSaveMyDollars. (http://helpsavemydollars.com/)
"Chances are this time of year, you will find a deal--and if there aren't, ask the manager for a student discount, which may be as high as a 25% discount," he says.
If no promotion is offered, Kaplan suggests asking about having the sign-up fee waived, getting the first month free or asking for a few free personal training sessions.
"Membership consultants at gyms are in the business of getting more people to join, so it's in their best interest to negotiate with you and bring down the sign-up fees if it will result in you joining," she says. "You should also ask for at least a 1-day, if not a 1-week, free trial at any gym you are considering joining to make sure you like it."
Tip No.3: Know What You are Paying Now, Later
The experts urge students to ask about and fully understand the pricing options and potentially hidden fees before making a commitment.
"Some places have a flat fee, the enrollment fee--maybe you want to ask is there an annual fee, is there a processing fee? Are there fees associated with the membership?" says Casaburi.
It's vital to find out whether the membership can be paid for on a month to month basis or if it requires committing for a full year, says Gamm.
"Do not pre-pay your gym membership," he says. "Even if you have to commit to a full year, make sure you're not paying a year's worth of membership fees upfront at once, but rather pay the fee each month--if the gym closes, you're going to have a tough time getting your money back."
Tip No.4: Carefully Review Any Contract
While it may be possible to get a better deal committing to a longer-term membership, students and grads need to be aware of the conditions of any contract they are signing up for, says Kaplan.
"Some gyms mandate that you sign a contract for at least a year, which may not be in the best interest of students who may be spending winter break or the summer someplace else…ask if it is possible to 'freeze' your membership during months when you will be out of town," she says.
Gamm stresses the importance of asking details about getting out of a contract should an injury occur or students relocate or transfer.
"Also, if you're about to get into a long term contract, be honest with yourself when it comes to actually going to the gym," he says. "It might seem like a good idea during the start of the New Year, but come June, will you still be going to the gym? Why pay for something that you don't even use?"
No matter what type of gym they ultimately decide to join, students and graduates should make sure to ask the right questions and do thorough research before signing up, says Casaburi.
"You certainly want to pick the best option—it'll make it that much more enjoyable for everyone and the gratification is tenfold when you feel good about where you're spending your money."