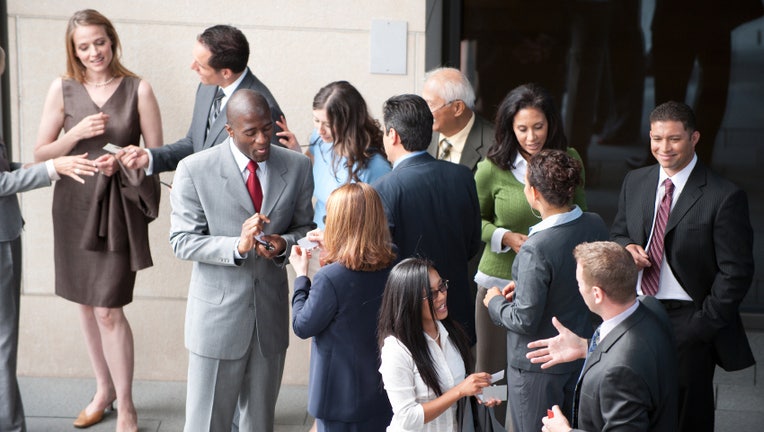 The holiday season is often busy with parties and events to catch up with family and friends, but these gatherings can also be prime locations for job seekers to make connections and find a good lead.
Events like company holiday parties, volunteering opportunities and networking events are opportune times for recent grads and current students to make personal connections with those in their field.
Although some businesses are looking for temporary hires, job postings tend to dwindle during the holidays as companies focus on planning for the following year, says Kimberly Baker, career services manager at Bryant & Stratton College Online.
"This makes the holiday season a great time to network as decision makers are thinking about future growth," she says.
The holidays also offer a great excuse for candidates to check in with people they connected with earlier in the year to provide a status update and send warm wishes, says Doug Brown, academic program manager for The Malcolm Baldrige School of Business' MBA program at Post University.
"You can use this special time of year to check in with someone that you may not have spoken with in a while (or have been meaning to reconnect with) to find out how they are doing, wish them well this holiday season and connect with them on a genuine level," he says.
For those who are gainfully employed and want to move up in their career or for recent grads just getting started, here are four tips to network effectively during the holiday season and land a job in the new year.
Make Multiple, but Genuine Connections
While it can be tempting to bounce around at a crowded party, it's more important to make a strong and more lasting connection (or re-connection) with people while networking, says Brown.
Particularly when meeting people for the first time, it's a good idea to be focused and target a few individuals to get acquainted with, advises Larry Nash, director of experienced and executive recruiting at Ernst & Young LLP.
"Don't necessarily try to meet everybody because you might not have time to [build] a deeper rapport. Focus on three to five people and try to go deep in establishing a connection," he says.
Don't Make it All About You
To avoid falling into "what-can-you-do-for-me" mode during a conversation, Brown recommends grads use the 80-20 rule, where 80% of the conversation should be about the networking contact and 20% about the student/grad.
"Focus on really establishing a genuine connection with the people who you are speaking with--ask questions about how they are, how their family is and truly engage in the conversation," he says. "If you take a genuine interest, you will leave a lasting and positive impression with them."
Leave the Resume at Home
Baker notes that unless the holiday event is a job fair, avoid bringing a resume.
"A business card that has a link to a professional website highlighting your work or at the very least your LinkedIn profile is a perfect way to communicate your skills and stay connected to the person after the event," she says.  "Make sure to exchange business cards as well so you have their current contact information and can follow up with them."
Brown cautions against trying to tell a long story on a business card or using brochures or handouts—these should only be used for follow up rather than in a networking situation.
Follow Up
After meeting someone at an event, grads should follow up with a friendly email, mention how much they enjoyed speaking and wish them happy holidays--save the more professional/job-seeking email for after the New Year, recommends Baker.
Brown suggests going the extra mile and sending an old-fashioned handwritten thank-you note, which will go a long way in making a memorable impression.
"If time has gotten away from you and you haven't had a chance to follow up promptly, don't hide behind your embarrassment," he says. "You can still pick up the phone and follow up with your contact--don't let embarrassment get in the way of a potentially great contact."
Stay on the Radar After the Holidays
Connecting with contacts over professional networking sites is a great way to stay on top of industry news and keep in touch without being overbearing, says Nash.
"It's good to look at your network on LinkedIn or Facebook to see who you know at this organization and it's important to contact them because many organizations have very strong and formal referral employer programs," he says.  "People can use their networks to talk to colleagues about opportunities at their companies, so they get might get more notice when it's coming from an employee rather than from somewhere else."
Touching base with a contact every couple months by sending a link to an article or blog post that is relevant to their industry is a better alternative than grads only contacting them about open positions, says Baker.
"If they are local, see if they would like to get coffee or would be open to meeting for an informational interview," she says. "However, if they agree to an informational interview, approach it as a friendly conversation with no expectation of a job offer. Instead, you should consider it an extension of your earlier conversation and an opportunity to gain additional insight into the industry and that company."