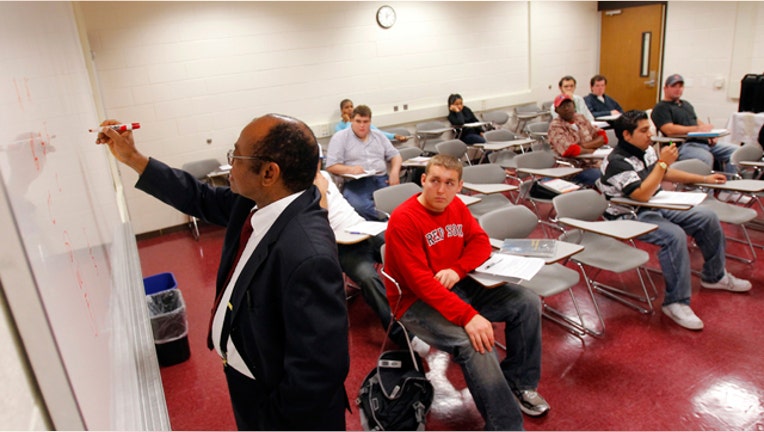 With the semester now in full swing, college students may be wondering if they made the right choice in choosing their educational direction.
The College Board reports that most students change majors at least once and many switch several times throughout their college career.
With a weak job market and massive student loan burdens, students may feel pressured to find a lucrative major.
"There's a concern for being prepared for something when they come out of college and I would say that's more prevalent today than it's ever been," says Howard Greene, educational consultant and author of Making it Into a Top College. "Given the fact that half of kids are going to be in debt coming out of college is influencing their choice in major as well."
While students should make a thoughtful, informed decision, changing majors can ultimately lead them to their desired profession. Here's how to determine if a major change is the right move and how to make the switch as seamless as possible.
Tip No.1: Do some serious self-reflection
If students are on the fence, it's beneficial to self-reflect and pinpoint what goals they want to achieve with their education, advises Tom Taylor, dean of Wittenberg University's School of Community Education
"What do you enjoy? How does this major relate (or not relate) to your ultimate career plans? On what subject do you want to spend so much time? If you are counting on the major to help you land that first job, will this major do that?"
Tip No. 2: Figure out financing
Besides finding out the logistics of switching (the competition in the major, the application process), students should also determine if financial aid will cover the possibility of additional semesters, says Sally Rubenstone, senior advisor at College Confidential.
"Students receiving federal financial aid are required to make 'Satisfactory Academic Progress' and there is typically a limit on the total number of credits a student is allowed," she says. "When a student changes majors late in the game, SAP may be in jeopardy."
Tip No. 3: Consider a double/dual major
Before students completely abandon their initial choice, it's a good idea to find out if a double-major or major/minor combination is feasible, says Rubenstone. "It may be possible to complete two majors in four years or to elect a major/minor combination that not only allows an in-depth pursuit of different fields but also can also be a job-hunt plus," she says. "Pairings such as journalism and physics or Russian language and international relations suggest that a candidate has a breadth of abilities that those with single majors do not."
Tip No.4: Consider future employment
Although undergrad is the ideal time to explore educational options and discover new interests, students need to be frank with themselves and their advisors about their future career goals, says Taylor.
"Some careers are not major specific, but others are," he says. "If you plan to attend law school, many majors will prepare you well. If you want to become a biologist, the options are more limited."
Tip No. 5: Talk to students
Taylor recommends students consult faculty members, academic support staff and family members in their desired major for guidance, opinions and advice.
Greene suggests that freshmen and sophomores get an overview on their potential career path through the career center or alumni to get a good sense of their future.
"What has happened to students who have majored in that department? What do they go on to? What kind of graduate schools do they go to, or do they get jobs?"
Tip No. 6: Consult department staff
Students should always consult faculty advisors in the old and the new majors before switching, says Taylor.
"They can help you think through the issues and the options, and they may see pitfalls that a student might miss," he says.
Students may also want to speak with department heads or professors in their prospective new major about the course load and difficulty of the classes.
"A lot of the times, they want to switch because they really were excited about a particular course or teacher, so they should go talk with them," says Greene.
Tip No. 6: Find crossover credits
To avoid adding on additional semesters, it's essential that students identify courses that can be applied from their old major into the new one, says Rubenstone.
"With perseverance, students may be able to successfully lobby to count some previously earned credits toward the new major, even if the old credits aren't initially—and officially—recognized by the new department," she says.
Although students should consider all of the factors involved in changing majors, Greene says it's important to take advantage of the opportunity to find what stimulates them—getting an undergraduate degree only happens once.
"Here's one of the hugest expenses of time and money and a lot of students graduate and say 'I really didn't like what I majored in,'" he says. "If they had done the soul searching and seeking out advisors as an undergrad, they would have saved aggravation, time and money."