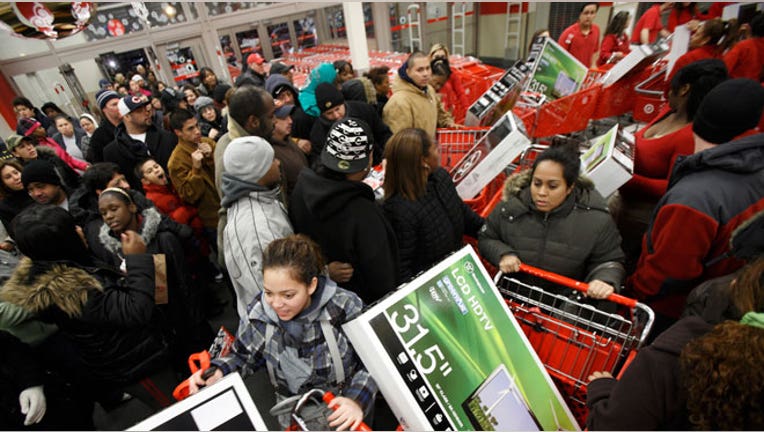 With Black Friday just a few days away, now is the time for shoppers to prepare to take advantage of all the rock-bottom deals.
Gone are the days when retailers kept their door buster deals secret to the last minute. More stores continue to leak this year's bargains nearly every day, allowing shoppers to adopt an efficient and cost-savings Black Friday game plan.
"There's more to tackling Black Friday deals than battling long lines," says consumer savings expert Andrea Woroch. "A plan and some much-needed prep work will get you ahead of the rest, even with a belly full of turkey."
From scouring the sales circulars to "liking" your favorite retailer on Facebook here are five ways you can make the most of Black Friday deals.
Read all the advertisements. If you want to actually benefit from the early-bird deals and other doorbuster deals, you have to be prepared.
Before you venture out on Thanksgiving night or in the early hours of Friday, review all the retailer's advertisements to map out where you want to spend your time waiting on line. It's a busy time of year, so get a little help reading all the ads with websites and apps that show, categorize and compare all the deals for you.
"Retailers are being very proactive in posting ads early," says Stephanie Nelson, founder CouponMom.com. "Read all the online ads beforehand to come up with a plan." Make a list and prioritize which deals are must haves and which aren't that important if missed.
Shop Online. Traditionally, Black Friday was reserved for shopping at brick-and-mortar stores, but many retailers are posting the same deals online and in the store, according to Dan de Grandpre, chief executive of dealnews.com.
"The vast majority of Black Friday sales are available at the websites. Even the door busters that are only supposed to be in the store are available online."
Get Social. Retailers are pretty savvy when in it comes to social media, and many offer exclusive deals to shopper that following them Twitter or friend them on Facebook.
Retailers also use social networks to announce new Black Friday deals and even offer exclusive coupons for social media followers. "Don't ignore social media," says Nelson.
To avoid your inbox getting inundated with ads, Woroch suggests creating an email account solely for shopping expeditions.  There "you can filter digital receipts, Black Friday alerts, email offers and other shopping-related information in one place without cluttering your personal or professional inbox," she says.
Woroch also suggests signing up for retailers' newsletters and email lists to stay current with deals all year long.
Make a list and research prices. The best way to prevent overspending during the holidays is to make a list before you hit the stores—and this is especially true of Black Friday, since many people aim to do all their holiday shopping during that weekend .
Once you've made the list research gift prices so you have an idea of how much they cost and how much you need to budget. "Knowing how much those desired products cost before you head out to the stores on Black Friday will be your greatest defense against misleading promotions," says Woroch.
 Avoid impulse purchases. The whole idea behind the door buster sales is to lure  you into the store and then pick up a couple more items not on sale or highly discounted.
"The better strategy is to go in there and be very fixated on the things you want," says de Grandpre.