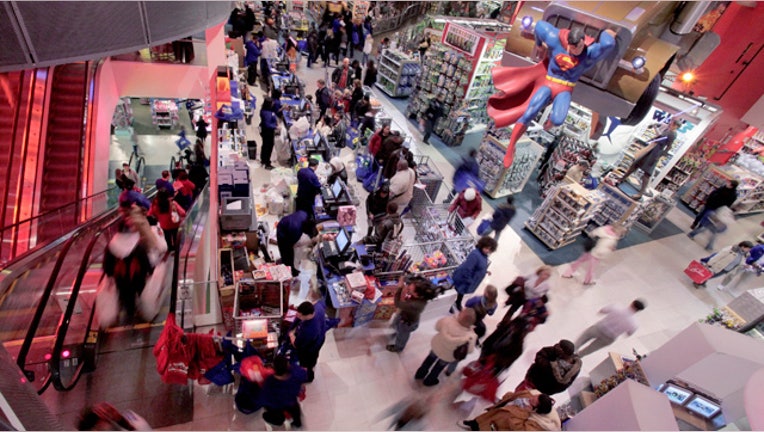 The holidays can be tough on your budget. But it's not just the gift buying that makes this time of year expensive, there are a lot of other not-so-obvious costs that can really add up.
Smaller purchases like wrapping paper, food, new outfits, decorations and even sending out greeting cards can break a budget, if you aren't careful.
Here are expert tips on how to reduce the costs of events associated with the holidays.
Gift Wrapping
Gift wrapping is pretty unavoidable, and according to money-saving expert Andrea Woroch, gift wrapping can easily cost you anywhere from $3 to $10 a roll. And that doesn't include bows and gift tags.
"While a definitive number is hard to track down, some experts suggest annual spending on gift wrap is around $2.6 billion," she says. "That doesn't factor in the cost to the environment, which Earth911 estimates to be 4 million tons of trash annually."
She recommends a cheaper and greener alternative: using newspaper, magazines and even cereal boxes to cover gifts. If you do have to buy wrapping paper, purchase it at a discount or dollar store to help reduce costs, but make sure to check the square footage to make sure you are still getting a deal.
Holiday Cards
Sending all your family and friends holiday cards each year can get expensive, especially if you are creating photo cards. To save money, Stephanie Nelson, founder of Couponmom.com, says you can find coupons and free shipping codes online for many card creation websites. She adds that stores like Walgreens and Target also offer similar services but picking up the cards at the store can save money.
For a cheaper alternative to the photo card, Nelson suggests buying boxed holiday cards at a discount store and include a photo of the family in the card.
Foregoing the printed card and stamps altogether for an e-card is the most budget-friendly option. "It may not be as traditional, but it will be free, as well as environmentally responsible," Nelson says.
Bank Gift Cards
One of the easiest and most-appreciated gifts for the hard-to-shop-for on your list is the bank gift card. But some bank cards come with fees, forcing you to pay more than face value for them.  Woroch recommends going with a retailer gift card, which won't come with extra fees. "Skip these bank cards in favor of ever-popular retailer cards like Amazon, Target or Walmart. However, be sure to check for an expiration date. You can even buy gift cards at a discount at websites like GiftCardGranny.com or giftcards.com, which Woroch says can bring anywhere from them 5% to 25% savings.
Holiday Lights
Holiday lights are a key part of many people's holiday décor, but they don't come cheap and can lead to higher electrical bills. A great way to save on your holiday lights both inside and outside the home is to switch to LED lights. According to Jeanette Pavini, savings expert at Coupons.com, LED lights typically last longer and save energy.
"Energy.gov says it will cost $10 in electricity to light a tree with incandescent lights this holiday season but LED lights will only cost around 27 cents," says Pavini. "So it will take an initial investment to switch over, but eventually they will save you money."
Putting your lights on a timer or only turning them on during certain hours can limit your electric bills as well,  Woroch adds.
Holiday Meals
The holiday season means lots of holiday parties and festivities—many of which revolve around food. Not only can this time of year be hard on your waistline, it can also dent your wallet if you are hosting.
When planning a meal, experts recommend reviewing a store's circular and planning the menu based on what's sale and to not be afraid of store-brand products.
"If you are entertaining during the season, consider hosting a breakfast or lunch rather than a full dinner," says Nelson. "Your meal costs will be lower and you'll avoid the cost of buying wine and alcohol."