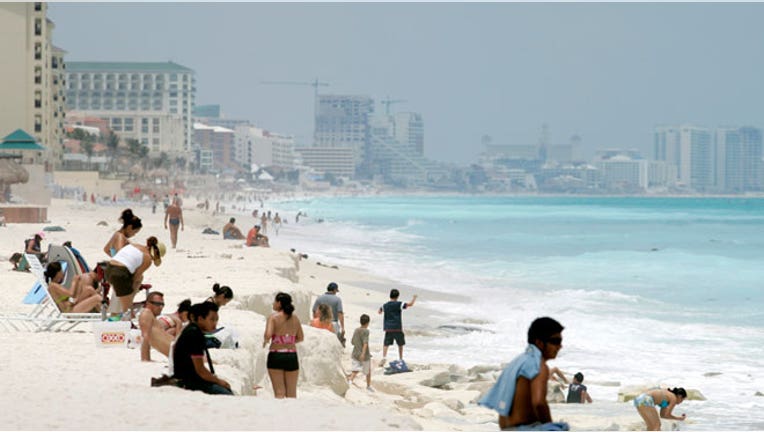 You aren't the only one looking forward to your summer vacation.
"There are a lot of travel scams to look out for, and with more Americans expected to travel this summer after a brutal winter, many will be vulnerable to these scams," says Rip Mason, the CEO of LegalShield,  an identity theft protection provider. "No one group of travelers is being targeted. Anyone traveling this summer could be at risk."
Whether your summer travel plans involve a trip overseas or staying stateside, it's easy to fall victim to a scam if you don't know what to look for and aren't prepared.
One of the biggest risks travelers face when on the road is the theft of a mobile phone or tablet. Not only will you lose your beloved pictures and apps, but for many, it puts a lot of their personal and financial information at risk.
"[Your phone] can often be the story of your life, and even your business, so it's a top target for thieves," says Neal O'Farrell, executive director of The Identity Theft Council.
He recommends keeping devices password protected and to set a low number of login attempts. "To minimize the risk of loss or theft of your phone or tablet, make sure you install one of the many free apps that will allow you to lock your phone, locate it, erase the data, take a photo of the thief if he or she tries to use it and backup and restore your information to a new phone," he suggests. "Losing a phone is bad enough, but a good security app will help ease the pain."
Timeshare owners are particularly vulnerable to scams, according to Mason, who says LegalShield has recently seen an uptick in in fraudulent activity in this area. Here's what's happening: customers who own a timeshare in Mexico are being approached by so-called "travel services companies" offering to sell their timeshare for a rate greater than the original purchase price and handle all the closing costs, Mason explains. At the last minute, the company demands a 10% transactional fee and then disappears. The unwitting consumer is not only out the 10% fee, but there's also no sale of the timeshare.
Consumers who stay at hotels are also at risk for imposter scams, which was the fourth most common complaint on the Federal Trade Commission's 2013 list of consumer complaints. Since the name of the game for most scammers is getting credit card information, hotel occupants are easy prey.
There are many different types of scams, O'Farrell notes, none of which are particularly high tech. One involved the thief calling the hotel and asking to be put through to a random rom number. When the guest picks up, the scammer pretends to be from the front desk needing credit card information because there is a problem with the orignal card.
In another variant of the imposter scam, O'Farrell explains criminals will slip pizza menus under hotel room doors. A hungry guest will order food, pay with a credit card and the pizza never arrives.
Mason warns travelers never giving credit card information over the phone when at the hotel. "Similarly, if you find a restaurant menu slipped under your door, think twice before ordering from it," says Mason. "It may be part of a scheme to steal your payment card data. Validate the solicitation with the hotel staff first."
How you surf the internet while on vacation can also impact the safety of your personal information. While free Wi-Fi is an attractive offering, using it can be perilous.
Scam artists will create their own free wireless network with a name that is similar to the hotel. Accidently connect to that network creates "a very easy way for thieves to access your computer, read your emails, and even access your bank accounts," says O'Farrell.
Experts say to confirm you are using the hotel Wi-Fi and hold off on doing any banking or otherwise sensitive truncations via a public hot spot. "In most cases, the scammers are trying to get your payment card data," says. "For most of these travel scams, the end goal is to steal your money rather than your identity."