How to Ask for an Informational Interview Without Looking Desperate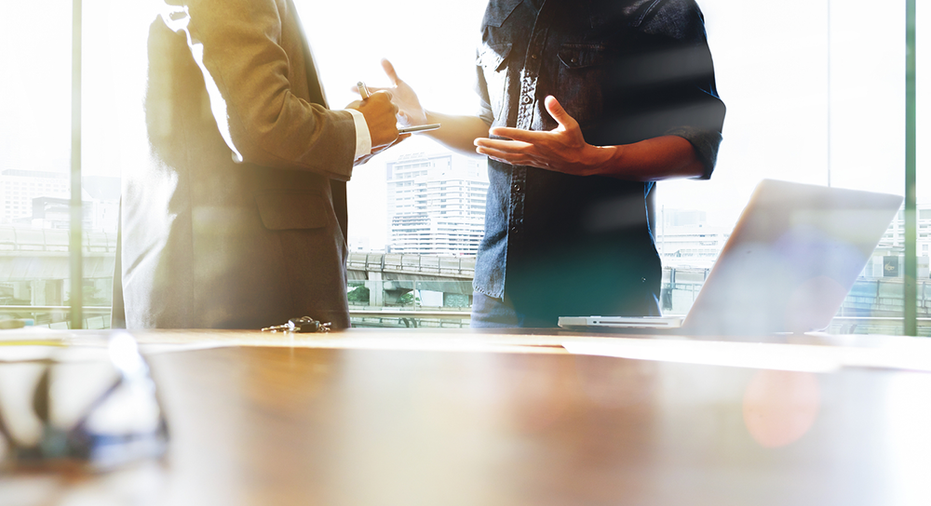 Anyone looking for new a job knows how much a strong network can help. Among the many benefits of a strong network is the ability to land informational interviews.
Informational interviews give job seekers the opportunity to meet with hiring managers at target companies, learn about the work environment, and get the inside scoop on what makes for a great candidate. Informational interviews can produce incredible results, turning conversations into opportunities – but only if you know how to properly approach your contacts without looking desperate.
The problem is that companies do not readily offer informational interviews to prospects. Instead, job seekers must tap their existing connections or make new contacts if they are to set up informational interviews. This takes a lot of work, and it often requires you to convince strangers they should go out of their way to meet with you.
With the right tactics, however, you can get informational interviews relatively easily. Here are three steps to follow:
1. Find the Hiring Manager
Turning your desire for an informational interview into a reality will hinge on whom you approach. Given that the hiring manager is responsible for filling an open position, they are your best contact when it comes to landing an information interview.
Start by creating a list of 5-10 companies you want to work for. These should be companies to which you can clearly provide value. You should know about their products and services and be able to confidently articulate why you want to work there and why they should hire you.
Next, you're going to focus on identifying hiring managers at your target companies. Don't be intimidated by them! I recommend using LinkedIn to find and contact hiring managers. Make sure you've developed a robust personal brand on your LinkedIn profile before reaching out so that you can make a substantial first impression and establish some degree of trust at first glance.
The No. 1 mistake I see job seekers make while seeking informational interviews is reaching out to people who currently hold the position they are pursuing. Think about this a bit more deeply: Those employees are potentially your competitors! No one wants to bring someone into their team who might be better than they are. I've even seen situations where employees have purposely given job seekers inaccurate information in order to thwart them.
Instead of employees on the same level as you, reach out to managers who are in aspirational roles – decision-makers who aren't so high up in the organization they won't have time to meet with you. If you're a developer, you're most likely reporting to a manager, not a director or V.P., so look for a manager.
If you're unsure about whom to contact, research the organizational chart, and then network with managers who are one level higher than the position you want.
2. Establish Contact
A good networking message should contain three components: It must concisely state your reason for reaching out, contain a clear call to action (that is, what you expect to gain), and express the value you can provide in exchange for the person's time.
Here are a few more important guidelines to help you craft a perfect message:
Ask for Advice, Not for Help
Not everyone is willing to help a stranger, especially if they're not sure what they'll gain in return. It's tough to go out of your way to help someone you don't know.
Giving advice, however, feels different from helping. It can be a quick, one-time thing, and it makes people feel good to share their insights. If you ask for advice instead of help, you're more likely to get a positive response.
Be Specific
Be clear about what you're looking for, and make sure the person can give it to you. Avoid asking questions that have obvious answers, i.e., "I'd like to learn more about what you do." Instead, do research to find any information that is publicly available, and then be specific about what else you want to learn.
For example, if you're reaching out to a developer at Amazon, you could try something like: "I noticed that you're working on Alexa's voice-recognition software. This is what I focused on during my master's thesis! I'd love to learn more about the challenges your team faces when working on real-time voice interaction with Alexa. Would you like to sit down over coffee – on me! – for a quick 1o-minute chat?"
Give Value Back
Share your opinion on the topic you'd like to discuss. Doing so will display your credibility and demonstrate your value.
In the example above, you would first research to learn about common challenges with voice recognition software. Then, you would share what you've learned and how you might go about developing a solution. For example: "How would you distinguish similar-sounding words, such as 'their' and 'there'? I've experimented with functional transcription software that is used in such scenarios, as well as analyzing speech patterns and dynamic time-warping algorithms. Is it similar with Alexa?"
By sharing deep knowledge on the selected topic, you encourage your contact to take you seriously and respond positively to your message.
Be Considerate
The most expensive thing someone can give you is their time, so be very considerate. Show the hiring manager you value their time by closing your message with something like: "I completely understand how busy you must be, so I will only take 10 minutess of your time. If you find our conversation to be of value to you and/or your team, I'd be happy to continue our conversation in more detail at a later date. Is that fair?"
Don't Ask for a Job
Even if you are looking for a job – which you most likely are – don't ask for one directly. In the event the hiring manager asks a direct question about employment, answer indirectly, like so:
Hiring Manager: "Are you currently looking for a job at Amazon?"
You: "I would certainly like an opportunity at Amazon. I'm currently focused on starting conversations with hiring managers at several companies so I might identify where I can best fit in terms of team structure, existing projects, and future growth opportunities. Based on my profile, where do you believe a person like me with skills like mine could fit in at Amazon?"
3. Follow Up Regularly
Don't lose hope if you don't hear back right away. Hiring managers are busy, and they might not be logging into their LinkedIn accounts on a daily basis.
When following up, avoid empty messages such as "I'm following up to see if you've read my previous message."
Instead, focus on convincing the hiring manager why they should speak with you. Prove to the hiring manager the conversation will be beneficial to them. In the example explored above, you could share more about your research into common causes of failure in voice-activated smart devices and offer potential solutions.
Some people will tell you to follow up every couple of weeks. However, business moves faster these days. If you're not following up twice a week, you can be sure you'll be forgotten. You won't be taken seriously unless you create a sense of urgency and show your commitment to the conversation. Be bold, or be forgotten.
Nader Mowlaee is an engineering career coach and recruiter who is inspired by motivating confidence in engineers.