How the BBC Is Quietly, Confidently Shaping the Future of TV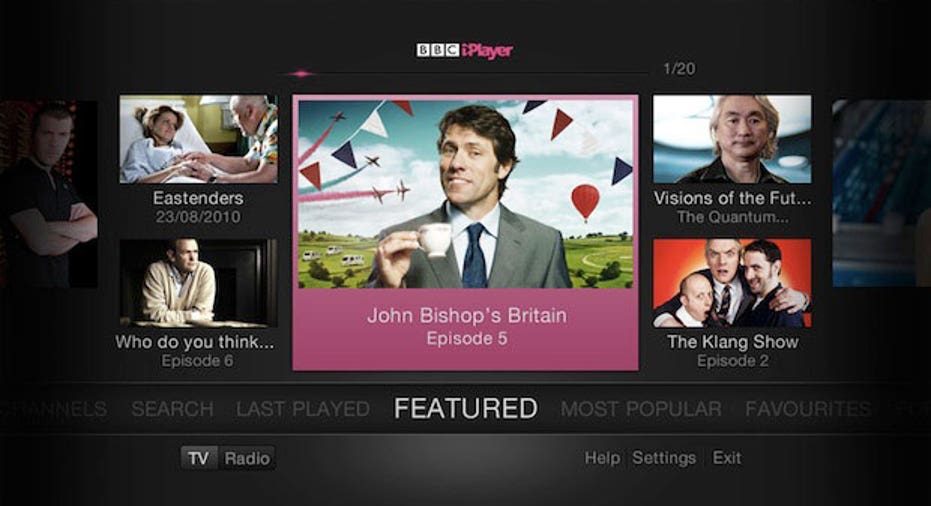 Monday morning the BBC launched a whole new version of its iPlayer app, destined for connected TVs that sport a Net connection. In essence this means the BBC has taken its TV content online, added on-demand features, advanced search powers, playability on multiple platforms both mobile and static, and then fed all of its lessons back into an app...for TVs.
The new BBC iPlayer app for TVs is aimed at those Netizens who've also bought a Net-connected TV because they like the interactivity, social networking, TV on-demand, email, weather reports and everything else that a "normal" TV can't offer. This is actually an enhancement of a system the BBC trialed on Virgin TV set-top-boxes back in 2008, with the new system being aimed at many more consumers and bringing a radically overhauled user experience with it.
Keep up with the latest in technology with the FOX Business Tech Facebook page.
The result is a lot like navigating a terrestrial or cable-connected TV, in fact, with the ability to flip channels between the various BBC offerings for TV and radio, the option to narrow content down by category or featured content, and the list of favorites you've built. There's also an overlay so you can browse to other content while watching a show you've already selected, and if you're totally stumped then there's a search engine that reports near-matches as you type in your search phrase, Google Instant-style.
The BBC is rolling it out as an app for Sony PS3s at first, but will then be made available for other platforms soon after.
The tech march is all of a piece with the BBC's recent history. Remember just last week the BBC took the popular iPlayer Net TV solution international for the first time as an iPad app, and note that the iPlayer service is already used by millions of Brits every day (145 million uses in December 2010). And recall that the BBC introduced a form of interactive TV for digital transmitted content back in 1999, bringing additional text info, multiple-angle viewing to some shows, and a degree of "on-demand" tech for events like the Wimbledon Tennis Championship, where viewers could choose which court's play to watch instead of merely receiving the BBC's edited content.
You might conclude that with its move to bring iPlayer to the TV itself, the BBC's quietly predicting the future of all of the world's TV content--possibly with the end of traditional channel "broadcasting" and a much more interactive, on-demand delivery system. Writing about the tech on its official blog, the BBC even highlights that the system relies on the Javascript and HTML5 standards (plus CE-HTML, part of the Dbook7 standard for "hybrid TV devices in the UK") and that it's working on a version that uses Adobe Flash and Air so it can reach the widest possible set of Net TV hardware.
Of course the BBC has advantages because it controls both much of its own content creation and the way it gets delivered to the viewer (unlike some TV content producers), and its status as a government-supported broadcaster frees it from some of the tyrrany of advertising and marketing. In this regard, the BBC can package up its shows and deliver them to people's Net TVs and iPads anywhere in the world, without having to go through some of the complex licensing hoops that other channels have to obey. Nevertheless, it's worth watching what the BBC gets up to with this new tech, because it's achieved something very slick, which brings Net TV and on-demand to even the less tech-savvy, and pointing to a new TV future.
This content was originally published on FastCompany.com
More news from Fast Company: - NeuroFocus Uses Neuromarketing To Hack Your Brain - Bluefinger: The Race To Freeze Or Breed Bluefin Tuna Before Extinction - To Curb Malaria, These Mosquitoes Shoot Blanks