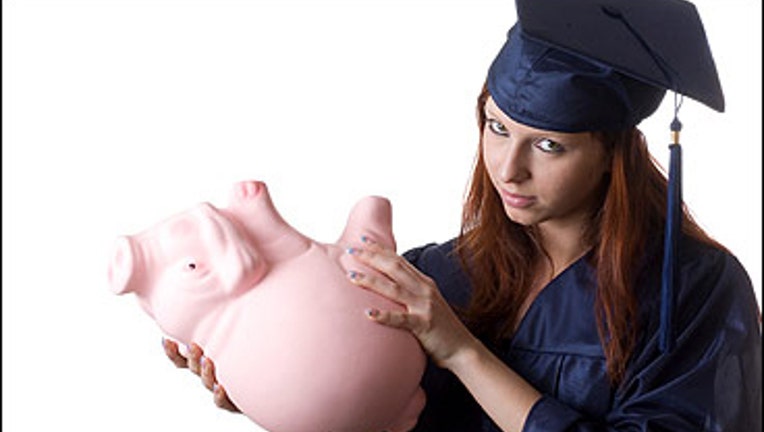 Most economists agree that a thriving middle class is key to a flourishing economy and while there have been steady economic improvements over the last year that hint at a sustainable recovery, one critical barrier remains: massive student loans.
In fact, student loan debt is counterintuitive to economic growth via the middle class, says Mark Kantrowitz, founder of FinAid.org. "If you are spending money on loans, you aren't spending as much cash on homes, cars, clothes or food." And that's bad news for the economy since consumer spending makes up three-quarter of gross domestic product.
Kantrowitz admits that student loans are a reality for most college students and that a degree is necessary for financial stability to enter the middle class , but he argues the increasing amount of debt--which hit an average of $28,000 per student in 2012--hurts graduates' purchasing power.
The danger for the middle class of borrowers, is becoming out of sync with your debt, Kantrowitz says.
"Every $1 you borrow, you are paying back for about $2," Kantrowitz says. "It's eating out, entertainment books—students need to live like students while in school so they don't have to live like students once they're out of school."
A simple thing like buying a $10 pizza once a week adds up to $2,000 by the time a student is out of school, he says. And if the meal is financed with borrowed cash that price tag soars to more than $4,000 for pizza while in college, which just isn't worth it, Kantrowitz says.
Credit.com founder Adam Levin says the list of certainties in life will soon be death, taxes and student loan payments—particularly for students coming from middle-class families, creating an enormous financial drag on the economy.
"The middle class fall prey to these loans because lower-income people likely can't get them and are receiving financial aid or are not attending college, and upper-income [students] don't need the help."
Both Kantrowitz and Levin say student loans are not just being used to finance an education but also students' lifestyle, and many are paying for it two-fold for years after graduation.
Levin says students and their families need to make schools' price tags  and required loan amount a major factor when making their school decision.
"Assume for the moment, that even though the 'American Dream' says our opportunities are limitless, you need to temper that with the environment and economy we are working in right now. It might not be as limitless as it used to be."
For those considering taking out loans, Kantrowitz says to multiply the loan amount by four years and add about 15% to that number to get an accurate payback figure.
Students should also take into account the average salary of their interested field when taking out a loan to make sure they will make more than they will owe upon graduation, says Kantrowitz, ensuring they will be part of the middle class.
"If you have more debt than income, or your field of study isn't that lucrative, you will struggle," Kantrowitz says.
While it can be a harsh reality for students to face,  Levin says be financially honest when taking out student loan debt can prevent long-term economic hardships.
"Intelligently approach this and ask, 'I am getting myself into something I will later be suffocated by?'" Levin says. "Know what it will cost you before you take the leap. We have not provided sufficient information to the public for when they take loans. In a normal, risk-based society, there are higher rates based on risk and the option of bankruptcy if it becomes unbearable, except with student loans."