How Stoners Are Getting High (Tech)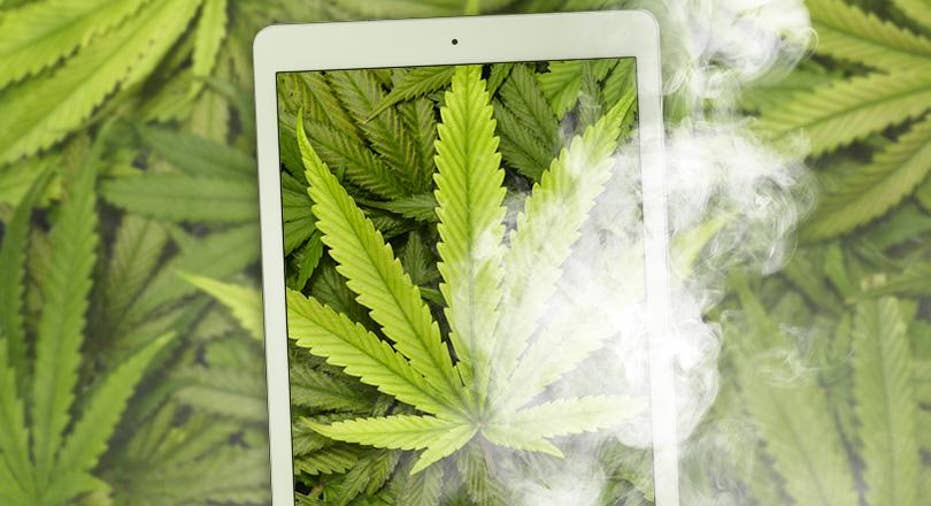 Michael Bourque was 45 years old the first time he smoked weed. A natural doctor recommended he look for some cannabis on Craigslist to help deal with anxiety, and he ended up finding a ZZ Top-looking dude in the Boston area who gave him a baggie of bud and rolled him a joint. He puffed on the j and thought he was going to die.
After that bad first experience, Bourque went back to the natural doctor and said it didn't work. The doctor encouraged him to try again, this time with a vaporizer.
He had never heard the term vaporizer before, but he went ahead and bought a few online to try them out. A tinkerer by nature, Bourque is one of those people who likes to take things apart and see how they're made. Eventually, every vaporizer he owned wound up in pieces. With random pumps and wires making a mess everywhere, he decided to make his own vape.
He developed a super rough hardware device, then wrote a computer program that allowed him to control its exact temperature and airflow in a quest to discover the perfect combination that would sufficiently "cook" the plant but not burn it. He'd dial in a recipe, try it, then tweak the program and run it again.
"One day I got it," he told PCMag. He found the perfect combination—he had invented an early prototype of what is now being called CannaCloud, aka the Keurig of Pot.
Bourque isn't alone. He's one of countless science and tech entrepreneurs around the country and beyond looking to revolutionize everything from the way we consume to how we connect with the plant and other enthusiasts, and, ultimately, cash in on the promising cannabis industry. For consumers, this means there's a slew of new and healthier ways to partake, plus more ways than ever to be an informed stoner.
Growing Like a Weed By all accounts, the legal cannabis industry is growing like a weed right now. Marijuana market research firms ArcView and New Frontier Data recently estimated that legal cannabis sales will reach $7.4 billion this year, a more than 26 percent increase over 2015. By 2020, the legal market is expected to reach $20.6 billion.
November, in particular, could be huge for the US marijuana market. As of this writing, 10 states may be adding or amending cannabis legislation this month, including Arizona, California, Maine, Nevada, and Massachusetts, all of which have "adult use" measures on the ballot. Meanwhile, Arkansas, Florida, Missouri, Montana, and North Dakota are voting on medical marijuana use.
Perhaps most notably, California may go completely recreational (its Proposition 64 would allow adults to possess up to an ounce and grow up to six plants), at which point the entire West Coast would be able to toke up at their leisure since Washington and Oregon already allow for "adult use."
At the same time, attitudes towards the plant are starting to warm. A June 2016 Quinnipiac poll found that 89 percent of Americans support medical marijuana use with a doctor's recommendation.
"The combination of quickly changing public opinions, rapid expansion of state laws, and increasing calls for changed to federal law are all contributing to the high-growth opportunities for business owners, investors, and entrepreneurs," ArcView and New Frontier Data wrote in their report.
What was once a black market is now going white collar.
Finding the Right Strain "We joke that one year in cannabis is like dog years, things change so quickly," says David Goldstein, CEO of NYC-based medical marijuana tech company PotBiotics. Goldstein and his 16-person team make an app called PotBot, which he describes as a "virtual budtender" that leverages scientific data and crowd-sourced reviews to help medical marijuana patients find the best strains and consumption methods for their ailment.
Medical marijuana customers who go to a dispensary for the first time might be totally overwhelmed. Budtenders can be extremely knowledgeable and provide recommendations, but may also push specific strains they have in stock. Goldstein and his team aim to empower consumers, so they can walk into a dispensary knowing that strains like AC/DC, Cannatonic, or Charlotte's Web might help their arthritis. The idea is to help patients save time and money they'd normally spend experimenting with various strains to find an effective medicine.
There's evidence that people are interested in this information. After two years of development, PotBot launched in April 2016 on iOS, Android, and the desktop and has since received more than 60,000 downloads. The team recently rolled out symptom-based searches, so that people can specify that they're looking for a sleep aid or anti-inflammatory, for instance, instead of having to search by specific ailment like attention deficit disorder, multiple sclerosis, or post-traumatic stress disorder.
Right now, users can "favorite" strains on the platform, but soon, PotBot will be getting a diary feature to let people record their experience with specific types of bud, and share this information with PotBiotics to help the company improve its recommendations.
Besides PotBot, medical marijuana customers have a number of other sites and apps at their disposal, including Weedmaps, a Yelp-like service that aims to connect consumers with cannabis storefronts, doctors, and strains. The other main pot resource is Leafly, which helps people find the right strains and products.
Another convenient resource for those in California is Eaze, a Web-based marijuana delivery service that is basically like Uber for weed. You browse a menu of flowers, edibles, and concentrates and select what you want—perhaps an eighth ounce of Blueberry Minis—then request a delivery, and the bud will arrive right at your door. Best of all—the company advertises "delivery in 15 minutes and an eighth for only $25."
Don't have a medical marijuana identification card? No sweat: For $30 and in "less than 15 minutes," EazeMD will set up a video chat between you and a doctor who can give you a recommendation. If you're approved based on the evaluation, you'll receive a PDF version of your card, and you can order delivery from Eaze right away.
For those in the medical marijuana space, one of the goals is to educate people about cannabinoids—the medicinal backbone of cannabis. For the uninitiated, cannabinoids are the "chemical compounds secreted by cannabis flowers that provide relief to an array of symptoms including pain, nausea, and inflammation," according to Leafly. Some cannabinoids are psychoactive, others aren't. And while you may have never heard of the term cannabinoids, there's a good chance you can already name a few: THC and CBD.
Connecting With Others One person who knows a thing or two about cannabinoids is Paulo Costa. At 16, he started having seizures. By the age of 18, he had been diagnosed with epilepsy, and doctors put him on traditional medications meant to control his ailment. Despite the medications, the seizures came so often that Costa could barely leave the house. He spent most of his time in his bedroom that had been specifically designed to block out sound and light.
Costa's doctor told him to stay away from marijuana—that it was dangerous and would exacerbate his epilepsy. But by age 23, he tried it anyway, recreationally. He heard it could help with epilepsy, so he started researching, then began smoking on the reg.
"When I started to smoke every day, my life changed," he said. Suddenly, he was able to have a social life —he could go out with friends, even drink coffee and alcohol.
"Now I have a normal life," he said. "That's what makes me work with cannabis. It's such a powerful plant."
Costa, a serial entrepreneur, had been involved with tech startups in the past but after discovering the medical benefits of marijuana decided to turn his passion for the plant into a business. He commissioned a developer and in January 2015 launched the first version of Who is Happy, which he describes as "the first geolocation network for stoners." The app lets users broadcast that they're "happy"—or, in order words, that they just got high. It also lets users track their own consumption, and shows a list of dispensaries around the world for jet-setting stoners.
He decided to do a soft launch, initially unleashing the barebones app for the Brazilian market to get a sense of interest. Turns out, a lot of green enthusiasts were into the idea. Traffic was so high that it overloaded his servers, and it took three months to get the app working again. Costa launched globally at the Cannabis Cup in Colorado in April and has already racked up 200,000 users.
Costa said he's planning to launch a new version of the app in December with the most highly requested feature: a chat function.
Those looking to chat with other stoners already have a few options, like the OG bud-friendly social network MassRoots, whose employees, we hear, enjoy a unique benefit: the ability to consume cannabis on the job. Another option is the so-called "Tinder for tokers," High There!
The latter has a reputation as a hookup app, but its co-founder, Darren Roberts, says High There! is much more than that: it's helping cancer patients and veterans with PTSD, for instance, connect with others going through similar battles.
New Ways to Consume On top of all the fresh ways to connect with the plant and other stoners, there's new, tech-savvy ways of getting high. Devices like CannaCloud aim to improve the consumption experience, and offer health benefits over smoking.
According to MedicalJane.com, "many studies comparing the difference between smoking and vaporizing reveal that there are substantial advantages associated with vaporization which include more efficient cannabinoid extraction and a decreased exposure to toxic elements such as carbon monoxide and tar, which are derived from smoking."
There are tons of vaporizers on the market, but if you're looking for something with the latest tech bells and whistles, be sure to check out the $200 PAX 2 and the $169.95 G Pen Elite, both of which are designed to be used with loose leaf material.
The G Pen Elite is powered by "the highest grade lithium-ion battery and smart-chip technology." It features a full LED display with temperature control and battery life indicator plus an all-ceramic, 360-degree heating chamber that cooks your goods from all sides. And while most vaporizers offer just a few different heat settings, you can set the G Pen Elite to any temperature between 200 and 428 degrees Fahrenheit to experiment and get the exact cooking temperature you want.
Meanwhile, the PAX 2 has been called the "iPhone of vaporizers" for its sleek, brushed anodized aluminum design and cutting-edge features. It comes in four different color options—charcoal, topaz, flare, and platinum—and boasts interchangeable mouthpieces with "lip-sensing technology to optimize heat and vapor production." Other features include a "powerful oven with four temperature settings that evenly heats and preserves your material," a rechargeable battery, and multi-colored LED lights that communicate temperature settings and battery life.
Bourque's CannaCloud, meanwhile, aims to bring Keurig-level convenience to your next toke sesh. Before inventing the CannaCloud, Bourque served in served in various capacities at software company PTC and prior to that was a machinist and computer robotics programmer at MIT's Lincoln Laboratory. In other words, dude is a total techie.
The premise behind the device is simple and basically the same as a Keurig coffee maker: Just choose your favorite CannaCup, insert it into the CannaCloud vessel, and in 60 seconds you're ready to get high. Though interest in the device has been, ahem, high, it remains to be seen whether it'll be a literal hit with users. The system is not yet available, but interested parties, including medical marijuana patients and dispensaries, can register on the CannCloud website to receive updates. Bourque and his team aim to launch in the March or April timeframe in several stores and dispensaries in Colorado, Washington, and possibly Massachusetts.
Bourque says his fancy vaporizer is simply a better way to partake. And with its pod system, he's aiming to bring more accuracy to medical marijuana dosing.
"If we first discovered pot now, this is how we would consume," he said.
This article originally appeared on PCMag.com.