How Snapchat Trumped Twitter at Presidential Debate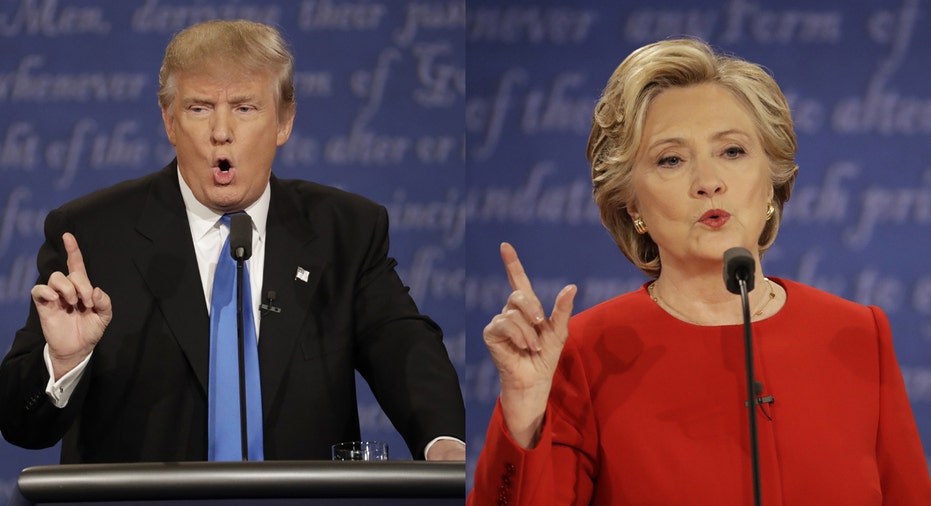 On a night when Twitter live-streamed the first presidential debate and a who's who of entertainers lit up the Twitterverse with #debatenight witticisms, the company formerly known as Snapchat somehow managed to snag the real world headlines.
Newly rebranded Snap Inc. has a new fan in one Donald J. Trump. Just ahead of the most watched presidential debate in U.S. history, the Republican candidate launched a national 'Crooked Hilary' campaign on the Venice, Calif. company's popular ephemeral messaging app.
The filter, which any one of Snapchat's millions of daily users can use to frame a Snap, featured a "Debate Day" banner that read "Donald J Trump vs Crooked Hillary," along with fireworks and Trump's Make America Great Again slogan.
The Clinton campaign has used Snapchat geofilters to target her opponent in the past – once during a Trump rally and another during the Republican National Convention – but this is Trump's first foray and, since it's nationwide, probably a pricy one, as well (the geofilter business model is similar to advertisements).
The question is, how has five-year-old Snapchat – er, Snap – somehow managed to eclipse a social media platform that's been around twice as long and was once viewed as the chief rival to market leader Facebook? And make no mistake, Snap has eclipsed Twitter in every way that matters.
As of June, Snapchat has 150 million daily active users, compared to 140 million on Twitter. And while Twitter's user growth has been flat for years, Snapchat continues to gain momentum and is showing no signs of slowing down. More important, its users are five times more engaged, according to BI Intelligence. The company says it reaches 41% of 18 to 34 year-olds in the U.S. daily (clearly the attraction for the Trump campaign) and its users view 10 billion videos a day, more than twice that of YouTube.
In its most recent round of funding, Snap was valued at $17.8 billion, compared with Twitter's market cap of $16.6 billion – in spite of a 25% jump in the news site's stock on buyout rumors this past week.
On the product side, Twitter's perennial struggles to improve the app's usability and retention are the stuff of legend. Its only significant new product, Moments, has been slow to gain acceptance. And video streaming service Periscope, acquired when Dick Costolo was still CEO, has got to be about the coolest product that, for whatever reason, hardly anybody uses.
In contrast, Snapchat has pulled off one product hit after another. Besides the wildly popular photo and video messages, or Snaps, users create their own daily Stories and contribute to Live Stories at events. Curated Discover channels offer a content distribution platform for media publishers. And this past summer, the company launched Geofilters as well as Memories – a searchable and shareable Snaps archive.
Last week, the Snap announced its first foray into hardware, Spectacles: sunglasses that take 10 second videos with a 115-degree angle lens intended to mimic a human's natural visual field. Videos are stored on the glasses and uploaded to a smartphone via Wi-Fi or Bluetooth. At $130 a pair, Spectacles are positioned as a fun and more natural, if not limited, version of a GoPro camera.
If there is a one area of concern, it's leadership turnover. Evan Spiegel, Snap's 26-year-old founding CEO, is notoriously difficult to deal with and it shows – most executives are in and out the door within 18 months. By many accounts, Spiegel is confident, controlling and combative. He's also a product visionary, tenacious and a self-professed work in progress.
Time will tell if the young entrepreneur can evolve into a mature leader as Bill Gates, Steve Jobs and Mark Zuckerberg did.
Interestingly enough, Twitter had trouble with executive turnover under Costolo and continues to under current boss Jack Dorsey. In 2015, its equity-based compensation was 30% of revenue – by far the highest I've ever seen. The company tries to spin that as a focus on retention, but on the contrary, I think it's evidence of a systemic leadership issue that creates churn and chaos.
From a communication standpoint, Snapchat has tapped into something that continues to elude Twitter and, frankly, every other social media platform: it's a natural form of interaction and expression because everything disappears after 24 hours and nothing is publicly saved or searchable. It's how conversations used to be before the internet came along and made everything permanent.
A decade old, Twitter is still trying to figure out what it wants to be when it grows up. Meanwhile, Spiegel has been clear from the start: he aims to make communicating safe and fun again. Like casual, secret conversations with pictures and videos, Snapchat is meant to be easy and stress-free. And that's exactly what it is.