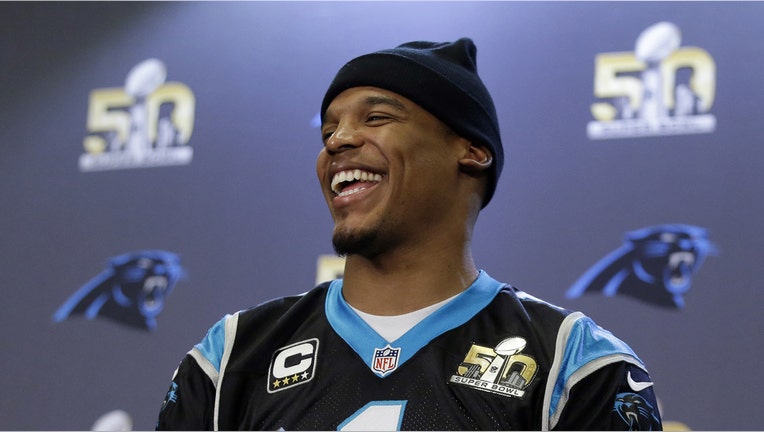 Like so many of the NFL's championship games, Super Bowl 50 is a tale of two quarterbacks: aging Denver Broncos gunslinger Peyton Manning, who may be playing his last game, and Carolina Panthers star Cam Newton, the brash 26-year-old who seems destined to replace him as the league's most marketable player.
At 39, Manning is a ubiquitous presence on American television screens and is considered one of the most influential celebrities on the planet. But Newton's breakthrough performances during the Panthers' Super Bowl run, coupled with his larger-than-life personality, have placed him on a business trajectory that not even Manning could match in his career's early stages.
Repucom, a global sports sponsorship research firm, curates the CelebrityDBI database, which uses various metrics to rank more than 3,800 public figures on how they resonate with American consumers. While Manning remains the database's top-ranked NFL player, Newton has skyrocketed up the list since September. As he prepares to play in Super Bowl 50, Newton has more influence over consumers than President Barack Obama and Donald Trump, according to Repucom's data.
"The velocity of the movement of Cam through the ranks of the testing that we do is something that we've never seen before," Repucom Executive Vice President Peter Laatz told FOXBusiness.com. "It's actually been meteoric, in a good way."
Manning has carved out an impressive off-field portfolio during his lengthy NFL career. Sponsorship deals with mainstream companies like Nationwide Insurance, Papa John's Pizza (NASDAQ:PZZA) and DirecTV net him $12 million annually, more than any other NFL player, according to Forbes. A two-decade run as one of the NFL's most successful players has granted him a unique relationship with the public – 85% of Americans know him by face or by name.
Even before the 2015 season, Newton wasn't far behind Manning in terms of off-field earnings. He makes $11 million annually through deals with companies like Under Armour (NYSE:UA), Gatorade, Belk and Dannon yogurt.
By leading the Panthers to a 15-1 record, Newton has seen his base of support grow by leaps and bounds. Consumer awareness of Newton has grown from just 39% in September to 54% in January.
Newton's propensity to celebrate his on-field success – whether by "dabbing" after scoring a touchdown or breaking out his patented "Superman" pose after a big play – hasn't sat well with some of his critics. But research shows he's more popular than ever with millennials, the crucial marketing demographic that advertisers are so desperate to reach. Newton scored higher than Manning in seven of the CelebrityDBI's eight categories with consumers under the age of 25.
Manning has had plenty of success by positioning himself as an affable pitchman of mainstream brands, as evidenced by the way his "Nationwide" jingle has permeated NFL Sundays. But Newton's innovative, even edgy approach to the game of football has translated to his sponsorships, and fans are responding.
"Peyton's been more traditionally assigned to mass appeal, massive brands that he does quite well with. Nationwide is not a campaign to sneeze at, it's a big deal," said Laatz. "But I think Cam has found a little bit more of a vertical niche for himself and what his brand is, and I think we'll continue to see that moving forward."
For Manning, a win in Super Bowl 50 would punctuate a brilliant on-field career and springboard the future Hall of Famer into any number of lucrative deals away from the gridiron. For Newton, a victory would complete a season-long transformation from rising star to household name.
"I would much rather be an existing sponsor of Cam Newton than calling for pricing next week," Laatz said.