How Much Longer Until the Louboutin Love Dries Up?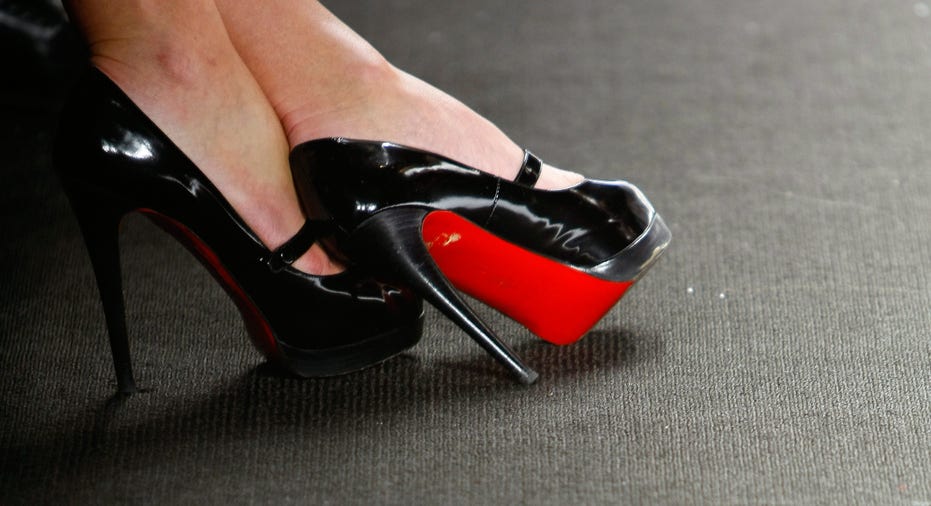 There's a scene in the 2006 film "The Devil Wears Prada" that does a marvelous job of explaining the fashion life cycle – how an item cultivated by designers and editors at the tippity-top of the industry catches on with other designers and style watchers before spreading to the masses and eventually ending up in a clearance bin somewhere.
Most fashion trends and products follow this trajectory (some more rapidly than others – remember jeggings?), as do the designers behind them. A select few, however, achieve immortality.
Christian Louboutin and his famous red-soled shoes appear to be headed in that direction.
The 47-year-old French designer has been producing his namesake heels – known simply as "Louboutins" or "Loubies"– since the early '90s, but the buzz surrounding them seems to be louder now than ever. At anywhere from $400 to $3,000 a pair, Louboutins have become a wardrobe staple of celebrities, high-powered business executives and fashionistas who can afford them. (Novelist Danielle Steel is said to own more than 6,000 pairs!) Pick up any fashion magazine and you're bound to see someone photographed in them, their candy-apple colored bottoms recognizable in an instant. Go online and you'll see that not only is Louboutin a constant topic of discussion on fashion forums and blogs, but the luxury label boasts more than 67,000 Twitter followers.
The hype around Louboutin has been at fever pitch for the last four to five years – a lifetime in the fickle fashion world – and experts say the brand has wedged itself into the industry in such a way that the love isn't likely to wear down anytime soon.
The Sole is its Soul
In the same way that Nike has the swoosh and GEICO has the gecko, Christian Louboutin has the red-lacquered sole.
The idea for the sole allegedly occurred in 1992 when Louboutin decided to jazz up one of his shoes by painting the bottom with red nail polish. The look stuck; in fact, it was trademarked in 2008. (Louboutin is actually in the midst of suing fashion houses Yves Saint Laurent and Carmen Steffens for trademark infringement.)
While it's impossible to say the brand would have failed had Louboutin stuck to a traditional sole, it's fair to say that the move has been critical in Louboutin's branding strategy.
"The brand and that sole are one in the same," says Milton Pedraza, CEO of independent research firm The Luxury Institute, who says the decision to turn the bottom of the shoe into a focal point was brilliant. "To go with red, with all that implies, is a wonderful carving out of uniqueness in something that had no meaning whatsoever."
What the red has come to imply is sex, power and feminine sophistication – qualities that resonate with a wide range of shoppers.
"That red sole has reached a demographic group of all ages, race and even genders," says Christian Classen, a Los Angeles-based celebrity stylist. Classen says his young cousin, mother and grandmother wear Louboutins, and says some of his male clients have bought Louboutins for their wives. "It just makes you feel sexy."
More than anything, the Louboutin sole has also become a symbol of recognizable luxury. In a comment on FashionBombDaily.com in March, a Louboutin owner named Grace said she spent $968 on her latest pair and admitted she probably wouldn't spend that much had the shoes lacked the sole.
For her, the soles say it all.
"I could wear a black sheath dress with my Pelle Moda pumps and look great. But when I wear that same dress with [Christian Louboutin], people break their necks out the elevator to see who that is wearing those 'expensive' shoes," she wrote.
Walking a Fine Line
Another key to Louboutin's endurance is that, thus far, the brand has managed to grow in popularity without forfeiting exclusivity.
"It's a delicate balance," says Pam Danziger, founder of Unity Marketing and author of  Putting the Luxe Back in Luxury: How New Consumer Values are Redefining the Way We Market Luxury. "Every luxury brand has to walk a fine line between exclusivity and popularity. So far, they seem to be holding up,"
While magazines and Web sites might be in a Louboutin frenzy, Louboutin's distribution has been kept relatively limited (boutiques and high-end department stores) and at very high price points. In addition, Louboutin has avoided transitioning into handbags and other leather categories the way brands such as Ferragamo have.
"Logically, all leather goods are in [Louboutin's] domain; so far, he's stayed very tried and true," Pedraza says.
Who will Topple Louboutin?
It took a long time for Louboutins to reach their level of popularity (remember, they were mostly under the radar during the six-year reign of HBO's "Sex and the City" when Jimmy Choo and Manolo Blahnik enjoyed their time in the sun), and experts say it might take just as long for another contender to take its place.
"It takes a decade, at least, to build a great luxury brand. If there are any designers right now, I don't see any," says Pedraza.
Some shoppers have no doubt that the Louboutin hype will cool off, but aren't sure when.
"I think people holding Christian Louboutins in this high regard is becoming quite ridiculous," says Alissa, a commenter on FashionBombDaily.com. "A few years ago you weren't hot if you were not rocking Manolo Blahniks. There will be another brand that everyone will be going crazy after when Loubs fade away. That's just how fashion goes."
If Louboutin faces any immediate competition, it's from established luxury brands, including Jimmy Choo and Manolo Blahnik, says Danziger of Unity Marketing. Danziger also has her eye on Coach and Chanel's shoe businesses, and sees particular promise in Cole Haan because it's exploring ways to make its shoes more comfortable – a concept foreign to many hot shoe designers.
The biggest concerns Danziger has though aren't particular to Louboutin; they're about the luxury market in general. She believes luxury retailers are facing a "drought" that won't be filled until about 2020, when the children and grandchildren of baby boomers reach a level of affluence that will fill the void left by baby boomers as they shift their spending dollars to long-term care and other priorities.
What this means for Louboutin and their strategy is yet to be seen.
"So far it seems like they're able to maintain those really sky-high price points. As long as they can continue to do that, they don't have to make a shift."