How He Got His Product in the Right Hands, as in James Taylor's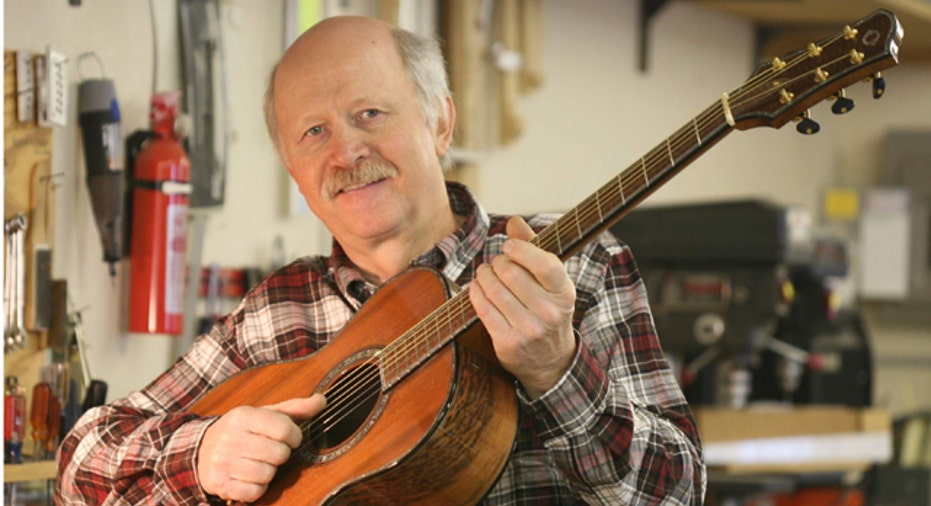 Jim Olson, 60, the owner and founder of James Olson Guitars, said he has been working his craft of guitar-making for more than four decades. From what he described as a childhood steeped in woodworking and a natural love of music, came his inspiration to start building. Yet, he said, it was years of 80-hour workweeks that finally pushed his passion into a profitable small business.
From concept to design, Olson is the only one who touches the guitars in his line -- and he handles every piece of wood that goes into making them play.
"I was obsessed with it. It took way too long to make for what I could get out of it [financially], but I kept doing it anyway," said Olson. "Much like someone who is playing the guitar, you persist at it because you can't imagine your world without it. I wanted to pursue it in spite of the fact that it wasn't smart, much like musicians do."
In 1979, he connected with a guitar distributor in the Midwest who offered to start selling his line. The deal was the distributor would pay $447.50 per guitar, and then sell it for $895 in the music store. Olson worked as hard as he could for two-and-a-half years and made 78 guitars. It was a lot of hard work for not lots of profit, he said.
"It was a very hard time," said Olson. "For that two-and-a-half years of work, I only made $5,000 in profit."
Indeed, it wasn't easy for Olson to start his guitar business. For years, he said he made no money at all creating guitars and did other side jobs to just barely make ends meet.
It wasn't until 1989 when James Taylor was coming to Olson's town to play in a benefit concert that Olson said he went for -- and got -- his break. On a whim, Olson asked if he could leave his guitar down at the hotel where Taylor was staying, trying to get the guitar into his hands. It worked, and after Taylor played Olson's guitar, the rock hall-of-famer ordered two that he still plays today.
"When James Taylor started touring with [Olson's guitars], I started getting more and more interest in them," said Olson. "At that time, the prices were reasonable and eventually I got so behind that I owed 160 guitars. It was a three-and-a-half-year wait from the time [customers] sent their deposits [until delivery]."
But while the product line was now an overnight success, the business behind it still took time to catch up.
It became evident that things were getting out of control in terms of keeping up with demand for the guitar craftsman, who was now working 80 hours a week. He said he tried hiring help, but it didn't work out, and in fact made things harder. To Olson, "the business was secondary." He said that it was more of an "art form from the beginning."
At the same time that Olson's guitars began to sell like hotcakes was a boom in auctions on Web sites such as EBay. Olson said his guitars started actually selling online for triple what he was charging, but because he had already taken deposits, it took him more than 3 years to raise his own prices to match what folks were paying second-hand.
Not until 2000 did he fill all his initial orders at the locked in rate. Then he raised the price per guitar to $12,500, because he said at that time used ones were going for anywhere between $10,000 and $15,000 online. Since then, Olson said he has never even come close to running out of work. He said over the past decade he's been making about 30 guitars a year, and typically is on a one-year backorder schedule. His base price for guitars still remains $12,500, but he said the price for one guitar can go up to $35,000 for a special edition.
Olson said that the crucial ingredients to his success are passion and persistence.
"Do it because you love it and be willing to do it even when it is not working, and if you love it enough and you are dedicated enough, eventually you can succeed at it," said Olson.