How Animal Farm Communities Create a New World for Many with Autism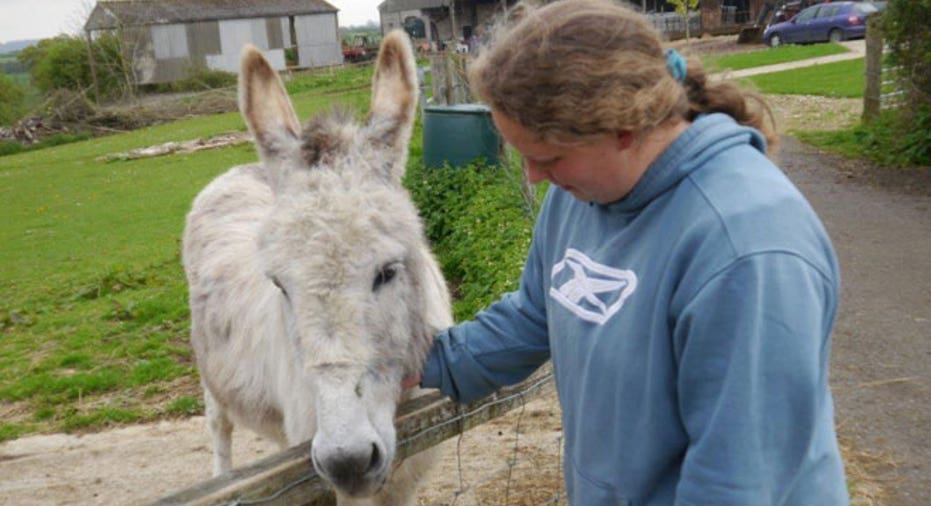 In the middle of the English countryside, Lydia Otter has made it her life's mission to work with people like Peter Griffin, a 26-year-old with severe autism. Griffin can hardly speak, but he has flourished at Pennyhooks Care Farm, a farm community focused on therapeutic agriculture, taking up woodworking and working daily on the land.
"I have had the parents describe the schooling system for autism to me -- and after the college learning age, around 19 to 23, beyond that, there is nothing to do," said Otter, a special needs teacher who created The Pennyhooks Project, a self-supporting entity, in 2001. "They called it a life sentence, where you might as well be in prison, because you have nothing meaningful to do with your life."
Otter is one of the activists working to change that life sentence.
The farm, which has been run by Otter's family for more than 60 years, became a place supporting those with autism years after Otter first began as a special needs teacher.
"Initially, I brought some of the children to visit the farm, interact with the animals, and from there, it grew," she said. "The purpose is to have those with autism live fulfilling lives and reach their potential, and from the beginning, I could see that they were motivated on the farm beyond someone telling them to do something. They were motivated by their own instinct to nurture and look after the cows and the hens and the donkeys."
In the U.S., cases of autism are on the rise. According to a recent report by the Centers for Disease Control and Prevention, 1 in 68 is affected by autism, a 30% increase from 2008.
Bittersweet Farms, another agricultural community focused on serving individuals with autism, has four locations in Ohio, where it both employs and houses those with autism. It sells weekly produce and makes chutney and pesto spreads. Vicki Obee, the executive director of the not-for-profit farm, said the demand for more non-urban, community-based options for this cohort is apparent.
"This staggering number is an indication of the need for more communities that offer supportive and well-structured programs for people with autism," said Obee. "These programs provide an avenue for increasing self-autonomy and self-reliance, maximizing dignity, and encouraging interaction."
Back in the hills of Oxfordshire, Otter hopes to make Pennyhooks Farm residential soon. In the meantime, she and Richard Hurford, who manages the farm, have recently expanded with the creation of the Otter House, a new building that was mostly funded by Natural England, an organization focused on preserving England's natural environment -- with each room focusing on a different activity.
There, about 50 students a week make benches, tables, bird boxes and photo frames, to name a few items -- and everything they build is for sale. Though, Otter says, they are beginning slowly to sell the items on the farm, trying to keep up with demand.
Peter Griffin seems to be enjoying the new woodworking classes. Otter told the story of how his woodworking teacher encouraged everyone to sign their name in the wood, and Griffin wrote, "Peter Griffin cut it out. Yipee."
"It's incredible to see," said Otter. "I have been working with Peter since he was 5 years old, and sometimes when he gets stuck, he says,"'It's impossible. It's impossible.' Then I say, 'Hey, Pete, you need a hand with something?' And he says, 'Nothing should be impossible, nothing should be impossible.' And then when he figures out how to fix the problem, he says, 'Nothing's impossible. Nothing's impossible.'"