House Passes Spending Bill But Senate May Delay Passage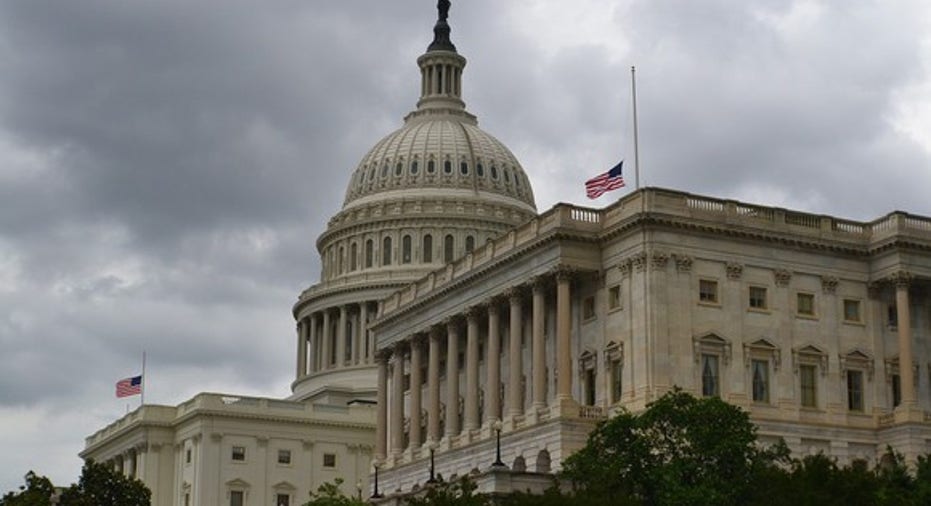 WASHINGTON -- A fight over coal miners' health-care benefits threatened to delay passage of a short-term spending bill in the Senate beyond Friday, when the government's current funding is set to expire.
The spending bill passed the House Thursday in a 326-96 vote, but hit resistance in the Senate.
Sen. Joe Manchin of West Virginia, a centrist Democrat up for re-election in 2018, said this week he will "do everything I can to stop" the spending bill unless Congress comes up with a longer-term fix for retired coal miners' health-care benefits, which are slated to run out for more than 16,000 miners at month's end.
The spending measure includes a patch to extend the health-care benefits for the length of the bill, which keeps the government funded at its current levels through April 28. But Mr. Manchin wants to secure more certainty for the retired coal workers and their relatives.
Calling the uncertainty created by a short-term extension of miner benefits "inhumane," Mr. Manchin said on the Senate floor Thursday afternoon that he would be willing to risk a brief, technical partial shutdown of the government.
Current funding is set to expire at 12 a.m. Saturday.
"Nobody wants to close this great institution, this government down. But you've got to stand for something or sure to God you'll stand for nothing," said Mr. Manchin, who is under consideration by President-elect Donald Trump's transition officials as a possible secretary of state or energy secretary.
The miners and their families risk losing their benefits because a 1974 pension plan that covers thousands of retirees is severely underfunded.
Mr. Manchin on his own can't block passage of the spending bill, but he can slow its journey through the Senate, where time-consuming procedures can only be sped up if all 100 senators consent. If Mr. Manchin were to use all possible tactics to delay the spending bill, it might not pass the Senate until Sunday.
Mr. Manchin shrugged off the prospect that the Senate might have to convene for a rare weekend session.
"If that's a little bit of pain and inconvenience to us, think of all the pain these people are having that are going to lose everything," he said.
Other senators agreed they were unsatisfied with the four-month patch, but said it would be tougher to change the spending bill now that it has cleared the House.
"It'll be a challenge now, but we've got to keep up the fight," said Sen. Rob Portman (R., Ohio.) "There are a lot of us that believe that four months makes no sense."
Retired miners trace the promise of lifetime health benefits to a 1946 agreement between President Harry Truman and United Mine Workers of America President John L. Lewis that resolved a nationwide strike that had forced President Truman to take over the nation's coal mines.
Other Republicans, including Sen. Richard Shelby of Alabama, a senior member of the appropriations committee, said they had sought to keep the spending bill as free of add-ons as possible, to avoid triggering political fights on the must-pass bill.
House GOP leaders had initially proposed using the short-term spending bill to fund the government through March, but extended its duration for a month out of deference to the Senate's crowded schedule early next year. The Senate will have to hold confirmation hearings and votes on President-elect Donald Trump's cabinet nominees in early 2017.
"In the Senate, we're beginning to appreciate how much work they have to do to confirm and stand up a new Trump government," House Speaker Paul Ryan (R., Wis.) told reporters recently. "Given the fact that the Senate is going to have a very, very crowded calendar with all of the confirmations they have to do, we're respecting that fact."
GOP leaders dropped the idea of passing individual spending bills crafted by lawmakers on the House and Senate Appropriations committees after Mr. Trump won the November presidential election. They hope to strike a more advantageous deal with him next year than they were able to with Democratic President Barack Obama, possibly boosting military spending.
But the move frustrated many lawmakers from both parties irked to see their work this year of writing newly tailored spending bills brushed aside.
"This is deeply disappointing," retiring Sen. Barbara Mikulski of Maryland, the top Democrat on the Senate Appropriations Committee, said this week. "We had time to finish the job, but Republicans decided to throw away all that progress and put the government on autopilot without consulting their willing Democratic negotiating partners."
The spending bill also includes a measure that would expedite consideration of a special waiver allowing retired Marine Corps Gen. James Mattis to serve as the next secretary of defense in the Trump administration.
Write to Kristina Peterson at kristina.peterson@wsj.com and Byron Tau at byron.tau@wsj.com