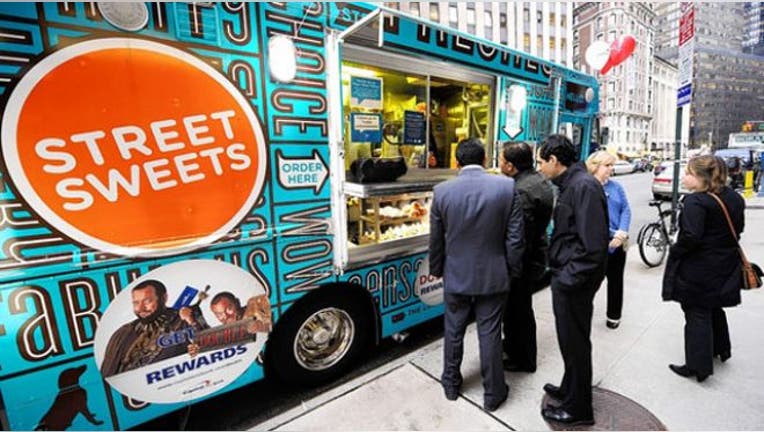 From frozen yogurt to food trucks, food-based businesses are on the rise — with artisanal food being the biggest star of all. Here's how to tap into this growing trend.
From mail-order artisanal marshmallows to food trucks hawking gourmet grilled cheese sandwiches, craft foods are going strong. How can small-business owners get in on the world of artisanal foods? Here's a look at the hot trends, opportunities and challenges in this sizzling market.
Despite a lukewarm economy, artisanal foods are searing hot, and there's no sign of a cool-down. Specialty food sales soared by 19.1 percent between 2009 and 2011, according to the National Association for the Specialty Food Trade. Meanwhile, research firm Packaged Facts reports nearly half (46 percent) of U.S. adults agree or strongly agree that they "like to eat food or beverage products with artisan appeal."
What products have consumers' mouths watering? Erika Kotite, founder and editor of Toque, an online culinary magazine, says the new artisanal foods and beverages she's seeing fall into three categories:
1. Updates of basic products. "There's a renewed focus on individual ingredients, and how each one can be used to enhance flavor or to create brand-new food products," explains Kotite, citing bacon, mayonnaise, flavored oils, salad dressings, syrups, sparkling waters and juices as examples.
2. Health. "Organic and healthy snacks are a very promising market for small food makers," says Kotite, noting continuing demand for minimally processed foods low in sugar or artificial ingredients. Prime examples include vegetable chips and organic juices.
3. Locavores. Locally sourced ingredients are a big opportunity for entrepreneurs "because the focus is not on creating a mass distribution system and going large scale," Kotite explains. "It's more about capitalizing on farmers markets, food and wine festivals, or special events like Restaurant Week."
Categories at the Good Food Awards for artisanal foods include beer, charcuterie, cheese, chocolate, coffee, pickles, preserves and spirits. And at the Summer Fancy Food Show this June, five trends emerged: small-batch mixers; "local global"; cookies, crackers and crunchy snacks; Southern cooking; and chocolate.
How can smart entrepreneurs turn these and other artisanal food ideas into businesses? Here are some concepts that have been getting attention lately:
Pop-ups: "I love the concept of pop-ups and see them gaining a lot of traction in the Bay Area," says Jill Epner, a "recovering" food entrepreneur, weekly blogger and instructor at the Food Craft Institute. "Sōw juice bar, Schmendricks bagels and Pop Nation are three great examples." Epner says pop-ups, or temporary locations staged at events such as fairs, festivals and farmers markets, enable craft food producers to enter the market for a relatively low investment, or to test products in preparation for future expansion.
Trucks: Food trucks are still hot, with many entrepreneurs expanding into multiple trucks or opening storefronts after proving their concepts. Location is key, however: Trucks work best in urban areas with high concentrations of "foodies."
"I think a food truck can certainly thrive in the Midwest and other 'less-foodie' areas, but not without a lot of education and effort," cautions Epner. That may be changing, though: Kotite says North Dakota, South Dakota, Kansas City, Houston, Nashville and the entire South are becoming hot spots for artisanal food makers.
Do-it-yourself: "Consumers want to play a part in making their own artisanal food and drink, but they often need direction and help," says Kotite. Entrepreneurs wishing to tap into this demand might consider creating DIY tools like cookbooks or apps, teaching cooking classes, or developing products consumers can make at home. At 11 Front Bar & Grill, in Trenton, New Jersey, diners can buy a Cryovac-wrapped homemade pasta sauce they just throw into a pot. Takeya USA created a system of brewing fresh iced tea using whole-leaf teas and herbal blends sold in premeasured packets.
Food tourism: "This is a big trend right now," says Kotite, adding that tourism is one way artisanal food makers outside major cities can attract a following. You don't have to be an artisanal food maker to take advantage of this trend, either. Try organizing tasting tours of local restaurants, farmers markets, food manufacturers' kitchens and farms.
Single products: Can a restaurant or retailer focused on just one food item succeed? Although this concept can work for food trucks, it's riskier in a storefront location. "While the occasional mac-and-cheese restaurant may be a success, that's probably more of an exception to the rule," says Epner. "If I was selling only one type of product, I'd collaborate with other businesses that have a similar customer base, and offer products collectively or at least in the same space."
Kotite agrees that one-product businesses are difficult to sustain without a multipronged marketing and distribution strategy. "The maker of the best pretzels in the world needs to get on concession lists at major sports arenas, enter the growing arena of gourmet airports, or branch into crushed pretzel toppings, breadcrumbs, pretzel salts and gourmet dipping sauces," she explains.
That marketing strategy is essential. "Artisanal companies depend on building loyalty within a younger market, which as it matures, will stay with the products — and be able to afford more of them," Kotite explains. "To do this, staying relevant and visible where these consumers spend time is crucial." Right now, that's social media and mobile marketing. "Dry Soda is a great example of what artisanal food and drink makers should be doing on Instagram and elsewhere."
This is one industry in which being a small business actually gives you an edge in the marketplace. "It used to be companies did everything they could to appear big," says Kotite. "Now they're doing everything they can to appear small. Take advantage of that."
© Business on Main. Sign up for our Main Street Authority newsletter to get articles like this delivered monthly to your inbox.