Honeymoon Like a Celeb -- on the Cheap!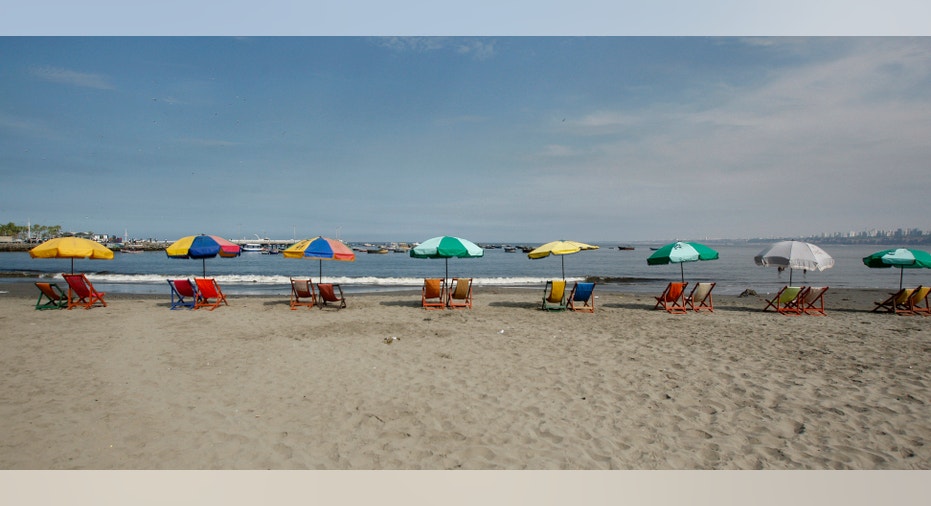 Honeymoon like a celeb
You've said "yes" to the dress, the flowers and music have been chosen, and your big wedding day is shaping up exactly as hoped. Now it's time to focus on the honeymoon. Your fiance wants to honeymoon like a big-name celebrity, but how do you accomplish that and stay within your budget?
The common denominator when celebrities choose a honeymoon destination is privacy. It allows them to have an intimate moment away from the prying eyes of society and the lens of the paparazzi. While that may not be a main concern for the rest of us, there are still plenty of affordable places to stay in these exotic, exclusive locales to achieve a travel dream of honeymooning like the rich and famous.
Destination: Amalfi Coast, Italy
Celebs who honeymooned there: Reese Witherspoon and agent Jim Toth; "True Blood" stars Anna Paquin and Stephen Moyer; Facebook CEO Mark Zuckerberg and Priscilla Chan
Celeb version: The 59-room LeSirenuse hotel overlooks the bay of Positano and is furnished with the comforts of a luxury hotel while maintaining the atmosphere of a private home. Rates for a standard room with no sea view begin at $437 per night (off season). As the room size grows and a waterfront view and balcony are added, prices climb up to $4,250 per night for a two-bedroom suite (in season). Add in spa treatments and private boat rental, and the sky is the limit on the cost of your honeymoon. Anna Paquin and Stephen Moyer stayed at LeSirenuse while enjoying their postnuptial holiday.
Affordable version: At the Best Western Hotel Pasitea, rooms with a sea view begin around $263 (depending on the season), which is a much better price for a similar view and feel. The hotel has a private beach and is walking distance to the sites in town. Boat launch, restaurants and historic sites are all nearby and can be enjoyed by foot or aboard a rental moped.
Destination: Turtle Island, Fiji
Celebs who honeymooned there: Nick Lachey brought each of his wives here for a honeymoon. First he took Jessica Simpson. Following their breakup, he brought his current bride Vanessa Minnillo. "Bachelorette" stars Trista Rehn and hubby Ryan Sutter also enjoyed this resort.
Celeb version: According to TripAdvisor, this all-inclusive resort's rates start at about $2,079 per night. No need to worry about the crowds. Turtle Island can only accommodate 14 couples in total with their 14 private villas -- each with its own private beach. According to Turtle Island's website, "The options, just like your new life, are wide open."
Affordable version: While there isn't an affordable way to stay on Turtle Island, you can stay nearby at the Beachcomber Island Resort, which is near the main island of Fiji. Lodge rooms begin at $282 per night on Fijian dollars (around $150 a night in U.S. dollars) and offer that similar island paradise. They have accommodations from private beachfront cabins to dormitories (if you want to bunk in a large room), so all budgets are represented. You'll still get your ocean breeze, delicious Fijian food and music, and water sports galore without breaking the bank.
Destination: Private yacht vacations
Celebs who honeymooned there: Supermodel Kate Moss and husband Jamie Hince in Corsica; Tom Cruise and Katie Holmes in the Maldives; Alicia Keys and husband Swizz Beatz off Corsica
Celeb version: Kate Moss and and Jamie Hince moored off the island of Corsica in a luxurious yacht where they had chefs and masseuses during each day of their two-week Mediterranean honeymoon. The cost exceeded $300,000. Tom Cruise is lucky enough to have a friend willing to loan him a yacht, as that is what he and Katie Holmes used to travel around the Maldives following their 2006 wedding. And Swizz Beatz and his pregnant bride, Alicia Keys, were sweet enough to invite others along on their yachting excursion, making it a friendly affair.
Affordable version: OK, so a yacht doesn't lend itself to an inexpensive honeymoon, so try a nice seaside hotel in Corsica with a similar view that won't break the bank. There are many cozy, romantic waterfront hotels and guest houses available for couples to vacation in by the day, week or even month. A one-bedroom suite complete with balcony view of the sea, pool, nearby beach, and walking distance to shops and restaurants can run as low as $1,030 per week in the low season (up to $1,400 in high season). It's not quite as private as a yacht, but reasonable enough -- and you'll still get to enjoy the French coast.
Destination: Los Cabos, Mexico
Celebs who honeymooned there: Gwyneth Paltrow and Chris Martin; LeAnn Rimes and Eddie Cibrian; Eli Manning and Abby McGrew; Kevin Jonas and Danielle Deleasa; Hilary Duff and Mike Comrie
Celeb version: Newlyweds Paltrow and Martin as well as Rimes and Cibrian each celebrated their wedded bliss with a tranquil and plush honeymoon at the Esperanza resort, listed in the January 2012 Travel + Leisure magazine on their 500 World's Best Hotels list. Although double rooms can cost as little as $695 per night, the hotel boasts private residences and villas with infinity pools, garden courtyards, ocean vistas and of course a substantial increase in price. One&Only Palmilla, a resort on the tip of the Baja Peninsula, is another celebrity favorite in Cabos. Eli Manning and Kevin Jonas brought their blushing brides to this stunning seaside hotel, known for its superior golf and in-room telescope. One-bedroom suites begin at $1,200 per night.
Affordable version: Mexico is a truly affordable way to enjoy a sun-kissed, seaside holiday. Online you can find a variety of hotels with rates beginning at $79 per night, depending on size and location. Whether you absolutely have to be on the water or you want to be gazing at the mountains, there are plenty of inexpensive accommodations to be had.
Destination: South Africa
Celebs who honeymooned there: Ivanka Trump and Jared Kushner, Chelsea Clinton and Marc Mezvinsky
Celeb version: Ivanka Trump began her honeymoon with a stay at La Residence, a first-class luxury hotel where suite rates can run up to $9,915 per night. Each suite boasts vineyard and mountain views and provides a haven of luxurious accommodations. They then trekked to the Ivory Sands Safari Lodge near Kruger National Park, an intimate lodge with luxurious suites set on elevated platforms. Packages are available for around $900 for a full-day safari adventure and a night of lodging.
Affordable version: The most popular tourist destination in South Africa is Cape Town. Lodging there can be inexpensive and still retain the honeymoon experience. Some suites can be had for as low as $150 per night. Try renting a car for around $120 per day and sightsee the landmarks on your own while enjoying beaches, shopping and craft markets around the city. When you are ready to go on safari, check out one of the five wildlife parks and preserves within a three-hour drive. Each offer guided day-trip safaris for around $155 per person. If you'd rather stay the night, the big-five safari Fairy Glen offers a once-in-a-lifetime experience at an amazingly good price. "Big five" safaris feature lions, rhinos, elephants, buffalo and leopards.
For around $300 per person, dinner, bed, breakfast, a nature walk, a two- to three-hour drive with an experienced ranger, and a buffet lunch are all provided.