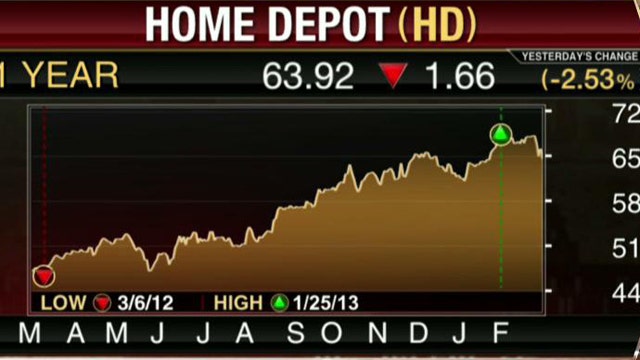 Home Depot (NYSE:HD) saw its profit jump 32% amid a recovering U.S. housing market and repairs after Hurricane Sandy, as the retail giant beat rival Lowe's (NYSE:LOW) by the widest margin so far.
The home-improvement retailer said on Tuesday its profit totaled $1.02 billion, or 68 cents a share, up from the $774 million profit, or 50 cents a share, reported a year earlier. The latest quarter also included a favorable adjustment to a charge related to a store closing in China. Adjusted earnings to exclude that charge were 67 cents a share.
Sales jumped 14% to $18.25 billion.
Analysts projected per-share earnings of 64 cents and revenue of $17.7 billion.
Year-over-year results were aided by a fourth quarter that included one extra week compared to the prior-year period. Home Depot said the fourth quarter's extra week added about $1.2 billion in revenue and seven cents to per-share earnings.
Home Depot's results beat Lowe's, which reported on Monday a 1.9% increase in same-store sales and total sales of $11.05 billion, for the 15th consecutive quarter. The gap between the two retailers is the widest since Home Depot, the nation's largest home-improvement retailer, began outpacing Lowe's in 2009.
"We ended the year with a strong performance as our business benefited from a continued recovery in the housing market coupled with sales related to repairs in the areas impacted by Hurricane Sandy," Frank Blake, Home Depot's chairman and chief executive, said in a statement.
Comparable-store sales rose 7%, fueled by a 7.1% improvement in the U.S. The average ticket increased 5.6% to $55.46. Gross margin fell slightly to 34.9% from 35%.
The Atlanta-based company also announced an increase in its quarterly dividend to 39 cents a share, up 34%. Home Depot's board authorized a $17 billion share repurchase program as well, replacing its previous authorization.
For the current year, Home Depot said it anticipates per-share earnings of about $3.37, same-store sales growth of about 3% and total sales growth of around 2%. Analysts were looking for an earnings outlook of $3.49 a share, while Home Depot's projection is up 12% over the previous year's results.
Shares of Home Depot were up $1.65 to $65.57 a share in pre-market trading Tuesday.