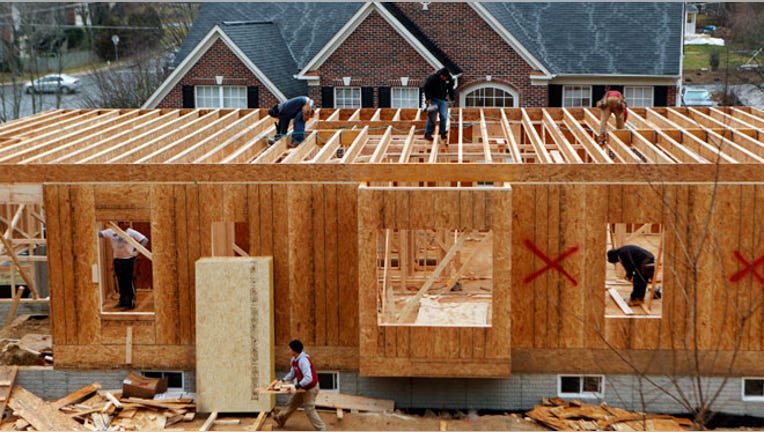 U.S. home building surged in September to the highest level in more than four years, the latest sign that housing is becoming an increasingly important boost to the troubled economy.
Housing starts increased 15.0% last month from August to a seasonally adjusted annual rate of 872,000, the Commerce Department said Wednesday. Compared with a year earlier, new construction was up 34.8%.
Construction of single-family homes, which made up 69% of housing starts last month, grew 11.0% in September to a rate of 603,000 units--the highest level since August 2008. Single-family construction was up nearly 43% from a year earlier.
Multifamily homes of two units or more, meanwhile, jumped 25.1% from a month earlier.
The figures were well above expectations. Economists surveyed by Dow Jones Newswires had forecast overall housing starts would grow to a seasonally adjusted annual rate of 768,000, which would have been a 2.4% jump from August's previously reported figures.
Starts in August were revised up to a rate of 758,000, reflecting a 4.1% increase from July.
The numbers are the latest indication the housing market is getting back on track. Spending on home construction and home improvements has contributed to economic growth in five straight quarters and made up 0.19 percentage point of the 1.3% growth rate in the second quarter of 2012, the Commerce Department said last month.
On Tuesday, a report showed U.S. home builders' confidence rose to the highest level in October since the housing market went south more than six years ago. The National Association of Home Builders also said home builders are seeing a jump in traffic of prospective buyers at a level not seen since April 2006.
While this year's housing starts are up from a low of 478,000 in April 2009, they are still below the historical average. Builders have started construction on about 1.5 million new homes per year since 1959.
Wednesday's report showed that the number of new building permits, an indication of future construction, rose by 11.6% to an annualized level of 894,000 in September. That was also above economists' estimates for a rate of 810,000.
Meanwhile, the Commerce data showed new building was up in three of four U.S. regions. Building rose 20.1% in the West, 19.9% in the South and 6.7% in the Midwest. New construction fell 5.1% in the Northeast.
Actual housing starts, which are calculated without seasonal adjustments, increased to 79,000 in September from an upwardly revised 70,100 in August. Lumber and commodities market watch those numbers closely to gauge demand.