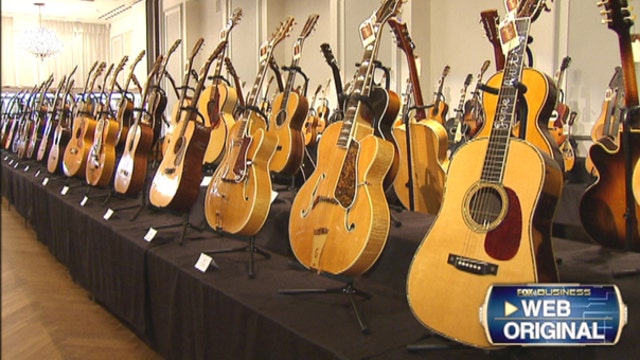 A collection of 265 iconic guitars are up for auction in New York City. Dubbed "The Artistry of the Guitar," it includes several vintage instruments that were once owned or played by famous musicians such as Eric Clapton, Mick Jagger and Stephen Stills.
"There are ordinary instruments, and then there are those extraordinary handmade instruments that have risen above the rest and that have been the target of collectors for decades now," says Arlan Ettinger, Guernsey's President. "This particular collection, one gentleman's collection, is being viewed by experts -- far more knowledgeable than I -- as the finest collection of rare instruments that have ever come up for sale."
Media Rights Technologies CEO Hank Risan is the collector who is offering some of his guitars for auction by Guernsey's.  According to his site, Risan began collecting vintage Martin guitars at age 16.  The guitars date back to the 19th century, and the collections value is estimated to be millions.
"The expectation is that there will be instruments that will bring in $3,000, $4,000 or $5,000 on up, to instruments in the hundreds of thousands of dollars," says Ettinger.  "One or two guitars may go beyond that and reach the 7-figure mark."
The 1930 Martin OM-45 Deluxe is considered the prize of the auction.  The flat-top guitar is very lightly built, and it was Martin's only model at the time to feature a bridge and pickguard with inlays. Bidding starts at $875,000
"Martin made a conscious decision to find the finest, rarest woods to make a very special instrument," says Ettinger. "There were only 11 ever made, and it's believed that just six or seven have survived."
Other guitars in the collection are made by iconic names like D'Angelico, Gibson, Gretsch  and Washburn.
A 1934 D'Angelico is estimated to sell for more than $500,000.  Another 'wow' guitar up for auction is a 1935 Gibson Super 400 Flattop Custom.  It is likely the only Super 400-style flattop guitar Gibson has ever made and is projected to sell for more than $750,000.
But what makes a guitar so special is not just the workmanship; it's also the sound.
"Each of these instruments has its own sound, as they, for the most part, were all handmade, and like fine wine no two are exactly alike," says Ettinger.  "People do appreciate the unique sounds that come from them."
The two-day auction started Wednesday and wraps up Thursday night at 9 p.m. at the Bohemian National Hall in New York City.  Bidders can also view the full collection on Invaluable.com and bid online in real-time during the live auction.