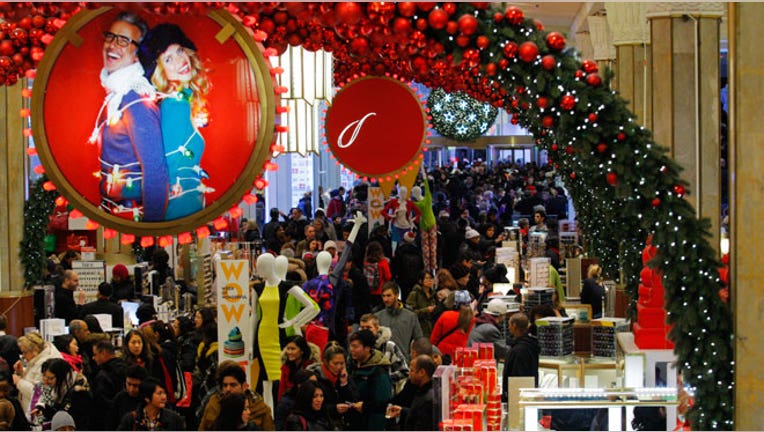 If you want to save a little money while using credit cards over the holidays, card issuers have some deals for you.
It's a shopper's smorgasbord of customized offers, extra rewards, discounted gift cards and deals with online and brick-and-mortar retailers. While some promotions are reserved specifically for the holidays, others are year-round programs that cater to activities (such as charitable giving, online shopping or gift-card buying), which tend to get more popular this season.
Card issuers are going heavy on technology this year, using everything from Twitter to apps to popular online stores and designated online malls.
Want to see what your favorite cards are offering? Here's a rundown of some of the promotions available this holiday season from some of the most popular card issuers:
American Express
American Express has several promotions aimed at holiday shoppers this year, says Melanie Backs, director of public affairs for American Express.
Like to use social media to find a bargain? Social media mavens can "sync" any American Express consumer card with their Twitter account for special offers from merchants. They can also follow @AmexSync on Twitter or visit the related online site to see what retailers are offering.
To take advantage, tweet the designated offer hashtag, says Backs. "That loads the offer onto your card. And Twitter never gets any of your card information. It all stays with American Express."
Those discounts come off your bill at the checkout when you use your AmEx card, she says. "You don't have to worry about rebates or cashing checks."
Have a lot of last-minute online shopping, or just tired of standing in line at the post office? American Express has teamed up with online delivery service ShopRunner.com to offer two-day delivery to all cardholders, says Backs.
Normally the service runs $79 for an annual subscription, but it's available for free to anyone with an American Express-branded card, she says. To use the service, register any American Express consumer card at the AmEx sign-up page on ShopRunner, then use that card when you make your purchase.
Capital One
Capital One is offering three specials that could be helpful to holiday shoppers this year -- one through a mobile app, a second for gift card buyers and a third for those interested in charitable giving, says Capital One spokeswoman Sukhi Sahni.
With "Digital Deals," cardholders can opt to receive weekly e-coupons from retailers selected for them, based on recent card use, says Sahni. The coupons are loaded onto their phones via a banking app downloaded from Capital One. A customer would pay for the purchase with a Capital One card and show the e-coupon on their smartphone to the clerk at checkout.
"You don't have to clip coupons and you don't have to search for it," she says. "It comes to you."
While this deal is running year-round, it's also one more way cardholders can save money during the holidays, says Sahni.
A second promotion is aimed at gift card lovers. Gift cards are one of the top three items cardholders are getting when they redeem their rewards during the holidays, Sahni says.
Cardholders can go online and use points or miles to buy retail gift cards at a discount. Depending on the retailer, they'll get the cards for 10 percent or 20 percent less than face value, says Sahni. "It's a great way to use it for yourself or someone else," she says.
For information, visit CapitalOne's rewards platform.
A third promotion, which runs throughout the year, relates to a popular holiday tradition: charitable giving.
Through Capital One's giving website, cardholders can donate their rewards to charity, says Sahni. Capital One covers the transaction fees so the entire donation goes to the charity, she says.
"It's really a nice way to feel good during the season and make use of those rewards," she says.
ChaseChase has one holiday promotion for Freedom cardholders, plus year-round benefits that are getting a workout from shoppers during the holidays.
With "Outsmart the Season with 5 Percent Cash Back," Chase Freedom cardholders can earn 5 percent in cash back on up to $1,500 in purchases from participating retailers through the end of the year, says Phil Christian, general manager with Chase Freedom.
Merchants include Amazon.com, JCPenney, Kohl's, Macy's, Nordstrom and Sears, says Steve O'Halloran, spokesman for Chase.
Cardholders amp up their earnings using another ongoing program: Ultimate Rewards, Christian says. By beginning their online shopping at the Ultimate Rewards site, they can double (or in some cases triple) those points, depending on the merchant.
This one is open to consumers who have Chase Freedom, Chase Sapphire, Chase Sapphire Preferred, Ink Bold or Ink Plus cards.
Discover
When it comes to promotions, "we have so many things going on right now," says Brian Meier, director of rewards marketing for Discover.
One of the promotions is specifically geared to online holiday shopping, while three other benefits assist with activities that are especially popular at the holidays: purchasing gift cards, shopping online and, more specifically, shopping at Amazon.com.
Deals can be used together or "layered" to ratchet up the savings, Meier says.
For online shoppers who want to earn a little reward for themselves, Discover has a program that gives extra Cashback rewards for purchases made before the end of the year.
Through Dec. 31, cardholders earn an extra 5 percent back for their online purchases (up to $1,500), Meier says. That means they can put up to $75 extra in their bonus accounts, he adds.
Cardholders have to opt in, but will get the bonuses automatically when they shop online, Meier says. To enroll in the program, call 800-DISCOVER or visit  Discover.com.
Discover also maintains its own online mall: ShopDiscover.com. While it operates year-round, many of the 200 participating retailers are increasing the bonuses offered to customers during the holiday season, Meier says.
To use it, go to ShopDiscover.com, then click through to the stores you want to visit. You'll earn an additional 5 percent to 20 percent in Cashback bonuses on what you buy, he says.
See related: Best ways to redeem rewards points over the holidays, Beware: 7 retailer tricks that make you spend more, Multiply reward points with prepaid and reload cards