Hilton to Sell Historic Waldorf Astoria for $1.95B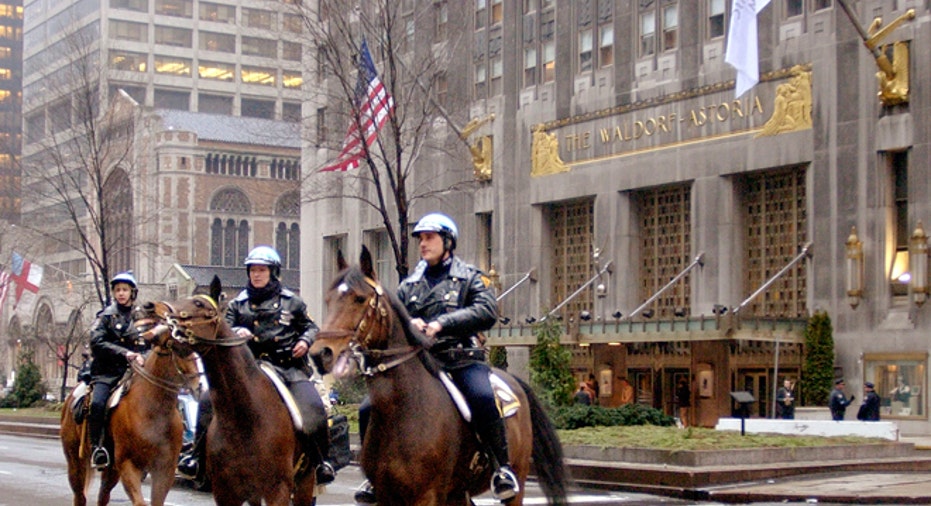 Hilton Worldwide Holdings Inc said it would sell the landmark Waldorf Astoria New York hotel to Chinese insurer Anbang Insurance Group Co Ltd for about $1.95 billion.
The property is the flagship hotel of Hilton's luxury brand, Waldorf Astoria Hotels & Resorts, which owns 27 properties across cities such as Amsterdam, Chicago, and Shanghai.
Hilton shares rose almost 3 percent in early trading on Monday.
Hilton said the hotel would also be renovated and that it would continue to operate the property for the next 100 years.
Beijing-based Anbang is an insurance company and manages about 700 billion yuan ($114 billion) worth of assets, according to its website.
Hilton, which also owns the Conrad brand, and its rivals Starwood Hotels and Resorts Worldwide Inc and Marriott International Inc are enjoying strong business due to an increase in business and leisure travel.
The Waldorf Astoria New York hotel was bought by founder Conrad Hilton in 1949, eighteen years after it opened in Park Avenue.
It was the setting for the "Weekend at The Waldorf," the first movie shot entirely outside Hollywood's studios, and its $1,000-per-week Suite 2728 was home to Marilyn Monroe when she fled her troubled life in Hollywood.
The hotel's Towers presidential suite, which ranges from 1,600 to 2,000 square feet, now costs about $1,609 per night for a single person, according to its website.
Hilton said on Monday it intends to use the proceeds from the sale to acquire more hotel assets in the United States.
The sale of Manhattan's Waldorf Astoria comes a year after a Chinese investment firm bought another New York landmark property, the One Chase Manhattan Plaza.
Fosun International, controlled by billionaire Guo Guangchang, paid $725 million for the property, which was the former headquarters of Chase Manhattan Bank.
Hilton stock was up 0.7 percent at $24.49 in morning trading on Monday. It had risen about 9.3 percent this year through Friday's close.