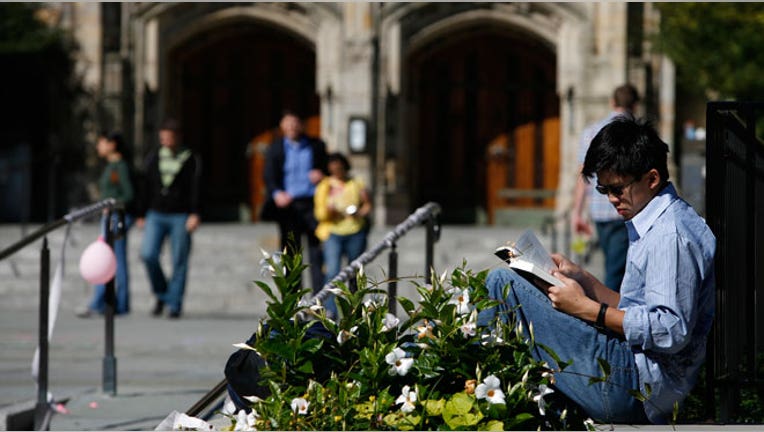 Despite years of steady growth, college enrollment dropped by 0.2% in the fall of 2011, the first decline in 15 years, according to the U.S. Education Department's National Center for Education Statistics.
The number of undergraduates enrolled dropped to 18.62 million in 2011 from 18.65 million in 2010, but that doesn't necessarily mean less people are pursuing a four-year degree. The number of college students enrolled in at least one online course increased for the ninth straight year, according to the Babson Survey Research Group.
The 2011 study reports that the number of students taking at least one online course has now surpassed six million and nearly one-third of all students in higher education are taking at least one online course.
The college experience is slowly shifting off campus and into the internet as students seek out multiple sources for their educational experience, says Adam Newman, managing partner at Education Growth Advisors.
"Colleges that fail to focus on supporting, and frankly exceeding, the academic needs and expectations of students will do so at their peril given the increasing number of plausible alternatives emerging," he says.
Especially considering the increasing costs of a college education, students are expecting a return on investment than ever before, says Brian Kibby, president of McGraw-Hill Higher Education. "Students want a good experience but ultimately what they want is a great job, a great opportunity," he says. "Everything that colleges and universities do should be focused on what is the student's result--if the students don't have results, it's just harder for them to get that return on investment and then ultimately contribute to the global economy."
For traditional colleges and universities evolving to meet the needs of their students, here are three trends the experts predict will have a significant role in shaping higher education in 2013.
More Online Programs
While many colleges and universities have increased their online learning opportunities, experts predict that schools will continue to bolster these courses and degree programs.
"They're looking to accelerate that, not only because of the school's initiatives, but as for assigning a stigma to online learning—it's gone," says Kibby. "There are too many good studies that exist now that show students do better in online programs."
The introduction of Massive Open Online Courses (MOOCs) means that every university now needs an online strategy, with the more progressive institutions figuring how they can provide meaningful credentials online, says Ryan Craig, managing director at University Ventures.
"Add to this the increased number of 'online enablers' or 'service providers' – companies that partner with universities to help them develop online degree programs, and 2013 should see the greatest ever annual increase (on an absolute basis) in online courses and degree programs."
More Emphasis on 'Self-Directed' Learning
With a large number of adult learners over age 25 in higher education programs, there are already an increasing number of self-paced and competency-based programs, which will become more common with traditional college students in a trend dubbed "flipping the classroom," predicts Craig.
"Flipping the classroom involves requiring students to view lectures online prior to class, which is then reserved for focused learning, problem solving and group work--students in a flipped classroom environment need to be much more self-directed," he says.
While there will continue to be a rise of self-directed learning options, a key issue will be how institutions and employers value these experiences, as the quality and caliber of self-directed learning programs vary widely, says Newman.
"For those students pursing them with the context of personal enrichment, that may be fine," he says. "As it relates to employability and demonstrated competencies, it's an entirely different matter in which the value of these self-directed options remains unproven."
Shift in Faculty Hiring Processes
As schools continue to experience decreased endowments and tight budgets, fewer faculty members will be hired on a full time basis, say the experts.
"One of the hardest jobs to get anywhere is full time, tenured faculty positions, whether they're at a community college or more elite colleges," says Kibby. "Having said that, the need for passionate master teachers, whether you're a fourth grade teacher or at the highest level, that will never change and in fact, it will accelerate."
In order to offer the same number of classes, maintain class size, and serve the same number of students with fewer full-time faculty members, universities will be hiring more part-time faculty in 2013, says Jon Lenrow, Associate Dean, Academic Operations and Faculty Support at Peirce College in Philadelphia.
"The direct cost to the institution is much lower to hire part-time faculty over full-time faculty," he says. "Part-time faculty members also frequently bring more practical experience to the classroom."