High-Priced Trucks Propel Ford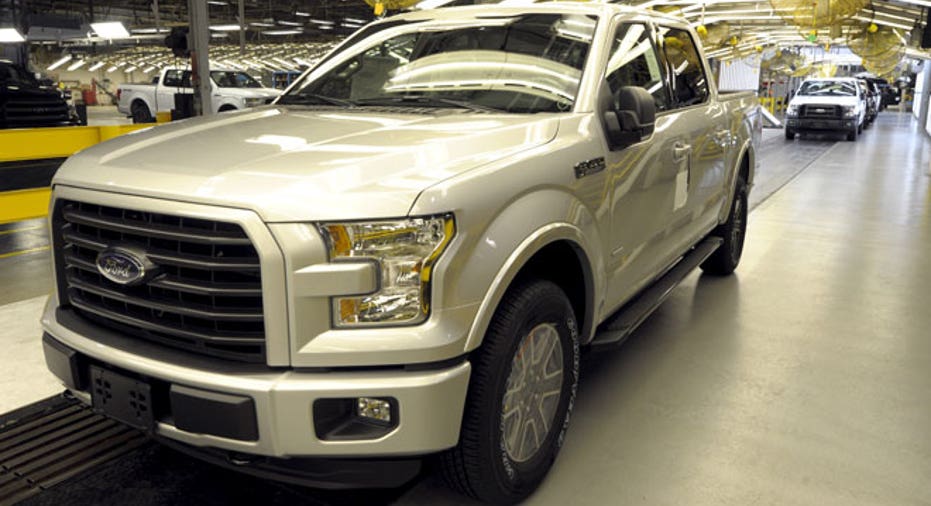 Ford Motor Co. (NYSE:F) has benefited from consumer appetite for higher-priced trucks and sport-utility vehicles, which propelled the automaker to a record second-quarter profit in North America.
Pricing gains during the period offset an expected decline in F-150 sales. The redesigned trucks were outfitted with aluminum body panels, a change that prolonged the usual rollout for new vehicles. The 2015 F-150 remains below what Ford considers full inventory, and Ford does not expect to reach normal levels until later in the current quarter.
But the trucks that left dealer lots in the second quarter were well-equipped, leading to higher prices.
New F-150s sold for an average of $44,000 per truck, or $3,600 more compared to the same period last year. During a conference call with analysts, Chief Financial Officer Bob Shanks said over 50% of all F-150s sold in the second quarter featured higher trims. The older model had a rate of approximately 30%.
SUVs also bolstered transaction prices. CEO Mark Fields noted that Ford has completed launches of new Explorer, Edge and Lincoln MKX models.
Trucks Fuel North America
Ford's pretax profit in North America checked in at $2.6 billion, an increase of $157 million. Operating margins were 11.1%, down from 11.6%.
"This was not supposed to happen, at least not so soon — not with F-150 production still lower [year-over-year]," J.P. Morgan analysts wrote in a note to clients.
"Investors should be asking themselves, 'If Ford can earn record North America profits in 2Q when F-150 production was capacity constrained, what is going to happen in 3Q and 4Q, when production is sharply higher?'"
Global Results
Ford's business in Europe swung to a $14 million loss. Operating earnings in Asia-Pacific rose $33 million to $192 million. Ford said China's auto industry, which has sputtered amid a broader economic slowdown in the country, will likely see sales fall or remain flat this year. Company officials still believe the world's largest auto market will reach 30 million in sales by 2020.
Overall, Ford booked a second-quarter net profit of $1.9 billion, up 44% year-over-year. The Dearborn, Mich.-based automaker easily beat expectations with per-share earnings of 47 cents. Wall Street analysts were looking for 37 cents a share.
Revenue slipped $100 million to $37.3 billion, topping a consensus estimate of $35.34 billion. Ford attributed the decline to currency volatility.
Second-Half Outlook
After the better-than-expected quarter, Ford expressed optimism over the rest of 2015.
"The second half is going to be even better," Fields said. "We are now more confident than ever that we'll deliver a breakthrough year."
Shanks stressed that Ford's North America results "did not benefit from year-over-year growth" for the F-150. He said wholesale volume is down 25,000 units versus 2014.
Goldman Sachs analysts wondered if Ford's outlook for North American margins of 8.5% to 9.5% might be conservative, given that the second half will not feel the pressure of F-150 downtime.
Ford reaffirmed its 2015 guidance for global operating earnings of $8.5 billion to $9.5 billion.
General Motors (NYSE:GM) had a similar story last week. GM also reported a record second-quarter profit in North America as Chevrolet and GMC grabbed a bigger share of the U.S. truck market.
The strong reports from Ford and GM came as Detroit's Big Three, including Fiat Chrysler Automobiles (NYSE:FCAU), kick off labor negotiations with the United Auto Workers union. The UAW's current contracts expire in mid-September.
Ford shares rose 1.7% to $14.83 on Tuesday. The stock remains in negative territory on the year, trading 4.3% lower since the start of 2015.