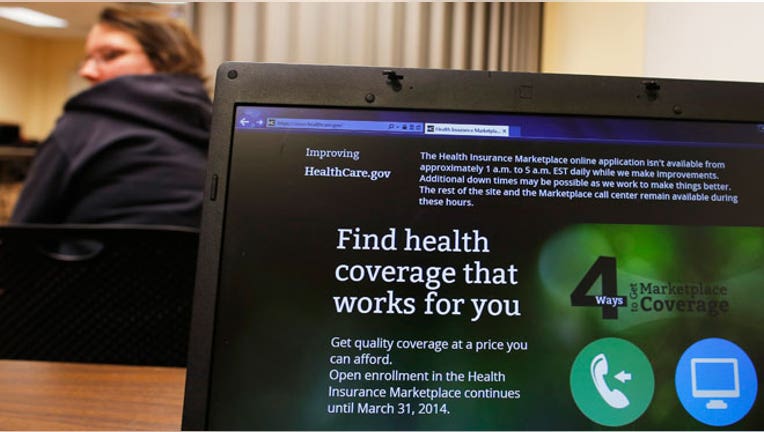 Only 106,185 Americans have selected plans from the insurance marketplaces set up under the Affordable Care Act, falling significantly short of expectations to keep pace on the White House's target number of seven million people in 2014. Analysts have said at least 500,000 per month would need to be enrolled in order for the White House's goal to be met.
The Department of Health and Human Services reports that an additional 975,407 have made it through the process by applying and receiving an eligibility determination for a subsidy, although they have not yet selected a plan. The marketplaces are entering their seventh week and the registration website, healthcare.gov, continues to be plagued with problems.
HHS also announced Wednesday that 396,261 Americans have been determined or assessed as eligible for Medicaid or the Children's Health Insurance Program.
"The promise of quality, affordable coverage is increasingly becoming reality for this first wave of applicants to the Health Insurance Marketplaces," HHS Secretary Kathleen Sebelius said in the release.
"There is no doubt the level of interest is strong. We expect enrollment will grow substantially throughout the next five months, mirroring the pattern that Massachusetts experienced. They're also numbers that will grow as the website, HealthCare.gov, continues to make steady improvements."
In the first month of implementation of the ACA's open enrollment period which started Oct.1, 502,466 people are "positioned" to have health insurance by 2014. Out of the total 106,185 consumers who have selected a qualified health plan during this period, 79,391 enrolled through a state-based marketplace, covering 14 states and the District of Columbia, and 26,794 have enrolled through the federally-facilitated marketplace, which covers 36 states.
Those who have selected a plan may or may not have paid their monthly premium, the report states. Traditionally, health insurance enrollment is complete upon making a premium payment.
White House Press Secretary Jay Carney told reporters Tuesday that the administration is counting enrollment the same way Massachusetts did during its health-care overhaul.
"I would refer you to HHS and CMS for how they define enrollment, "Carney said. "I can tell you that it is consistent with the way Massachusetts did it.  It is consistent with the way the states are doing it.  The marketplace experience or process ends when a person selects a plan -- essentially presses "enroll" in a plan.  And after that, it becomes a contract between the private insurer and the individual.  So the process they're using, as I understand it, will be consistent with what Massachusetts did and with what the states are doing."
An estimated 26 million visitors have logged on to both the federal and state exchanges in the first month of open enrollment. In addition, HHS reports an estimated 3,158,436 calls to both state and federal call centers.
Under the ACA, all Americans must have coverage by the end of open enrollment period on March 31, 2014. If they fail to enroll in a plan and have a gap in coverage for three consecutive months, they will face a penalty of $95 or 1% of their annual income for every year they do not have a policy.
The Obama Administration had projected it would need to enroll seven million Americans in the first year of the ACA's implementation, 2.7 million of which would be young and healthy people needed to keep policy premiums low.