Hey Elon, Don't Make Me Spend 30 Years in a Pizza Hut on Mars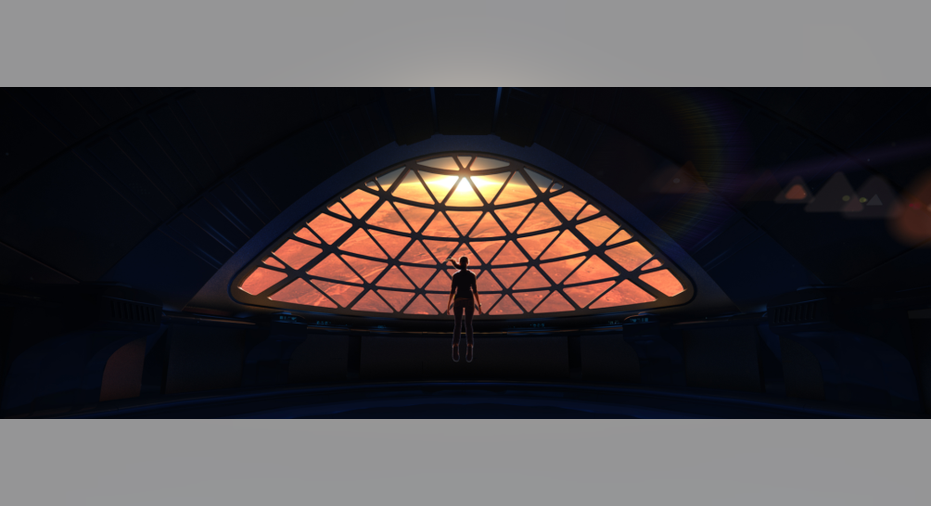 This week, popular rocket man Elon Musk unveiled his plan to make humanity a multi-planet species. It is among the boldest, most audacious plans in recent memory. And unlike NASA or other space agencies, Musk's Mars mission doesn't hinge on a single journey, but a constant stream of massive ships between our home world and the Red Planet.
The price of a seat for would-be martians, however, is $100,000-$200,000, or the median price of a home. That got me worrying.
True, there will be many people wealthy enough to afford a seat, lured by the adventure of exploration. I saw several tweets proclaiming that the SpaceX pricetag would lead to a Martian city of only the bougiest of yuppies; the ultimate act of gentrification. But I doubt Musk will fill every one of the seats in his proposed 1,000-strong fleet of ships. I find it far more likely that debt will play a larger role.
A New Life Awaits in the Off-World ColoniesI worry, because in the United States, the vast majority of people purchase a home by taking out a mortgage. Debt in the United States is the way nearly everything works. We use it to buy houses, cars, and even college educations. Credit cards let us sink into debt over sticks of gum or microtransactions in iPhone games. And debt seems like what most people will use to buy their way to Mars. But who will own that debt, and how will it be paid?
The story of Europeans crossing the Atlantic Ocean to settle North and South America is often cited as an analogy for future space settlement. This was, as history teaches, a bloody, brutal affair. A few particular instances stand out as cautionary tales as Musk hurtles humanity towards the final frontier.
During the early days of European colonization of the Americas, immigrants would occasionally fund their journey by entering into labor contracts. Just sign on the line and you'll be given free passage to America, clothing, and lodging once you arrive. All you have to do in return is work for the owner of the contract for a set period of time. The word for this was indentured servitude.
A historical note: not all indentured servants came from Europe and not all were would-be colonists. The history is quite long and awful.
The practice of indentured servitude waned over the years for many reasons. (Particularly, the growth of the slave trade; the 13th Amendment finally ended both practices in this country.) But the concept of extracting wage-free labor never went away. West Virginia coal towns are an excellent example. Sign up with the local coal company, and you'll get a job that pays, but the cost of your housing and the leasing of your tools will be extracted from your paycheck. Some coal towns even operated on scrip—company-issued funnymoney that was exchanged for goods at company-owned stores. This system ensured a captive, economically dependent workforce.
We would like to believe that we're a bit better than the people of 100 or even 500 years prior. But we are less than a decade out from a worldwide banking crisis, much of which was built on predatory loans that put people in homes they couldn't possibly afford. Even more recently, Uber has begun targeting low-income individuals who want to work for Uber but have no car via subprime loans.
Amazon has taken flack for dangerous working conditions in its fulfillment centers. Apple supplier Foxconn faces similar criticism; workers there live in company dormitories, reminiscent of coal towns.
Musk mentioned corporate partners as those who may help finance SpaceX's Mars-bound vehicles. While he joked about "who will be the first person to build a pizza shop on Mars," I couldn't help but wonder how the people working in that pizza place would be paid. While taking money in exchange for tickets is quite neat and tidy, debt allows you to extract labor directly in exchange for a service. Why pay the woman behind the counter of the Famous Original Rays on Olympus Mons when you could pay her fare to the Red Planet and then have her work unpaid or underpaid for 30 years?
In America, bankruptcy is a difficult but powerful option that gives individuals a path out of unpayable debt. How would that work, in a context where individuals' continued existence may rely on the private corporations that produce the breathable air, the drinkable water, and the only protection against the radioactive vacuum of space?
Get My Ass to MarsI do not believe that Elon Musk is hatching an evil scheme to become a space dictator. Nor do I believe that going to Mars en masse is a bad idea. I do agree with Musk that to increase the chance of humanity's survival, we must become multi-planetary. Moreover, I think Musk's is the first plan that has the money and the will to actually work, and the only one I can think of that is for permanent settlement.
To his credit, Musk has already considered at least some of the problems of ferrying a species between worlds. He mentioned that a ticket to Mars with SpaceX would include a free return trip. That's great. I would also like to see serious work put not only into rockets, but funding to ensure that not just the desperate and the wealthy are sent offworld. We have full-ride scholarships for college, we need full rides to Mars if we're headed that way. I would also like to see worker and individual protection for Mars colonists codified in law before rockets ignite. These people will be operating with limited resources and far from outside help. Proactive work to protect them is really our only choice.
Musk's attention seems to be solely on the technical issues, which is fair. He's got rockets and spacecraft to build, and those are kind of hard. But before a single foot lands on the Red Planet, we should think seriously about what we are willing to accept to make that happen.
This article originally appeared on PCMag.com.