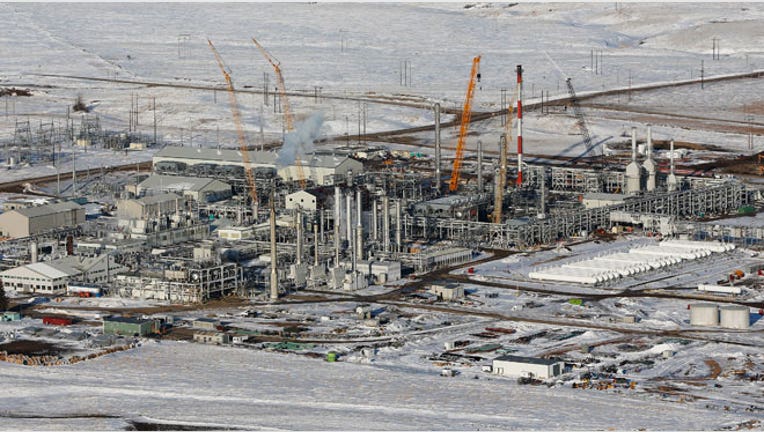 Hess (NYSE:HES) said Wednesday its fourth-quarter profit surged more than 400%, as the benefit of recent asset sales offset an ensuing decline in revenue.
The energy firm also announced another deal to unload shale assets. Hess will sell about 74,000 acres of dry gas acreage at the Utica Shale to an undisclosed third party for $924 million, continuing to reshape the company's portfolio.
Two-thirds of the proceeds are expected to arrive at the end of the first quarter. Those proceeds will be used for stock buybacks.
New York-based Hess has made a slew of moves to transform the company into a pure-play exploration and production company. It recently said it may spin off its retail business, which includes Hess gas stations. Once that decision is made, Hess will determine whether it will expand its current $4 billion repurchase program.
In the fourth quarter, Hess recorded a profit of $1.93 billion, or $5.76 a share, well above year-ago earnings of $374 million, or $1.10 a share. Revenue fell 6.1% to $5.57 billion.
Downstream businesses that were sold off were considered discontinued operations. Excluding the divested units and a substantial tax benefit, adjusted earnings fell to 96 cents a share from $1.20. Analysts expected adjusted per-share earnings of $1.08.
The average selling price for oil increased 16%. Hess saw oil and gas production of 307,000 barrels a day of oil equivalent, down from 396,000 a year earlier. Asset sales reduced total output by 72,000 barrels a day, while unrest in Libya lowered production by roughly 20,000 barrels a day.
CEO John Hess said the company has generated $7.8 billion in total proceeds so far from asset sales, helping the company pay down $2.4 billion in short-term debt. Hess also added about $1 billion in cash to its balance sheet.
Shares ticked 59 cents higher to $77.39 late Wednesday morning.