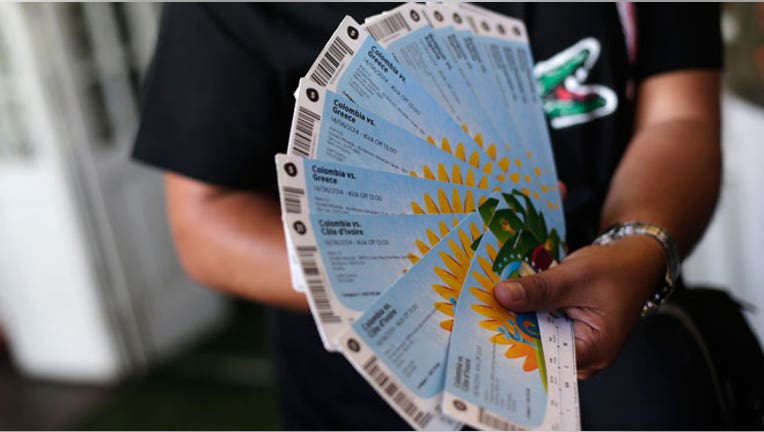 World Cup fever is fun to participate in, but for fans that actually want to attend the game, it's going to cost a pretty penny.
Ticket prices for Sunday's showdown between Argentina and Germany in Maracana Stadium in Brazil are soaring as high as $20,000.
On eBay (NASDAQ:EBAY), tickets are priced from around $3,000 to $18,000. Viagogo, a global market for online ticket re-sales,  has tickets listed from around $5,000 to $20,000.
StubHub.com sold out of tickets for the highly-anticipated match. The stadium can hold up to 75,000 fans.
Kevin Adler, president and founder of Engage Marketing, says the prices reflect the high demand and interest surrounding the World Cup, which he labels a uniquely global event.
"It is a top-tier premiere global sporting event. It's almost unparalleled in that regard. It is on par with--if not greater than--the Olympics in terms of the match up and fervor of those particular fan bases."
While price-gouging for tickets on the resale market is big business in the U.S., it's illegal in Brazil. The face value of the final game's tickets is reportedly between $440 and $990.
Adler points out ticket scalping is also illegal in certain U.S. states, but still happens. "Putting pricing premiums on major sports events like this is nothing new—people [hike prices on tickets] here every day, so I don't know that the sports ticketing marketplace in Brazil is working any differently than it is here in the states."
While it would be possible to place together a premiere package for an event like the Masters Tournament that could near $20,000, Adler says sports fans shouldn't be concerned that sky-high ticket prices are the new normal.
"There aren't events like this, in terms of appeal," he says. "Should you expect to pay $20,000 for the Super Bowl or Wimbledon? Probably not. It's just uniquely reflective of the demand of this event. And pricing like this only works if consumers buy into this. It's a demand-based business and it's dictated by what the market will bear. It's irrelevant if the market doesn't respond."