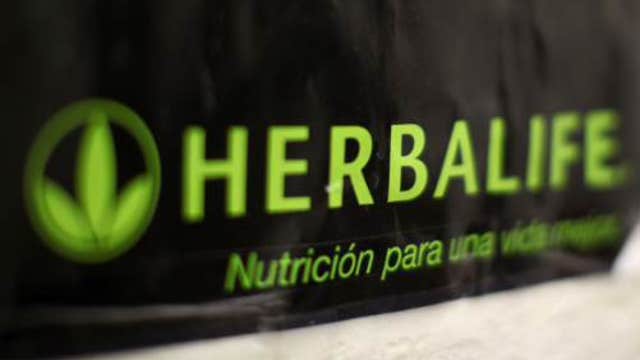 Bill Ackman's self-described "death blow" to Herbalife (NYSE:HLF) failed to worry investors, and may have had the opposite reaction.
Shares of the nutrition company surged 25.5% to $67.77 on Tuesday, the day of Ackman's latest presentation on what he believes is a pyramid scheme at Herbalife. It was the best single-day rally ever for the firm.
Herbalife is a multi-level marketing company that sells products like weight-loss shakes through distributors. Ackman, who bet more than $1 billion on the stock falling by shorting Herbalife, has been drawing attention to Herbalife's business model since 2012.
Los Angeles-based Herbalife has attracted scrutiny from federal regulators. The company was was hit with a civil investigative demand from the Federal Trade Commission, while the Department of Justice has also investigated Herbalife.
On Tuesday, Ackman gave a three-hour presentation that primarily focused on nutrition clubs operated by Herbalife distributors. Ackman said an investigation by his firm, Pershing Square Capital Management, revealed that Herbalife clubs have "phantom or fictitious customers" because they mostly sell products to distributors in training or potential recruits. He called into question Herbalife's training program as well.
Ackman estimates at least 40% of Herbalife's revenue is generated by nutrition clubs. "If they go away, the company goes away," he said.
Much of the presentation also focused on how Herbalife looks to recruit distributors from Latino groups and low-income families that are seeking entrepreneurial opportunities, according to Ackman. The Pershing Square founder noted that club owners "don't realize they're involved in a fraud."
At the end of his presentation, Ackman made a plea for Herbalife chief executive Michael Johnson to "shut the company down," calling the executive a "predator."
Herbalife chief financial officer John DeSimone hit back at Ackman, saying the hedge fund manager was wrong about "everything."
"We are 100% confident in the compliance of our company," DeSimone said during an appearance on Money with Melissa Francis. "We made a decision that focusing on our performance is the most important thing we could do."
He added, "We will not run away from anything [Ackman] says."
DeSimone also responded to allegations that distributors in Venezuela use Herbalife as a money transfer scheme, calling them "completely inaccurate." Ackman said distributors pay for Herbalife products in Venezuela's currency, the bolivar, and receive commissions in U.S. dollars.
When asked about the stock's rally, Ackman suggested the Securities and Exchange Commission should look into the timing of Herbalife's stock buybacks. He said the company buys back stock to "blunt the accusations."
"You can only prop up a stock for so long," Ackman added.
In a statement, Herbalife called Ackman's claims about the earnings of its nutrition clubs "completely false and fabricated." The company said a study it commissioned found that in fact 87.5% of nutrition-club operators feel good about the money they earn, and 92% want to continue with their club.
"Once again, Bill Ackman has over-promised and under-delivered on his $1 billion bet against our company. After spending $50 million, two years and tens of thousands of man-hours, Bill Ackman further demonstrated today that the facts are on our side," the company said.
Earlier Tuesday, Herbalife released an analysis from economist and former FTC advisor Dr. Walter H. A. Vandaele, who determined that Herbalife isn't a pyramid scheme.