Health Law Enrollment Opens Amid Volatility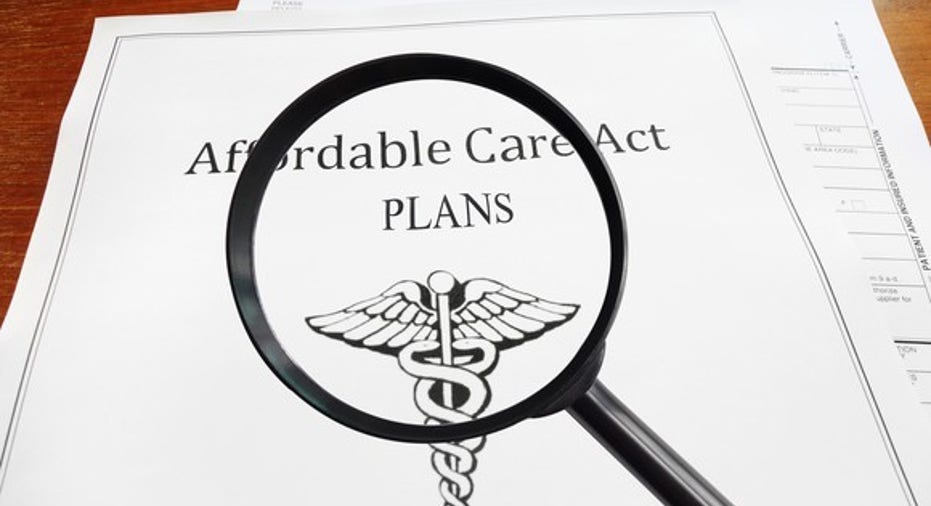 The fourth open enrollment for health coverage under the Affordable Care Act opened Tuesday, a critical 90 days that the Obama administration hopes will boost participation and stabilize markets roiled by premium increases and insurer withdrawals.
HealthCare.gov and state equivalents began taking applications Tuesday morning from people signing up for individual health coverage and learning about their eligibility for subsidies. This year is especially critical because consumers so far have been sicker and older than expected, which has led to higher-than-anticipated costs.
In response major insurers such as Aetna Inc. and UnitedHealth Group Inc. have pulled back from their sales of coverage under the law, leaving about 30% of counties with only one participating insurer. The Obama administration said last week premiums would increase by an average of 25% across the roughly three dozen states that use HealthCare.gov; in many states the market leader is raising rates by a far greater average.
Increased enrollment from younger, healthier people would create a chance for insurers to regain their footing; without it, they will likely reach a point of no return in which they continue to raise rates and further deter all but the neediest of customers.
Administration officials have a twofold goal this year. They want to boost sign-ups of new people. They also want to attract hundreds of thousands of people whose plans are being canceled to come back during open enrollment to pick a new policy.
On Tuesday, Health and Human Services Secretary Sylvia Mathews Burwell spoke with radio DJs in Charlotte, N.C., Dallas, Philadelphia and San Antonio -- all markets targeted for special outreach. She is also planning interviews with Hispanic-focused media outlets such as Univision Communications Inc. and Telemundo and called into radio shows with a high number of African-American listeners.
The administration is banking on television ads, direct mail and targeted outreach in cities with a high number of younger adults to help boost sign-ups. About 10.7 million people who are eligible for exchange coverage are still uninsured, according to Health and Human Services. Forty % of them are 18 to 34 years old.
Around the country, enrollment activists are preparing to help people who have coverage shop around for plans that can shield them from premium increases or replace plans that have been canceled. Open enrollment Tuesday was to include events where consumers can get help signing up or attend informational sessions in places like the library in Edina, Minn. and a kickoff event at a sports stadium in Las Vegas.
In California, 800 stores have hung banners or signs promoting the state exchange. Covered California Executive Director Peter Lee said people were signing up but that they expect a bigger uptick closer to key deadlines.
"We're not doing a major launch and waiting until after the election," said Mr. Lee, who spent the morning talking with Chinese and Korean media about open enrollment. "We don't want it to get lost in the noise."
Community groups have been at the forefront of the sign-up drive since the law launched in fall 2013, at first because the administration had limited resources for outreach work, and later because research has indicated they are the most effective at doing it. But official funding for such efforts remains scant and insurance brokers have seen their commissions for signing up people diminish, further cutting into the ranks of those working on the sign-up effort.
Federal officials say they have found new and more efficient ways to reach uninsured people, including, for example, joint efforts with public agencies, such as Philadelphia Gas Works and the Chicago Housing Authority, to contact users about enrollment deadlines.
But they are making these efforts in the final stretch of the election season in which Republican candidates up and down the ticket have been rallying around the premium increases as a sign of the law's failure. The issue has provided a late and unifying boost to GOP nominees from presidential candidate Donald Trump to incumbent senators such as John McCain in Arizona .
Democratic nominee Hillary Clinton has largely talked about the need for changes to the law, as an alternative to repealing it.
Open enrollment runs through Jan. 31, 11 days into the new president's administration. Individuals who lost coverage due to the cancellation of a plan will be considered eligible for a special enrollment that lets them sign up for coverage as late as March 1.
An estimated 13.8 million people are expected to have selected a plan by the end of open enrollment, an increase of 1.1 million compared with the end of 2016 open enrollment.
"This year, the vast majority of consumers will qualify for tax credits that help keep coverage affordable, and it's easier than ever to shop around and compare options," Ms. Burwell said. "As we sound today's opening bell, let's also take stock of the historic gains in coverage we've made as a country, and work together to continue that progress."
Republicans opposed to the health law used the open enrollment as a chance to criticize the ACA and advocate for other alternatives. House Speaker Paul Ryan (R., Wis.) said the premium increases are a sign the law isn't working.
"For far too many Americans, Obamacare open enrollment means it's open season on their wallets," he said in a statement.
At a campaign rally for GOP presidential nominee Donald Trump and vice presidential nominee Mike Pence, several Republican members of Congress who have also worked as medical providers took to the lectern to rail against the law, citing specific premium increases in each of their states.
"They gave us a new crisis, and that crisis is called Obamacare," said Rep. Michael Burgess, of Texas, a former OBGYN.
Write to Stephanie Armour at stephanie.armour@wsj.com and Louise Radnofsky at louise.radnofsky@wsj.com