Health Care in the Express Lane: Retail Clinics Popping Up All Over the Place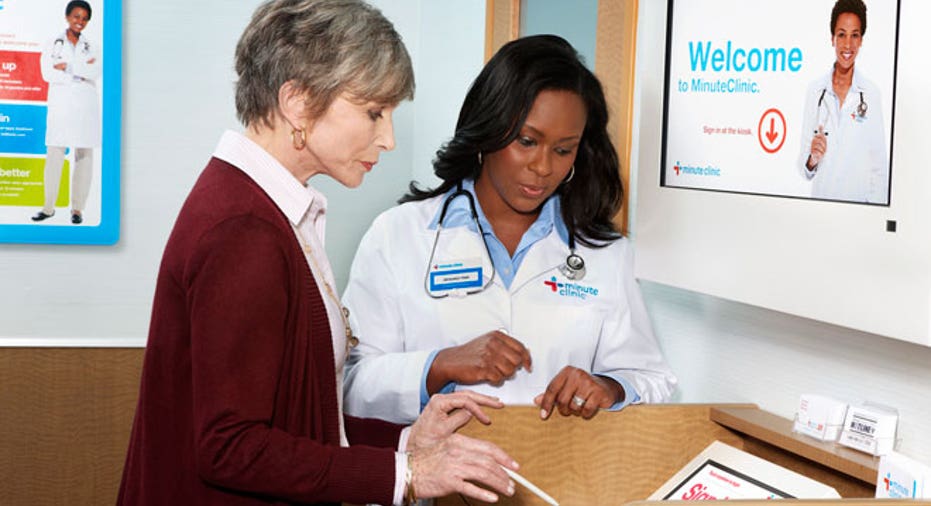 Consumers are increasingly adding items like flu shot and physical exam to their grocery shopping list as more retail clinics continue to pop up in stores across the country.
Retail medical clinics offer consumers lower cost, non-urgent health care services from nurse practitioners and physician assistants in convenient settings such as grocery  stores, pharmacies and retailer giants like Target (NYSE:TGT) and Wal-Mart (NYSE: WMT)
The clinics have been around for years, but are becoming more popular as the nation deals with a dearth of primary care doctors and rising health-care costs. According to Deloitte, there were approximately 1,107 retail clinics as of July 2009 in the U.S.
For many cash-strapped Americans, these retail clinics are an attractive option to the long waits and high copays traditionally associated with physicians offices. Health plans are also increasingly covering services provided by a retail clinic because they are a less-costly alternative to a doctor or emergency room visit.
These clinics address problems consumers are facing getting access to affordable health care, says Web Golinkin, chief executive of RediClinic, which operates out of the H-E-B Grocery stores in Houston, Austin and San Antonio, Texas. There is a primary care doctor shortage and its only going to get worse. Physician practices are jam packed and were responding to what consumers want and need in terms of health care.
At many doctors offices, sick patients end up seeing a nurse practitioner or physician assistant, who is able to prescribe medications, instead of their primary care doctor, making consumers more comfortable receiving care at retail clinics.
Five or six years ago a lot of people werent sure what a nurse practitioner was, says Sandra Ryan, the chief nurse practitioner officer of Take Care Health Systems, the Walgreens retail clinic unit.  Now theres a lot of visibility for the role nurse practitioner play in health care.  Most of the retail clinics are aligned with a local hospital and have doctors on staff that dont see patients, but will collaborate on cases and treatment.
All about Convenience
Its no mistake that most retail clinics reside in supermarkets and drugstores with pharmacies that can quickly fill prescriptions. The operators say the whole idea behind retail clinics is to make it as convenient as possible for patients, after all, cold and flu symptoms dont stick to business hours.
Retail clinics are open seven days a week, they are open in evening hours and often at times when the health care offices wouldnt be open, says  Paulette Thabault, chief nurse practitioner at MinuteClinic, which is owned by CVS. If you have a sore throat or minor illnesses on a Sunday morning, a retail clinic is a convenient place to go.
At most retail clinics consumers wont face long lines or weeks waiting to get an appointment. Clinics dont take appointments and operate on a first-come-first serve policy. Most visits take no more than 15 minutes, which means consumers wont spend half a day waiting to see a health-care provider.
Since clinics are relatively new, they also employ technology to streamline the process. For instance consumers at many of the clinics check in digitally, are given a pager or receive a text on their cell phones when its their turn. Many of the clinics use e-scripts to prescribe medication that are sent directly to a pharmacy to fill.
Clinics are also a less-costly alternative to consumers, particularly those without health insurance. According to Ryan of Take Care,  30% to 40% of patients visiting retail clinics are under insured or have no coverage at all.
While access and convenience are major reasons for the success of retail clinics, it doesnt hurt that the clinics are affordable and transparent. Most clinics post the prices for their services online and in the clinic.  Visits typically start at around $79.
Studies out there have shown the cost of a retail clinic is about one-third less than primary care and urgent care, said Ryan of Take Care. And its significantly less than going to an emergency room.
Most of the retail clinics treat common conditions including sore throats, colds, sinus infections and bronchitis as well as sprains and bruises. Consumers can also get immunizations, vaccinations and physical exams. Some retail clinics like RediClinic are branching into wellness plans and offers programs like weight management. Ryan at Take Care says the company is looking to expanding into early screening for chronic illnesses like hypertension and blood pressure.
Customer satisfaction consistently hovers around 95%, which is extraordinary for a health care or retail business, says Golinkinat RediClinic. Consumers like the access and affordability,