Health Bar Addict? Join the Club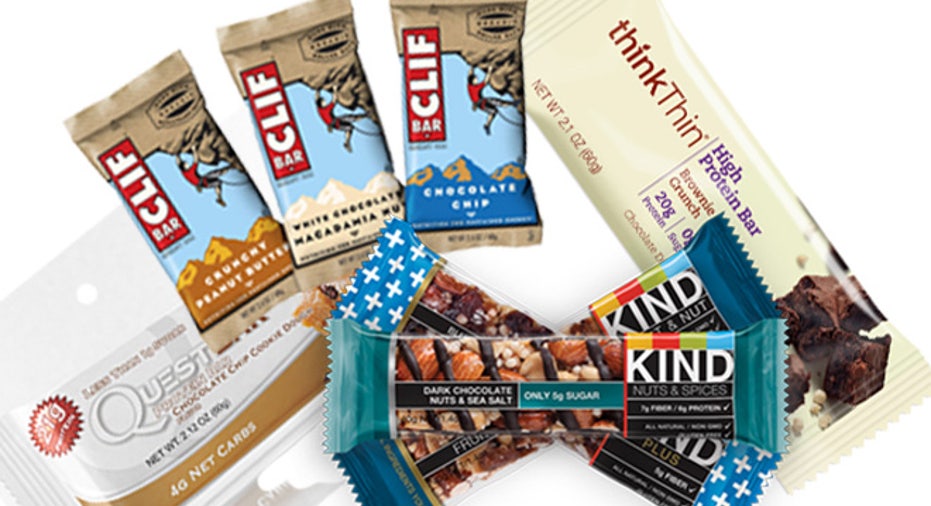 It's no surprise that Americans like to snack—especially on on-the-go treats. The snack bar category is currently estimated at $5.7 billion with nutritional and health bars leading the pack, bringing in a whopping $2.8 billion of the snack bar revenue, according to Chicago-based market research firm IRI.
Health bars are up 11% from last year, while breakfast and cereal bars are down 2% from last year. Clif Bar & Company, General Mills' (NYSE:GIS) Fiber One bars, KIND bars, and Atkins Nutritionals are among the top earners.
"We continue to see strong double-digit growth," says Kevin Cleary, CEO of Clif Bar & Company. "People are increasingly more conscious of their health and wellness, yet are constantly on-the-go."
Cleary says opportunities are strong for bars and snacks that can deliver a combination of nutrition, convenience and great taste. "Foods that meet these criteria will continue to drive growth in their categories," he adds.
Another popular treat making waves are KIND bars with estimated sales reaching $300 million this year, according to IRI.
"We were the first of its kind when we launched our Fruit & Nut bar line years ago. Bars back then were made of emulsified pastes that were hidden under foil wrappers. We were the first to celebrate and use the highest quality whole ingredients, like fruit & nuts, at the foundation of our bars," says Lisa Mann, EVP Marketing, KIND Snacks.
Consumers want their "cake [bars] and eat it too." They want their on-the-go snacks to be packed full of nutrition and healthy ingredients as well as having a taste great.
Quest Nutrition Co-Founder and President Tom Bilyeu says he was inspired by his family to build his company. "It all started with my mom and sister. I come from a morbidly obese family. We wanted to make something that tastes great but is actually good for you," he said.
In just five years, Quest has grown dramatically, in their first three years they grew by 57,000 percent. And since then, they have continued to see triple digit year over year growth.
"The snack category was actually declining when we entered it," adds Bilyeu. "Now we're in traditional grocery stores all across the country."
Megan Crossland, Marketing Director of thinkThin says the nutrition bar category is indeed one of the fastest growing categories today.
"thinkThin is outpacing that growth.  Our dollar share is up 1.1 points in all food channels vs. last year in the latest 12-week period according to IRI," she said. "In addition, increasing demand for non-GMO and gluten-free options is something many brands in our category, including thinkThin, can satisfy."
Although not all bars are created equal, David Katz, MD & Senior Nutrition Advisor at KIND Snacks says snackers need to be careful to avoid both identifiable and unidentifiable junk in the ingredients list when choosing a bar.
"Identifiable junk would be items like partially hydrogenated oil, or high-fructose corn syrup. Unidentifiable junk would be any long, complicated names (other than the names of vitamins) that refer to ingredients you can't identify as food," adds Katz.
"Remember that ingredients are listed in order of abundance; a product is mostly made from what comes first."
Bilyeu, who admits Quest's mint chocolate chunk is his favorite, does warn snack bar lovers not to go overboard either.
"My advice is to eat whole food whenever you can. Nutritional bars are for when you want something that tastes like dessert but is better for you. It's as close to whole food that you're going to get especially on-the-go," he said.